This is the best rib rub for grilling, slow cooking, smoking, and everything else. This recipe is easy to make with spices that you already have in your pantry. This sugar and spice mixture can be used to make a pork ribs rub or beef rib rub. It can also be used to marinate any meat.
There are many ways you can enjoy a rack of ribs. I can't imagine ever getting bored of trying new spices, seasonings, and sauces. Sometimes it is best ribs to keep things simple. This is the best rib rub to use for any occasion.
This BBQ rub is foolproof. It packs a deep sweetness and vibrant spice with just enough tang.
You can also check out my Pork Rubs recipe. This variation is a bit more complicated and adds more seasonings. It also includes a mop sauce to provide extra moisture.
Are you looking for beef rib rubs? This Memphis Style Smoked Dry Rub Ribs has got you covered! This unique combination is perfect for special Sunday dinners and holidays. What's the secret ingredient? Coffee!
SUBSTITUTIONS AND INGREDIENT NOTES
Ribs This recipe makes enough for 2 racks of baby-back ribs pork ribs.
Brown Sugar This sugar has a rich, almost molasses-like sweetness. Brown sugar is the base of the best rib rub. It helps to keep the blend together and adds that distinctive smoky sweetness.
Paprika – The smokiness of paprika makes it a great choice for smoking meat. This mix's mild heat is a great complement to the sweet and sharp flavors. Cayenne pepper powder can be substituted for this mix to add some spice.
Fennel seeds This seasoning has a sweet anise taste, which is enhanced when it's cooked. The brown sugar and warm spice pair well together. You can leave out the fennel if you don't like it.
Salt & Pepper – The best rib rub won't be without these two essential seasonings. Don't skip the basics! Before you apply the spice blend, make sure to coat the rub with a base of salt and pepper.
Dry Mustard– Tangy, acidic, and mildly spicy.
Garlic Powder & Onion powder – These simple flavor enhancers are easy to understand and help build the body of this blend.
Red Chili Powder Flakes For heat sprinkled throughout the mixture. This is also a mild spice, but not overwhelming. Cayenne pepper could also be used in its place.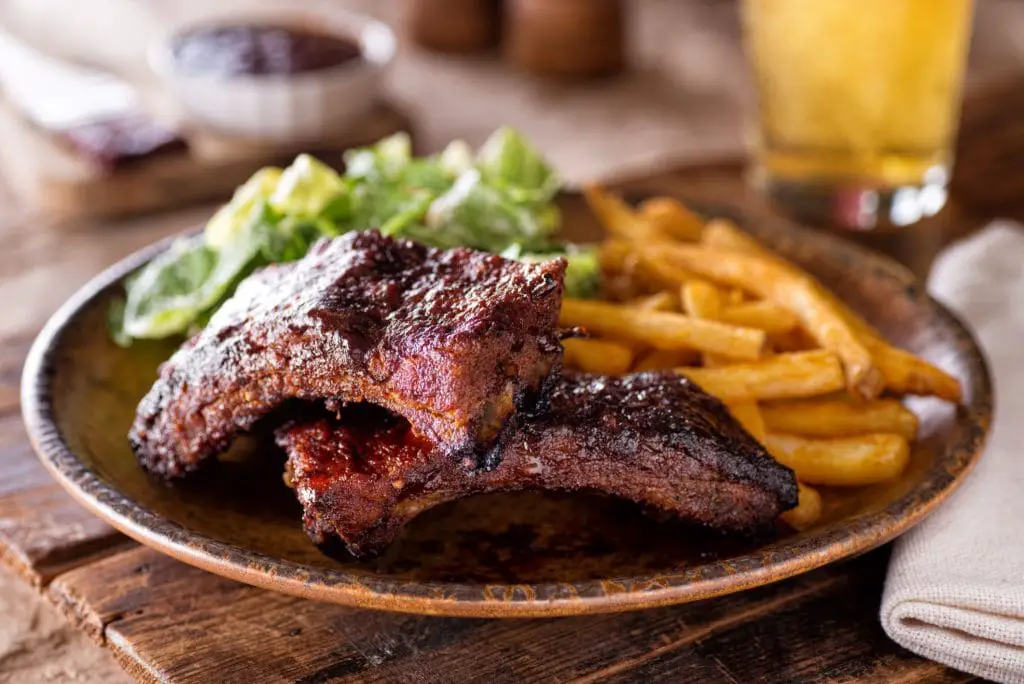 HOW TO MAKE THE BEST RIB RUB
1. Mix the Seasonings. Use a whisk to combine all the spices and brown sugar. Make sure that everything is well combined and evenly incorporated.
2. Let the wood chips soak in water for a minimum of 30 minutes.
3. Clean and marinate. Salt and pepper on both sides of the rack. Then, coat the top with the BBQ rub. Let the ribs rest for at least 30 minutes. For even better results, let them rest overnight.
4. Prepare the Grill. Add a few soaked wood chips to the smoker. Close the lid. After the grill has gotten a nice smoke, place the ribs bone-side up on the grill and close the lid.
5. Reduce the temperature to 250°F. Let the meat continue to smoke at this temperature until it begins to shrink from the bones and reaches 196°F.
6. Let them Rest before you Slice into the Ribs.
WHAT LONG SHOULD A RUB BE ON THE RIBS BEFORE COOKING
A rub is a mixture of spices and herbs that is applied to meat before the cooking process. The purpose of a rub is to add flavor and texture to the meat. A rub can be applied to any type of meat, but it is most commonly used on pork ribs and beef.
There is no set amount of time that a rub should be left on the meat before cooking. However, it is generally recommended to let the rub sit on the meat for at least 30 minutes, or up to 12 hours, before cooking. This allows the flavors of the spices and herbs to penetrate into the meat.
Even the best rib recipe rub takes time to master. It is best to allow the meat to rest for at least 30 mins. For maximum flavor, wrap the meat in plastic wrap and let it rest in the refrigerator overnight.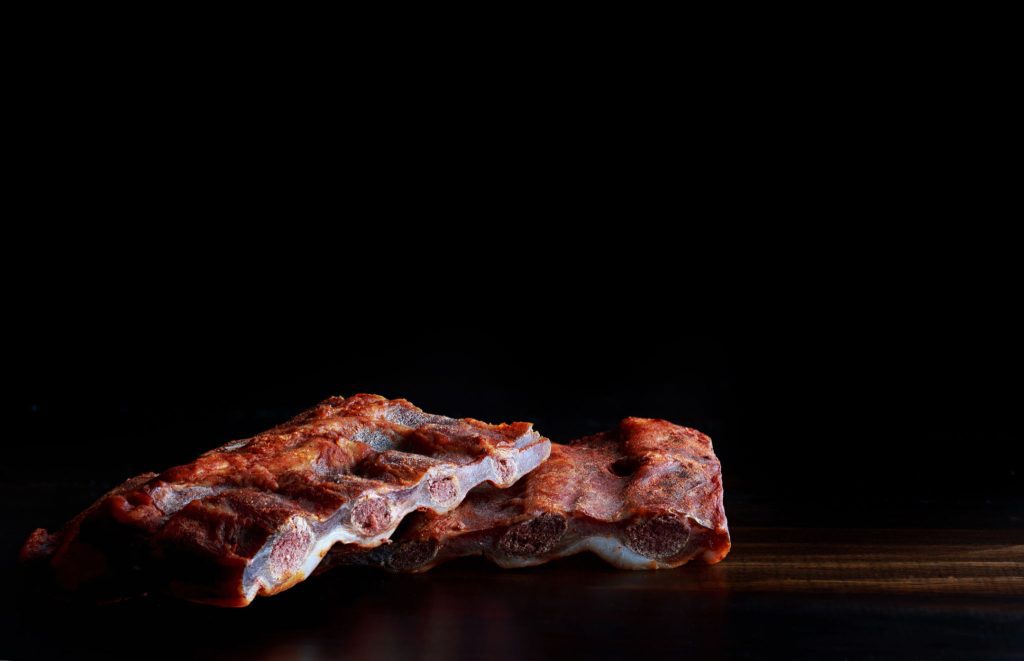 WHAT CAN YOU USE ON RIBS TO GET A RUB TO STICK
There are a few things you can use on ribs to make sure your rub sticks:
– First, make sure your ribs are clean and dry rub ribs. Any moisture will make it harder for the rub to stick.
– Next, use a light coating of oil or cooking spray on the ribs. This will help the rub adhere.
– Finally, apply the rub evenly over the surface of the smoked pork ribs. Use your hands to massage it into the meat.
Once you've applied the rub, you're ready to cook! Enjoy your delicious, apple juice flavorful ribs!
To make a BBQ rub stick, you must really pack it onto the meat. You can massage it into the meat with your hands. Don't move it while it smokes. Brown sugar will allow the pork ribs rub to adhere to the meat by binding to it.
Yellow mustard is another option I love to use. Apply it to the ribs, then add this dry rub.
HOW LONG SHOULD RIBS BE COOKED?
If you have a smoker, then the longest amount of time the ribs should be able to sit in there without drying out is around six hours. This means that if you are in no rush to eat your ribs, then giving them more time in the oven or smoker will give you juicer and more tender results Memphis style dry.
Although this may seem like a long time for some people, ribs do not actually require much attention while cooking. In fact, once you have prepared them for cooking, you can pretty much forget about them until it is time to check on their progress.
It all depends on the ribs as well as the black pepper smoker.
This recipe was made with approximately 4-5 lbs of ribs. My smoker took 1 hour and 20 minutes to heat the meat to 196°F. To determine the time that your meat is cooked, use a meat thermometer.
Mix Together The Dry Rub Ingredients
In A Small Bowl Then Set Aside. Cut The Stems Off Of The Cilantro And Roughly Chop The Leaves. Peel And Mince The Garlic. Zest And Juice The Lime Into A Small Bowl Then Add The Cilantro, Garlic, And Salt.
Stir Until Combined Then Set Aside. Place A Large skillet over medium heat and add the olive oil. Once hot, add the chicken breasts (in batches if needed) and cook for about 3 minutes per side, or until golden brown and cooked through.
Remove the chicken from the skillet and place it on a plate then set it aside.
To the same skillet, add the butter and allow it to melt. Once melted, add the rice and stir to combine. Grill Cook the rice for about 3 minutes, or until it is evenly coated in the butter and starting to become opaque.
Add the bbq chicken broth and stir to combine. Bring the mixture to a boil then reduce the heat to low, cover the skillet, and simmer for about 15 minutes, or until the rice is cooked through.
Remove the lid from the skillet then add the cilantro lime mixture and stir to combine. Allow the rice to cool for about 5 minutes then serve. Enjoy!
Here are other guides and recipes that you might enjoy: