If you are a BBQ and grilling enthusiast chances are, you might be interested in buying a handy pellet grill which is a very versatile griller that is primarily used for smoking, cooking, and grilling meats of all kinds. The most important element in any pellet grill has to be the wood pellets that are burnt to heat the entire cooking area.
Since this griller usually makes use of air regulation, you get the same precision and automation of digitally controlled devices for the perfect food each time. Today we are going to look at the best Traeger grills available in the market and we have our top 9 picks all listed and detailed out for you to choose from. Let's face it, no matter the kind, grills are extremely expensive and that's why you need to do your due research.
Best Traeger Grills
To help you out with this, we also have a detailed buying guide towards the end and there is a comparison chart where you can view them side by side features of each device. But first, take a look at the Traeger Ironwood 885 grill which has an LED display for ease of use and a non-stick surface for easy cooking and clean-up later.
1. Traeger Ironwood 885 Wood Pellet Grill and Smoker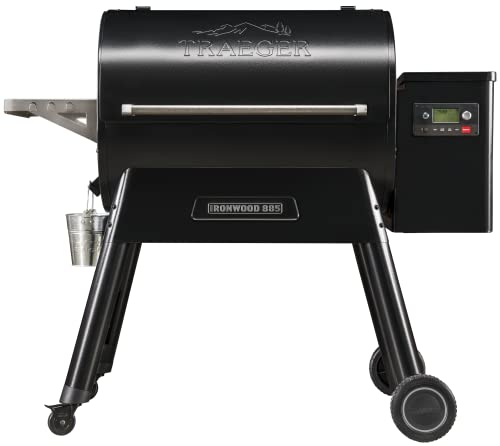 Starting this review for the top Traeger grill, we are looking at the Traeger Grills Ironwood 885 Wood Pellet Grill and Smoker which comes with a lot of features for control of the temperature and heat but it fails to keep up with the competition in terms of Wi-Fi capability.
That being said, it comes with a specialized Digital Pro Controller whereby you can keep an eye on the temperature inside the griller and this allows you to get perfect results. This is made better with the Meat Probe and thanks to the wood pillar for its fuel, you get the excellent flavor that charcoal or fuel can't attain.
The device also comes fitted with a very large grilling area which means that you can grill for the entire family quicker and more efficiently. It also comes with six in one cooking features so you can bake, roast, braise, grill, smoke, and BBQ with ease.
Last update on 2023-09-30 / Affiliate links / Images from Amazon Product Advertising API
2. Traeger Tailgater Grill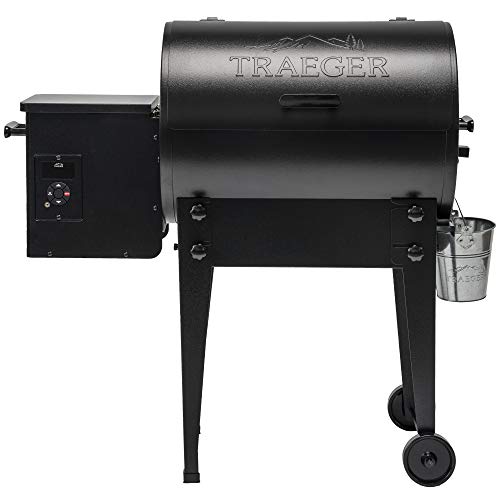 Up next, we have the Traeger Tailgater Grill and this product comes with a specialized Digital Arc controller which ensures that temperatures are maintained with more precision. This is helped along with a keep warm mode that keeps food warmer for longer.
The device is meant to be compact and portable and has EZ-fold legs which allow you to store and lift the grill with much more ease. The one drawback is that it is slightly expensive however that is to be expected with any Traeger product let alone the best grills.
With 6-in-1 versatility, users will be able to braise, bake, smoke, grill, BBQ, cook, and more with complete ease and functionality. All in all, this is a great investment for you and your loved ones!
Last update on 2023-09-30 / Affiliate links / Images from Amazon Product Advertising API
3. Traeger Pro Series Grill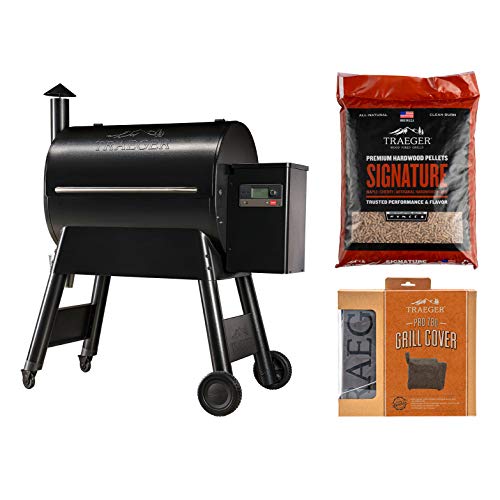 The Traeger Pro Series Grill is another contender for the solid Traeger grill on today's list and this one comes with a very large cooking space that is capable of handling a full feast for your loved ones. The 18-pound hopper only helps with longer cooking times!
With 6-in-1 functionality, users can smoke, grill, and braise, BBQ and so much more! Add in the non-stick grates and maintenance has never been simpler.
The entire construction is steel and therefore it is durable and will last you a long while! It also has a long-lasting powder coat finish and porcelain grills which are easier to clean. Finally, you also get all-terrain wheels for mobility.
Last update on 2023-09-30 / Affiliate links / Images from Amazon Product Advertising API
4. Traeger Pro Series 22 Grill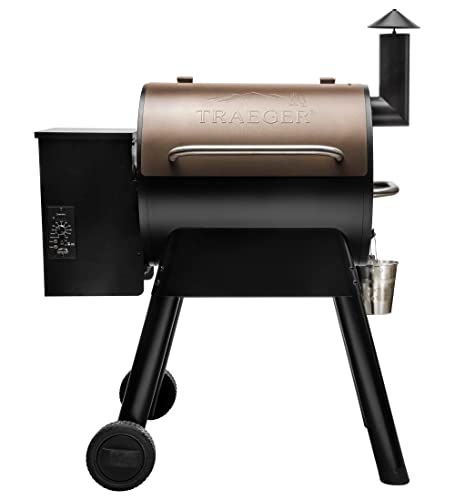 If you wonder why the Traeger Pro Series 22 Grill is one of the top Traeger Grills around, you might want to take a look at its impressive durability and convenience. While all Traeger products are generally expensive, this one might be slightly pricier but it has features that make it justified.
The most important feature has to be the way it has been made! This is because you want an investment such as this to last you a while and the steel construction on this grill will get you exactly that! You can also maintain and oversee the temperature of your food with the aid of the built-in, dual meat probes that allow this function without you having to lift the lid at all.
The cleaning function is also super easy as there is an easy hopper cleanout mode where you can switch out the pellets quicker and efficiently. There are also porcelain grill grates which not only help maintain the moisture and flavor of the meat but also make sure cleanup afterward is far easier.
Last update on 2023-09-30 / Affiliate links / Images from Amazon Product Advertising API
5. Traeger TFB38TOD Grill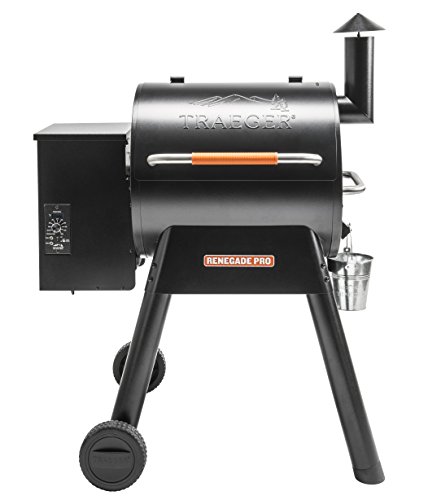 Moving on, we have the Traeger TFB38TOD grill and this is an impressive Traeger model thanks to its ease of use and high-end technology features. The Digital Elite Controller acts as a complete controller of this machine and makes temperature control such an easy task to accomplish.
You can set the temperature to exactly what you require for consistent and precise cooking. This device also has a non-stick surface which means that you will get easy maintenance and a cleaner grill will last you longer as well.
Setup is also a breeze with this device as you get a special Smoke setting as well. There is also an LED display which ensures that you won't have to stick a meat prober in the meat and will get accurate readings of the temperature of the griller.
Last update on 2023-09-30 / Affiliate links / Images from Amazon Product Advertising API
6. Traeger Select Elite Pellet Grill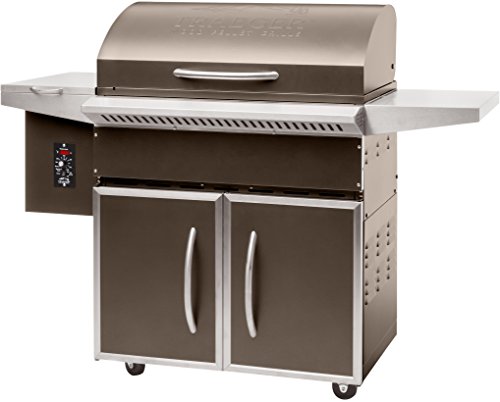 Moving onto our next product for the Traeger grill, we have the Traeger Select Elite Pellet Grill which has quite a large cooking area so you can cook up an entire feast for your loved ones.
The added benefit of the 3-piece porcelain grill grate means that not only do you get juicier and more flavorsome food but because they are non-stick, it becomes way easier to clean up after. Better maintenance means that you also get a longer-lasting product.
Portability is increasingly important and thanks to the easy-glide wheels, you can cart this bad boy around wherever you desire. If you are on an uneven surface, simply turn the locking casters on to make sure it stays put!
Last update on 2023-09-30 / Affiliate links / Images from Amazon Product Advertising API
7. Traeger Renegade Elite Grill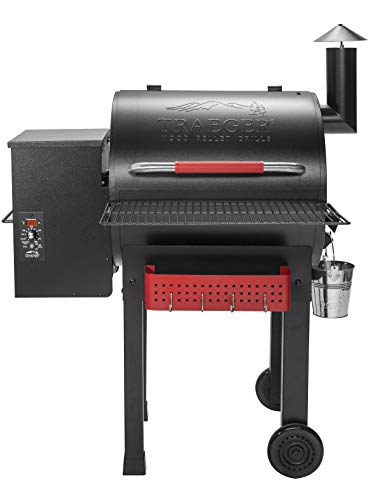 The Traeger Renegade Elite Grill is our next contender for the Traeger Grill and this device comes with the guarantee of 100 percent natural wood chip flavor which will make your food the talk at your next cookout or picnic. The idea is that you are getting an authentic and healthier flavor instead of charcoal or oil,l which can be harmful.
Along with the best wood-fire taste possible, this is also a very versatile grill because you get to get a lot done with just one product. This means you can grill, braise, roast, smoke, BBQ, and get perfectly baked meats and vegetables of all kinds! This 6 in 1 functionality is what makes it a really strong option.
Talking about some of the most important features, this device comes with an integrated digital Elite controller that is responsible for taking care of the temperature of your grill. It ensures that you can keep it to a certain level for perfect consistency and it is also completely user-friendly. The best thing about this is that you will be sure that you get the same results consistently.
You get a huge surface area to cook on as well which ensures that you have enough space to cook for all your family and friends. This is all thanks to the 380 square feet of space that this grill comes with. Perfect for picnics, barbecues, camping, and much more!
Last update on 2023-09-30 / Affiliate links / Images from Amazon Product Advertising API
8. Traeger Grills Bronson Grill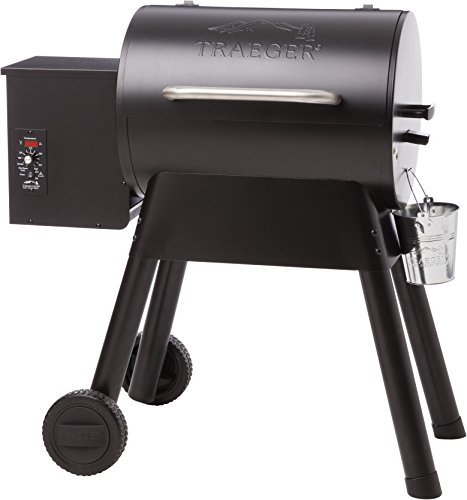 The next product we have for you today is the Traeger Grills Bronson Grill and the reason why it is such a good option is that it comes with a ton of amazing features included in. this includes the LED Digital Elite Controller display which gives the user all the information they need on the grill including internal grill temperature. There are also special precision temperature settings that allow your grilling experience to be enhanced.
Another amazing benefit to this device is that it comes with an impressive no open flame feature which allows you to use it around kids in a much safer way which is also why it is approved by the HOA approved. Storing it also becomes much easier.
The product is durable and has wheels that can handle just about any terrain you can throw at them. Portability has never been easier! There is also an aside handle which is ergonomic enough that if you are carting the product down to your campsite or BBQ, it will be easy and comfortable.
Finally, the entire setup of this grill is user-friendly as you get to work with the easy Digital Elite Controller which does all the work for you! It maintains the temperatures and allows users to cook at both insanely low and impressively high temperatures depending on their need.
Last update on 2023-09-30 / Affiliate links / Images from Amazon Product Advertising API
9. Traeger Pro Series Wood Grill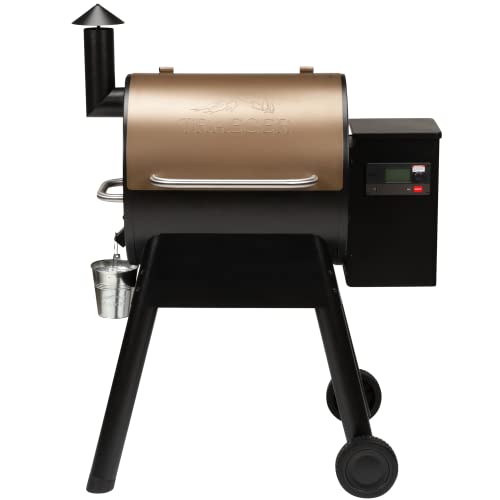 To end our list for the Traeger grills, we have the Traeger Pro Series Wood Grill which comes with an interesting array of features but it has one main drawback has which of course is its size. While most brands are cutting down on unnecessary size and weight, this one is anything but easy to store or move as it weighs 100 pounds. However, this does mean that you get a bigger surface area to work with resulting in more food cooked.
However, Traeger realizes this and they have added in a few features which allow the user to compensate for the heavier design. This is in the form of a sturdy stand which makes mobility slightly easy. Another impressive feature of this model is that it works with a digital probe thermometer which ensures that the user won't even have to lift the lid off their cooking meat to check the temperature of the contents within.
This makes the entire process safer and more convenient. You can be sure your meat is being cooked to absolute perfection. Of course, 2 probes are better than one and that's exactly what this device offers! There is a digital controller added in as well, which will ensure that the user gets perfect temperatures and cooking conditions.
Finally, this device comes with an additional benefit of porcelain-coated steel grates, which is a very important feature if you want the perfect and uniform distribution of heat on your food. Get the perfect consistency of your food but also the added benefit of easy cleaning up later since the product is non-stick.
Last update on 2023-09-30 / Affiliate links / Images from Amazon Product Advertising API
Buyer Guide
To start this buying guide, we will be helping the user narrow down their choices even further with the inclusion of the most important features that they should consider before they make their purchase. This will ensure that they realize what product out of the 9 we have listed for the Traeger grill, is the best one for them.
This will be followed by us answering some of the most important and asked FAQs which will further shed some light on popular questions that you might have on the topic. An important thing to remember here is that even though pellet-based grills are slightly more affordable than other choices but they are still a heavy investment and you should be sure of your choice before you make a purchase.
So without any further ado, here are the main factors to consider when buying a Traeger grill:
Materials
This is one of the most important features in our opinion solely because the device will be in contact with huge amounts of heat and high temperatures so ideally you want a material that can cope up with this. One of the best materials for this is stainless steel as it is resistant to corrosion and damage and might last you much longer.
A good alternative for stainless steel can be cast aluminum as the former can be slightly more expensive. However, when it comes to durability and cooking quality, you can't beat stainless steel and the cost becomes somewhat justified. A good thing to keep an eye out for is whether the grill you are about to purchase has been made with stainless steel but has other cheaper components.
This can be potentially dangerous and also means your product might not last as long.
Heat output
This is a very important factor to consider because this will be the most important aspect which will determine exactly how your food will be cooked. The heat output of a grill can be measured in BTUs or simple Fahrenheit because that makes it much easier to understand. The kind of heat output you will get will also depend on the kind of fuel source your griller makes use of.
In our opinion when you look at the heat output and features of your griller make sure that you also consider the ability of the heat features to be able to dissipate and distribute the heat evenly. If you have a higher temperature output but the distribution of heat is not uniform, then you won't get the consistency that you expect.
Size
The size of the grill is also an important consideration because not everyone has a lot of space in their homes. Luckily Traeger grills come from a range that is super diverse and this allows the user to have their pick of the perfect size for their preference. When looking at size, however, it also becomes imperative to look into the grill size in terms of its capacity to cook. If you need to cook in a limited way, then you might not even need a big grill after all and vice versa.
Price
While this is one of the most important factors to consider, in this scenario, we have kept this for last only because while the cost itself of your product may not be insanely high, it is true that with more technology, the price goes up considerably. Alternatively, one of the best parts of devices like these is that they have fewer maintenance costs over time. The Traeger brand is a reliable one but it can also be pricey.
FAQs
What is the top Traeger grill model?
There are a ton of amazing Traeger products you might be inclined to purchase but in our opinion, one of the ideal Traeger grill models is the Tailgater which is not only convenient, easy to use but is also quite easy to move around. This makes traveling with it and storing it simultaneously easier. It offers about 300 square inches of cooking space which means that you can cook a feast for the entire family! Family BBQs have never been more fun.
As an advantage, this is a fairly lightweight grill at a mere 62 pounds and also comes with an impressive pellet capacity of 8 pounds which ensures that you can keep smoking, braising, roasting, or smoking your meat and food for up to 6 hours. It also comes with amazing EZ fold legs which makes transport and storage a breeze. However, you do wish it had a few more technologically advanced features including Wi-Fi capability.
Are Traeger grills worth it?
Most products from Traeger's range will be pellet grills which means that instead of a direct heat source such as fuel or gas, you get to use an organic wood chip method which gives that Smokey flavor we all know and love. While charcoal can be quite cheap to use, it is also potentially dangerous for your health, that's where pellet grills come in as they are affordable and safe to use.
The best thing about these is that they take their time to get your meat to the perfect consistency as they cook uniformly and distribute heat along with the food evenly. However, the main reason why you should think about investing in these products is that the Traeger brand is known for its amazing innovative features. They are known for their technological advancements which make the entire process super user-friendly.
How much are Traeger grills at Costco?
There are a few Traeger grills that are only available at Costco which means that you can get some amazing deals on them there. While there are a lot of different price ranges available you will get a good quality Traeger grill from anywhere between 800 dollars to 2000 dollars. A good example of this is The Traeger Century which has a ton of amazing features that set it apart from the rest. It retails at a price of dollar 1199.99 at Costco.
Do you need to flip meat on a Traeger?
Yes, while most pellet grills work by steaming if you want to evenly cookout your food and especially meat, then you will need to flip it as well. The thing to remember here is that with most Traeger grills, the person will be cooking their meat indirectly so there is no direct flame but that doesn't mean that the heat is not intense so you need to flip your meat for even cooking.
Wood pellet based grills imply that it takes slightly longer which is great because you can go about your tasks and be alerted when the side needs to be flipped. This is also helped with the aid of a meat prober which can let you know the temperature so you can relax inside and be alerted when it is time.
Why is Traeger so expensive?
Apart from the very obvious fact that the Traeger brand is very well known and has built somewhat of a reputation for itself, their grills are so expensive because they have their proprietary innovation and technological advancements which make sure that they have a serious competitive edge and that users can also get to work with the best high tech features around.
It is still true however that you can get so many cheaper or more moderately priced alternatives with the same features but brand loyalty and a strong consumer base ensure that Traeger gets a decent chunk of the market share. Customers value reliability and innovation and Traeger has them both!
Of course, as we mentioned before, the amazing features that this brand brings to the table and keeps perfecting is one strong reason why they are expensive. With innovations such as WiFireand D2 Drivetrains which make the speed and power settings of the device much better, the high cost becomes somewhat justified.
Finally, keeping in tune with the concept of innovations, the brand continues to bring their new takes on various features and this is why they have so many patents of their own. This also increases the overall cost of a product. At the end of the day, the user is spending so much money for the best possible product and with Traeger, they'll get just that!
In conclusion, buying a Traeger grill can be deceptively simple as long as you as the buyer is aware of the kinds of specifications they would like and what sort of a product they desire. We hope that this has been an illuminating experience and that you are much better equipped to make the best choice.
For other great grills, check these articles out: