With the ever-growing need for ease and our increased reliability on technology, there is no surprise that Bluetooth and Wi-Fi capabilities have become a must-have in all sorts of devices and machines that we use today. A pellet griller might be the last device that you would expect to be connected to the internet but today's review will be based on just that!
With Wi-Fi features, it becomes easier to turn your pellet grill on or off within the comfort of your home, let it heat up for a while, and then go out to get the best-grilled food ever! To make the process of choosing such a product for your use, we have compiled a list of the 8 best Wi-Fi pellet grills available right now.
Best Wi-Fi Pellet Grills
If you can't go over the entire list, we recommend you check out the PIT BOSS Wood Pellet Grill which comes with an LED digital display and a stainless steel thermometer among other excellent features. Keep reading on for more product reviews and check the buying guide towards the end.
1. Z GRILLS ZPG-7002B Wood Pellet Grill & Smoker 8-in-1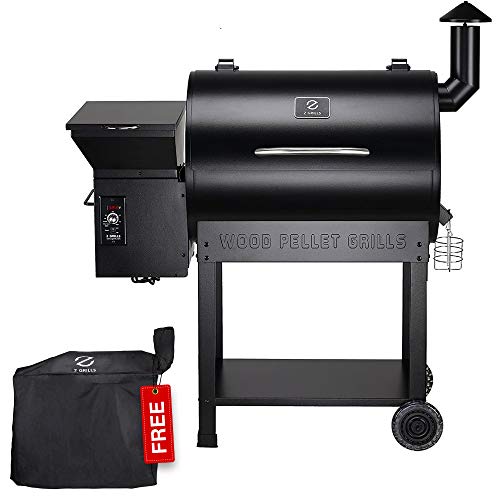 To begin today's review of the best Wi-Fi grills, we are looking at the Z GRILLS ZPG-7002B Wood Pellet Grill & Smoker and since it has been commonly harder to use wood pellet based grills, the Z Grills wood pellet technology aims to change exactly that idea. It gets you all the benefits of wood fire cooking and grilling with an impressive cooking time of 10 hours with just 10 pounds of pellets.
Since your grill is bound to get extremely messy and dirty, it needs a lot of maintenance which is why the cover and all the racks are completely rustproof. There is also a working shelf included which can be folded for use or storage.
One of the best things about this device is that it can be carted along for the ride anywhere thanks to heavy-duty caster wheels. It also comes with the ability to grill, braise, cook, and roast, and more thanks to a versatile temperature that ranges from 180 to 450 degrees.
The entire griller is super easy to use thanks to the addition of the innovative cook options which include the LED temperature display, the electronic auto-start ignition, and the digital auto temperature control. The entire product is sturdy as it is built from high-quality stainless steel which means it will last longer and will be less likely to corrode.
Pros
Long hours of cooking capacity
Foldable working shelf
Heavy-duty all-terrain wheels
Rustproof cover & racks
Electronic auto-start ignition
Digital Auto temperature Control
Real-time LED temperature display
Stainless Steel
Digital temperature control
Cons
Last update on 2023-11-29 / Affiliate links / Images from Amazon Product Advertising API
2. Z GRILLS ZPG-450A Wood Pellet Grill & Smoker 6-in-1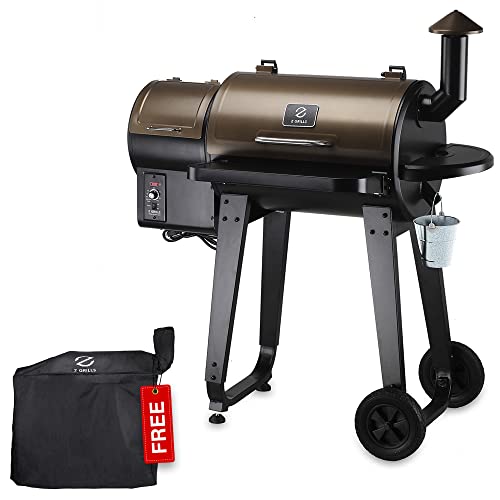 Up next we are looking at yet another product from the Z Grills brand and this one is called the Z GRILLS ZPG-450A Wood Pellet Grill & Smoker and of course to get the perfect flavor it only smokes and grills food using 100 percent natural BBQ wood pellets which offer an authentic experience.
There is a digital control board which is what powers the grill and ensures that the user can adjust the cooking temperature to as high as 450°F. The device is also specialized at perfect cooking times as it makes use of fan-forced convection cooking which means that you won't need any more devices to braise, roast, smoke, or BBQ your meals.
Not only does this device come with an incredible lifetime warranty for a replacement if the user is not satisfied, but there is also a feature called smart smoke technology which manages the settings automatically. This also makes using this grill extremely user-friendly.
Pros
Digital control board
Smart smoke technology
Lifetime guarantee
Fan-forced convection cooking
User-friendly
Cons
Last update on 2023-11-22 / Affiliate links / Images from Amazon Product Advertising API
3. PIT BOSS 71820FB PB820FB Wood Pellet Grill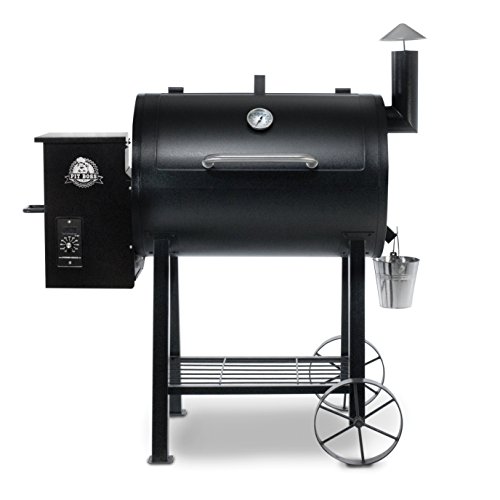 Up next we have the PIT BOSS 71820FB PB820FB Wood Pellet Grill which is an excellent option if you are looking for the ideal Wi-Fi pellet grill because it has been designed to be extremely durable thanks to its heavy-duty steel construction. The device also comes with two large metal wheels which make transportation much easier, but this is still a bulky device when compared to others.
In terms of design, it is super stylish as there is a mahogany finish and there is a High Temp Powder Coat Finish for longevity and style. You also get a resilient stainless steel thermometer to check the temperature of your cooking. Other accessories include a bottle opener, a serving tray, a solid bottom shelf, and a side shelf.
While its incredible heavy gauge stainless steel means that it will last for a while, that also makes this quite a bulky buy.  there are control features too including an LED digital control board and a dial-in temperature control knob for ease of use.
Pros
Stylish design
Heavy-duty steel construction
2 large metal wheels
LED digital control board
A dial-in temperature control knob
Stainless steel thermometer
Solid bottom shelf
Cons
Last update on 2023-11-22 / Affiliate links / Images from Amazon Product Advertising API
4. Cuisinart CPG-4000 Wood BBQ Grill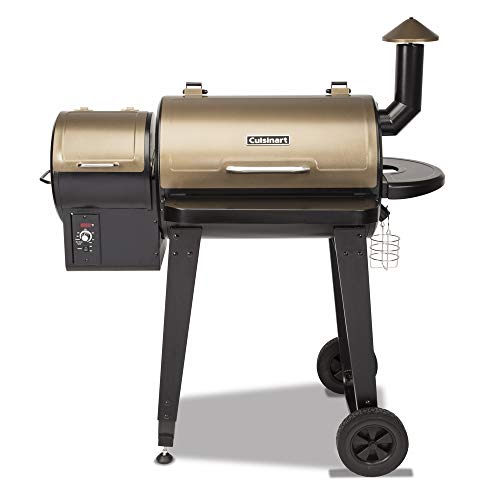 The Cuisinart CPG-4000 Wood BBQ Grill is a potentially strong product for the top Wi-Fi pellet grill since it comes with technologically advanced features such as an LED display which allows the user to automatically maintain the heat and temperature. It has a lot of interesting smart features, including its ability to add more pellets when needed. These are added in from the hopper, which also has a decent capacity.
There is a two-tiered cooking grate which ensures that way more food can be grilled and the folding shelf ensures that this device is easy to store whenever you want. Not only is it easy to store but it is also portable thanks to its all-terrain wheels. The addition of an ergonomic handle also ensures that users get to cart it around comfortably.
The addition of precision-based temperature control ensures that this Smoker can work with foods of all kinds. There is an LED display on the thermostat and this controls the temperature and helps with adjustment.
Pros
Precision temperature control
All-terrain wheels
Stable handle
Folding shelf
Thermostat controlled
LED display
Cons
Last update on 2023-11-30 / Affiliate links / Images from Amazon Product Advertising API
5. BIG HORN Pellet Grill and Smoker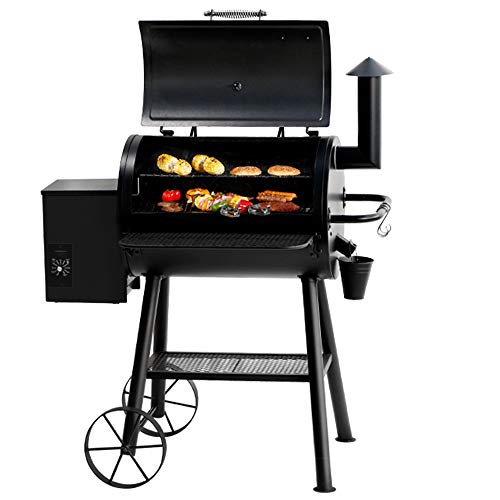 The BIG HORN Pellet Grill and Smoker is next on today's list and this is a very versatile pellet griller that comes with a ton of interesting and user-friendly features. The best thing is that it comes with an LED display for the temperature and there is also a digital auto temperature control feature as well. These allow the cooking to be precise and high quality.
There is a feature called the automated electric feed system which allows the grill temperature to be adjusted with complete ease. There is also a Digital Control Center which grants all control to the user and the heat setting isn't the highest but it can get up to 450 F.
With the inclusion of 6 in 1 functionality, you can bake, braise, grill, smoke, BBQ, and roast all kinds of food items to absolute perfection. The product itself is completely strong and durable thanks to its steel construction and heavy-duty wheels which can be carted on any terrain! The shelf is also foldable and there is an adjustable smokestack damper.
Pros
Durable steel construction
Folding surface shelf
Adjustable smokestack damper
All-terrain wheels
Digital Control Center
6 in 1 versatility
Cons
Last update on 2023-11-30 / Affiliate links / Images from Amazon Product Advertising API
6. Camp Chef 24 in. WiFi Woodwind Pellet Grill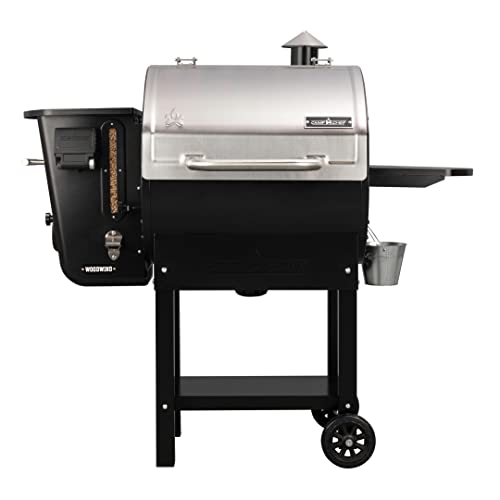 Next up, we are looking at the Camp Chef 24 in. WiFi Woodwind Pellet Grill & Smoker and while this may not have the most features, the ones it comes with are pretty impressive. To start with, this device comes with a PID controller which ensures you have complete smoke and temperature regulation.
This allows the user to easily control the amount of smoke that they wish to add into their food and this means you can adjust the smoke number. For the most precision-based smoking and grilling performance, this should be your go-to device!
This grill also gives you around 40 percent more cooking capacity and that's thanks to the taller chamber in the Woodwind series. This also means you get to experiment and cook with food items of all sizes and amounts. There is also a special slide and grill technology added which ensures that you can get to temperatures as high as 650 F. finally, there is an ash cleanout system which of course ensures maintenance is a breeze.
Pros
PID controller
Smoke number adjustment
Taller chamber
40% more cooking capacity
Slide and Grill technology
Ash cleanout system
Cons
Last update on 2023-11-22 / Affiliate links / Images from Amazon Product Advertising API
7. Green Mountain WiFi Wood Pellet Grill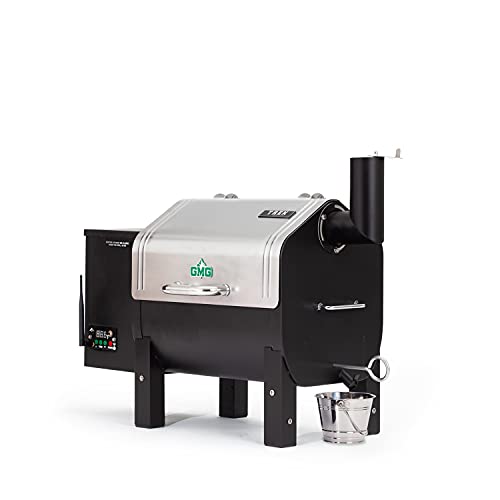 The Green Mountain WiFi Davy Crockett Trek Prime Wood Pellet Grill is another strong contender for the good Wi-Fi pellet grill and it comes in the form of the best portable grill. This is made evident with the easily foldable legs which can allow you to store it away when not needed and also to transport it wherever and whenever you wish.
The device has a digital Wi-Fi controller which works great for your device whether it is an Android or an iOS device. This allows you to control how the meat or food is grilled and cooked without having to stand in the heat or the smoke for long. To ensure that you can fit larger fowl and pieces of meat in there, it has a peaked lid and a handy convenience tray fitted with utensil hooks.
That's not all for the cool innovative features however as this device also has a thermal sensor called Sense-Mate which has the job of monitoring the grill's temperature. There is also a super useful meat probe which allows users to know the exact temperature within the device at all times without having to lift a lid or a finger! Finally, since this device only weighs 68 pounds, it is also pretty portable and light.
Pros
Sense-Mate
Weighs 68 pounds
Meat probe
Digital Wi-Fi controller
Foldable
For iOS and Android
Convenience tray
Cons
Last update on 2023-11-29 / Affiliate links / Images from Amazon Product Advertising API
8. Traeger Pellet Grills Tailgater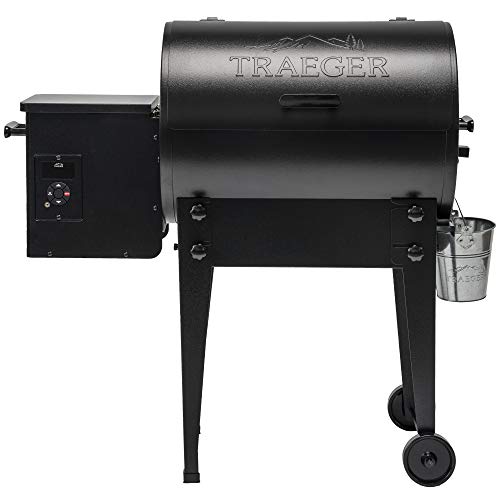 Our final contender for today in the list for the best Wi-Fi-powered pellet grill has to be the Traeger Pellet Grills Tailgater and this is a device that comes fitted with the best of everything. Whether it is the porcelain-coated grill grates that ensure that no food sticks and is evenly cooked or the fact that this grill comes with a keep warm mode to keep food warmer for longer, this product has it all!
As we mentioned the porcelain-grilled grates allow clean-up to be an absolute breeze as well thanks to the fact that the material is non-sticky. This device also comes with foldable legs that ensure you can fold it down for storage or transport for picnics, camping, and much more!
However, the real start of the show has to be the 6 in 1 versatility which ensures that the user has complete control over how their food is cooked. This is of course made much easier with the inclusion of the Digital Arc controller which makes sure that the temperature remains constant throughout.
Finally, this device comes with a specialized meat probe which is built-in meat and is responsible for the monitoring of the temperature of the food without ever having to go through the hassle of lifting the lid and checking the meat.
Pros
Digital arc controller
6 in 1 option
Foldable legs
Keep warm mode
Meat probe
Porcelain-coated grill grates
Cons
Last update on 2023-11-28 / Affiliate links / Images from Amazon Product Advertising API
Wi-Fi Pellet Grill Buyer Guide
After a detailed review of the top 8 best Wi-Fi pellet grills on the market right now, your top choice might be apparent to you. However, in our opinion, buying a pellet grill or any cooking and grilling equipment can be a heft investment especially one that has Wi-Fi technology built into it. So, it doesn't hurt to look at the technical side of things in our detailed buying guide ahead.
The thing about pellet grills is that they are quite different from traditional grills and BBQ cookers in the sense that you won't need any fuel source besides wood chips or pellets. So you need to buy a grill which will have the best features. First, we will start with the main questions that you should look into when making your purchase for the top Wi-Fi pellet grills, and then we will look at the FAQs.
What materials is it made from?
Of course, the construction of your device is important because it will be in constant contact with extremely high temperatures and intense heat so if it is made from stainless steel or powder-coated steel, this ensures that your device lasts you a long time. Getting painted materials means that this can make the paint chip off much faster so you have to make sure you make a smart purchase.
If your pellet smoker has been made from materials that are of higher quality, it will also be a great investment because it will last longer. They can ensure your food is cooked better as well and make maintenance easier.
Does it offer Wi-Fi capability?
This is the main topic for today but apart from that, there are some real benefits to ensuring that your choice comes Wi-Fi enabled. This is because Wi-Fi connectivity allows you to easily control, adjust, and monitor the temperature and settings of your grill without actually having to stand out in the heat. Another crucial aspect to look into is whether the Wi-Fi enabled grill also comes with an application that you can use to control it via your phone.
Is there a warranty?
As we have mentioned time and again, this is a hefty investment which means that it is smart to look into the idea of a warranty of some kind. If you are lucky then the warranty will cover all aspects and won't be limited. Some parts of the device might be way too technical for you to work with so you must make smart decisions around that.
This is why when looking at warranties, it is important to read the fine print! Make sure that you know what the warranty covers and what it does. How long it will be is also quite important.
Wi-Fi Pellet Grill FAQs
What is the best pellet grill on the market?
While there are a ton of picks that we would choose for this, in our opinion, the Trager Pro is an excellent option especially if you want a budget-friendly pick.
This device comes with Wi-Fi enabled so that you can make use of the remote control to easily monitor the grill and your food. This device makes use of a fancy new brushless motor that works at a much lower RPM it still gets you the exact power you need. This works by ensuring that the pellet auger is fired up to run faster and ensure quicker cooking times.
Are pellet grills worth the money?
One explanation of why pellet grills are so popular and should be invested in is their user-friendly nature. Essentially, all you need to be able to do is figure out the buttons and be able to add some wood pellets to the hopper. Most grills do the work themselves. They are deceptively simple to clean as well as mostly they are used for smoking and there is no addition of oil or grease, just wipe away the ashes.
Another advantage is that these cost super less initially and also have less associated costs over time as well. This is much better than gas or fuel-powered alternative. This means that you get all the same features and specs of a gas grill but without all the added costs.
Do pit boss pellet grills have Wi-Fi?
Previously, Pit boss grills did not come with Wi-Fi included however since this has become a lucrative selling point, most pellet grills come with this feature enabled. Both the 1150 pellet grill and the Pro Series 850 have wireless connectivity and it is a first for the range.
These are excellent options as you can monitor and adjust the temperature, the food consistency, and much more while just scrolling away at your phone.
Are pellet grills bad for your health?
There has been a lot of talk of how pellet grills are not exactly the best for user's health but if you look at it holistically, you find out that wood pellet grills cannot cause issues such as lung problems or cancer alone. Of course, they like any gas or fire powered device can be dangerous and that's why they must be sued appropriately.
The fear of added chemicals in your food due to exposure to smoke is not that serious as long as the user knows that they don't overdo it. That can be said about all things because an excess of any one thing is bad. As an added health benefit, the convection system used in wood pellet grills diffuses the smoke so you get less ash and more flavor.
Which pellet grill gets the hottest?
The Memphis Grill can get to extremely hot temperatures. In their updated temperature range, their grills can get as hot as anywhere between 180 to 700 degrees Fahrenheit. This is an extraordinary pellet grill in the sense that the cooking time gets reduced considerably.
It also comes with a large capacity for the hopper which can keep around 24 pounds at a time and all in all gets the user a longer usage time which can last for around 60 hours!
Check out these other great grills: