What makes a pellet grill better than other grilling options?
Pellet grills are becoming increasingly popular because they offer several advantages over gas or charcoal grills. They don't require fuel oil or natural gas, and they produce less smoke and ash compared to charcoal grills.
Pellet grills are traditionally rather heavy and bulky, but the latest models have made significant improvements in both size and weight. There are now portable pellet grills that make them easier to transport from one cooking area to another.
This article will cover the best portable pellet grills on the market today. We'll look at their features and specifications, as well as their pros and cons. You can also learn about which ones we think are the most versatile for different types of outdoor cooking. Included also is a buying guide discussing how to choose the best portable pellet grill for you.
If you're in a hurry, here are the Best Portable Pellet Grills: 
Best Portable Pellet Grills

1. Green Mountain Grills Trek Prime Wi-Fi – Best Overall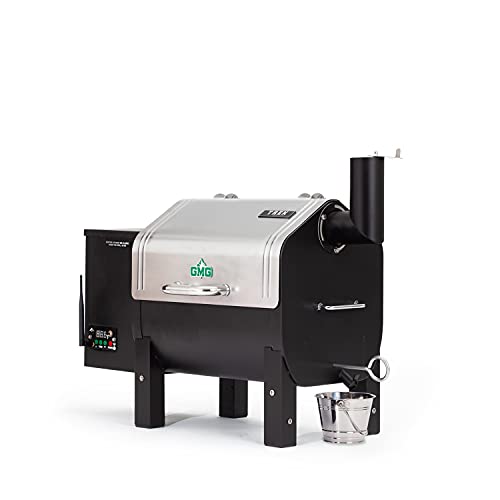 The Green Mountain Trek Prime WiFi Grill is the upgraded model from the Green Mountain Davy Crockett model. The Trek Prime is an excellent choice if you want a compact pellet grill with lots of power. It has a large cooking surface, and it's very easy to use.
The Trek Prime comes equipped with WiFi Smart Control, so you can connect your smartphone to control the grill and monitor temperatures with the GMG app. 
One of my complaints is that it's not very easy to extend or to fold the legs due to the grill's weight. Also, it's not easy to move with the grill extended. You basically have to get a good grasp of it to pull it around.
The Green Mountain Grills Trek Prime is easy to set up, easy to use, and cooks very well. 
Last update on 2023-11-29 / Affiliate links / Images from Amazon Product Advertising API
2. Traeger Grills Ranger Portable Wood Pellet Grill – Runner-Up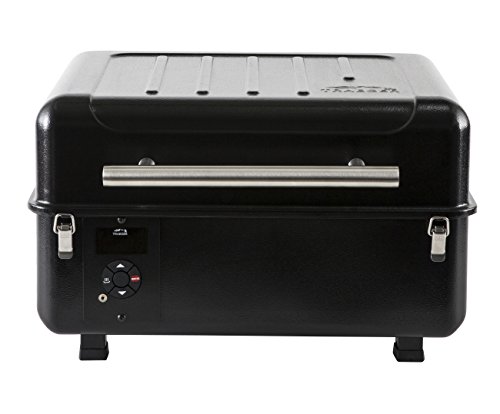 The Traeger Ranger Grill which comes with a weight of  60 pounds which is super light and easy to transport it has a dimension of 20 x 21 x 13 inches and its power source is only a wood pellet it comes with a decent eye-catching black color.
The key feature of this product is its weight The weight of this product is only 60 pounds which too light even makes its buyer easier to transport the product where ever he likes.
This grill is made of porcelain-coated material that provides many advantages to its user. It makes the grill easy to clean and dust resistant. Stain-resistant porcelain does not let the product easily retain antigens or allergens, and it can be easily cleaned with common household wash.
There's a built-in cook timer too, so you don't need to stay around the grill waiting. The cook timer will notify you when the food is done cooking, when it's time to flip the food, or time to add sauce to the food.
Last update on 2023-11-25 / Affiliate links / Images from Amazon Product Advertising API
3. Z Grills ZPG-7002B Wood Pellet Grill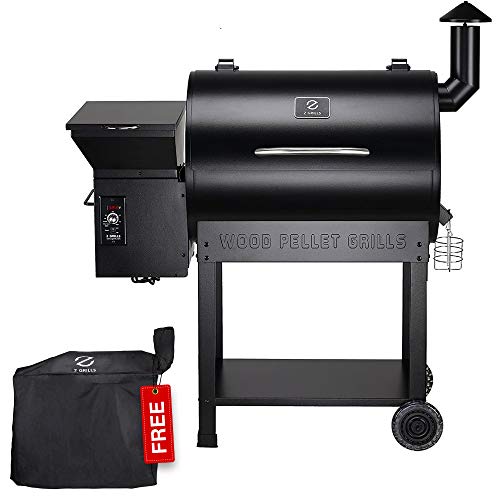 The Z Grills ZPG-7002B grill comes with an ultimate 8-in-1 package, providing the ability to grill, smoke, bake, roast, braise, and barbeque.
The Z Grills wood pellet grill weighs 84 pounds and built with stainless steel and with a sleek finish. It has 700 square inches of cooking space to provide enough room for all types of foods. 
It maintains the temperature within 10 degrees that you set. The grill has a wide temperature range between 180°F to 450°F and its convection heat distribution technology makes sure that food is evenly cooked. 
This grill also produces the right amount of smoke just set the product according to your requirements. Let it do the work without you needing to stand around babysitting the grill. Just sit back, relax and enjoy the food that comes out.
The Z Grills wood pellet grill eliminates the requirement for a rotisserie and establishes a flexible climate for flame broiling, simmering, smoking, and baking. Whether you need to barbecue some sausages or moderate smoke a rib cook, pellet flame broils can do everything effortlessly. 
It comes with a decent amount of the area to cook make stakes at a time as it has flame broiling territory Dimensions 19. 2 x 26 inches, adds up with a smoking/warming rack which has the Dimensions 6. 9 x 27. 5 inches, a complete rack surface region of 700 square inches.
There's a 20 pound container for pellets that allows for fuel to cook for up to 20 hours. A digital LED display panel will show you the temperature for easy tracking. 
Last update on 2023-11-29 / Affiliate links / Images from Amazon Product Advertising API
4. Recteq RT-700 Wood Pellet Grill
No products found.
The Recteq RT-700 grill comes in at a weight of 200 pounds which is one of the heavier ones on this list and it can be difficult to move around, but it's worth it. 
This Recteq Grill uses high-quality stainless steel that has been designed to last a lifetime, so you don't need to worry about replacing it. They feature a common sense design that does not include gimmicks that create weak points, which makes the grills something you will be able to pass down to your family for decades filled with years of memories and stories. 
Stainless steel grates for the oven, firepot for the stovetop, heat deflector for the hood, and a drip pan to catch oil drips. This also includes a logo made from stainless steel and a smoke cap made from stainless steel. There's also an interior light to help you cook at night.
Recteq uses a ceramic ignitor rod which doesn't rust or corrode and has been rated for up to one hundred thousand lighting cycles.
The Recteq grill has two nonstick grilling mats which are easy to use and remove, making the cleaning process faster and less time consuming.
Recteq offers a great 6 year warranty, so this allows the user a safe and high-quality product. If anything goes wrong with the product, you have a long time to fix and replace the grill. It's the best warranty I've ever seen for a grill.
No products found.
5. Camp Chef SmokePro DLX Pellet Grill
The Camp Chef SmokePro DLX Pellet Grill is a versatile electric grill that can handle just about any type of food. You'll love how fast and easy it is to prepare meals using this unit. It's perfect for backyard parties and more!
The Camp Chef pellet grill comes in a choice of three color options: black, bronze, and stainless silver. It works off electricity and weighs 140 pounds. There are two wheels that allow you to move it where ever you like.
The removable pellet grill makes it easy for people to remove the grill to wash it.  It allows for a more efficient clean of the grill.
It has a large capacity 18-lb. pellet hopper with an automatic pellet dispenser when needed. That's less manual work with refilling and dispensing when cooking.
It's a great grill if you're cooking for a large family or party. It has a good size rack surface area at 573 sq. in. to allow for many different foods to be cooked at the same time. 
The Camp Chef grill is easy to transport with its two wheels. It's very stable and won't tip over easily. There's no problem getting the Camp Chef pellet grill ready to go because there's no assembly required. Simply plug it into the wall and turn it on. 
Last update on 2023-11-25 / Affiliate links / Images from Amazon Product Advertising API
6. Traeger Grills Tailgater 20 Portable Wood Pellet Grill TFB30KLF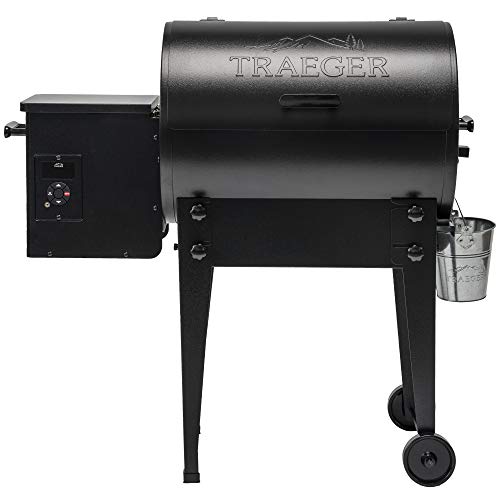 The Traeger Grills Tailgater 20 Portable Wood Pellet Grill  has advance grilling system installed in it and supports two types of power source electric and wood pellet burning. It comes in a sleek black metal finish and weighs only 62 pounds.
It's a 6-in-1 grill that can also smoke, roast, braise, bake, and BBQ. The grill features a digital temperature control panel and a thermometer display window.
The Traeger Grill has a temperature range between 180°F to 450°F max with the capability to maintain the temperature within 15° of your set temperature.
The advanced grilling functionality installed in this product makes it a smart device to use, making the experience an enjoyable and tasty one to remember.
This product includes a decent amount of storage which is good for an average family. It has a 300 sq. in. grill capacity to cook up to 2 chicken, 3 big racks of ribs, or 12 burgers, which is quite decent space for a family.
Last update on 2023-11-28 / Affiliate links / Images from Amazon Product Advertising API
7. Pit Boss Sportsman Portable Pellet Grill PB206PSP2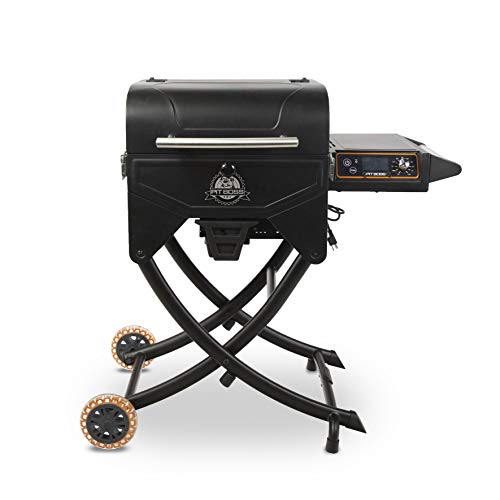 The next product on the way is the Pit Boss Sportsman Portable Pellet Grill which is made up of metal and comes with a color combination of brown and black. It weighs 93 pounds and the dimension of this product is 38.24 x 25.2 x 37.56 inches it is a portable cooking item good for the use of traveling.
The Sportsman grill has foldable legs and rolling wheels that make it easier to transport to different locations.
It is designed to have a maximum heat output of 500° F for its 387 sq. in. cooking surface. There's a digital control board that has a LED readout for you to easily monitor the temperature. 
This Pit Boss grill has a strong structural quality with its stainless steel material, which is the best option for long term usage of the grill. 
COLOR THEME: The color combination of brown and black give the product a high and mesmerizing look thus brings royalty to the personality of both grill and the person buying it the royal theme will make your backyard, unlike another ordinary backyard.
Last update on 2023-11-25 / Affiliate links / Images from Amazon Product Advertising API
8. Pit Boss Portable Pellet Grill PB440TGR1
The Pit Boss Portable Pellet Grill PB440TGR1 has a larger cooking area than the Sportsman at 440 sq. inches. It features folding legs and rolling wheels to make it easy to move around. 
It has a wide temperature range of 180° to 550°F and the digital control center with LED display allows you to track its temperature while cooking. This unit is equipped with a powerful motor that gives off enough power to keep the food warm even after being cooked.
It comes with plenty of cooking space as its grill is 465 sq. inches and there's a side shelf that gives you space for prep and/or finished food. 
A great feature of this Pit Boss grill is its innovative flame broiler that lets you perfectly flame sear steaks and other food.
Last update on 2023-11-25 / Affiliate links / Images from Amazon Product Advertising API
How to Choose a Portable Pellet Grill Buying Guide
Portable pellet grills come in many shapes and sizes. Some are small and compact; others are large and heavy. You must decide how much weight you want to carry before purchasing a particular model. Also, consider where you plan to use and store your new portable pellet grill.
Here are the features and considerations when choosing a portable pellet grill to help you buy the right one for you. 
Size and Portability
Portable grills should be as lightweight as possible if you're constantly on the move. When you're looking for a grill, make sure you know what size you need before buying.
A smaller grill may not be enough if you plan to cook a lot though. You also need to consider how much space you'll have available when you're cooking outdoors.
Think about where you plan to go camping, what kind of tent you want to use, and choose a suitable grill depending on how you're going to get there.
Cooking Surface Area and Work Space
Consider how much work space and cooking area you need depending on how many people you cook for and what types of food you're cooking. If you're planning to grill a whole chicken or a big steak, you'll need a larger surface area to cook in.
Cooking grills should be big enough to fit your needs, and small enough to take along when you're on the road. 
Design and Features
Design and functionality are important to consider when buying a grill. Look for convenient features such as workspaces, hooks and handle, and auto ignition.
You also need to think about safety features like an automatic shutoff, which prevents accidents from happening.
Also, be sure to check out the folding legs, hood lid locks and quality wheels.
Build Quality and Durability
Since portable grills are meant to be regularly transported, you want to make sure the grill is made well so that it won't break down easily.
Look for a sturdy construction that offers good durability. Make sure the grill doesn't wobble or shake during transport in the car, truck, or van. 
Does the portable grill fold down easily? How much space does it take up? Make sure there are no parts sticking out that could break off. It is made of durable materials like metal and plastic. 
Accessories and Other Products Included
Look out for accessories included with the grill. For example, some models include a cover, thermometer, pellets, or other bonuses. 
Pellets grill covers are great for protecting your grill from the weather when stored outside. Grease buckets are useful for catching drips. Thermometers are helpful for checking temperatures. 
Holiday sales periods are usually a good time to look for discounts and/or packages. 
Warranty and Customer Service
Portable pellet grills usually come with warranties ranging from 1 year to 5 years. Most manufacturers offer a 2-year warranty. Some companies offer extended warranties beyond that time frame.
A warranty should be included with every purchase. It protects consumers from faulty products. Consumers should also check out consumer reviews to see if other customers had problems with the product or company.
Budget Available
Portable pellet grills come in various price ranges. Depending on your budget, you can find a model that fits your needs.
If you're looking for something cheap, you can buy a basic model. These are generally inexpensive but don't provide all the necessary features and could be a bigger pain. The build quality and material may not last long either.
On the other hand, high end models are expensive, but give you everything you need. You can expect a better quality product and longer lifespan.
Portable Pellet Grills Final Thoughts
Choosing a portable pellet grill can be tricky. It's best to do research before purchasing any type of grill. This way, you can get the most bang for your buck, as well as one that's right for your situation and home.
Here are other great grill reviews:
Portable Pellet Grills FAQs