Japanese grilled chicken is a culinary trend that is catching on, and this trend is also known as yakitori grills. Yakitori is a meat skewer which is usually chicken, brushed with a delicious sweet sauce. You can enjoy this grill at different events, indoor and outdoor. Now a ubiquitous salaryman food in Japan is becoming popular across the world.
Have you ever thought you can enjoy this event even at your home? You might have had it at a tailgating party or vacation, but the exciting thing is that you can also grill at home without much effort. All you need for this purpose is to create these luscious meats in a yakitori grill.
There is no need to search for the best yakitori grill because we have done the legwork for you. To know-how is that possible? Simply read our article because Yakitori is a lovable tradition of back a hundred years.
In this article, we are going to discuss all yakitori grills and we will also mention the best yakitori grills but the top-notch product which is winning the race is Fire Sense Large Rectangle Yakatori Charcoal Grill. This flagship product is highly recommended because the refractory ceramic material of this charcoal grill is an efficient and faster grill that gives you great family time.
Best Yakitori Grills
If you want a quick review of our top selected grills, glance through our comparison table as it will assist you in knowing the grills' exclusive characteristics.
1. Fire Sense Large Rectangle Yakatori Charcoal Grill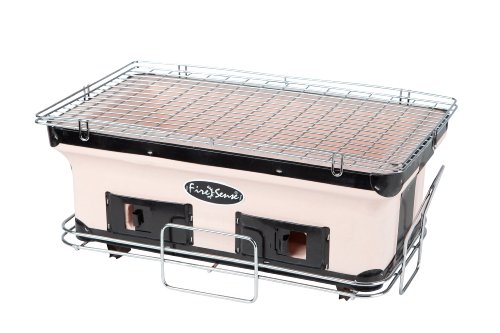 Fire sense large rectangle is one of the best outdoor charcoal grills by Fire Sense. This bbq grill comes with all the essential accessories to meet the user's needs as it consists of a charcoal grate and cooking grill.
Key Features:
This charcoal grill is constructed from handmade clay and it is instilled with a genuine Japanese style tabletop barbecue because the Japanese have always known that ceramic is a perfect material for grill build-up material.
The size of this charcoal grill is the best grill for the family because its size is very accurate and perfect for a small family. It is large enough to carry four burgers as it delivers you with 157 square inches of cooking and grilling area.
It is a portable grill that uses charcoal as its fuel source, which is efficient for this grill, but we do not recommend using wood chunks. The BBQ charcoal grill makes sure that this fuel is used in the most judicious manner possible and promises you juicier and more tender meat.
This outdoor grill features a handmade clay construction that suits your cam grilling and comes with an internal charcoal grate. This chrome-plated cooking grill comes with handles to carry it easily. This portable grill is easy and safe to use; furthermore, you can have it very comfortable from one place to another.Pros
Perfect Japanese table barbeque.
Handmade clay construction.
Ventilation is adjustable.
Cons
It feels like vents' quality is low.
Verdict:
Now, bringing an exotic Asian taste to o home is not difficult when you have a Japanese-style grill with you. Enjoy the Yakitori BBQ with one of the best yakitori grills; Fire Sense Large Rectangle is very affordable and easy to use. Its new and latest technology gives you outclass taste straightforward and effortlessly.
Last update on 2023-06-04 / Affiliate links / Images from Amazon Product Advertising API
2. Pinchot Japanese HBACHI Style Yakitori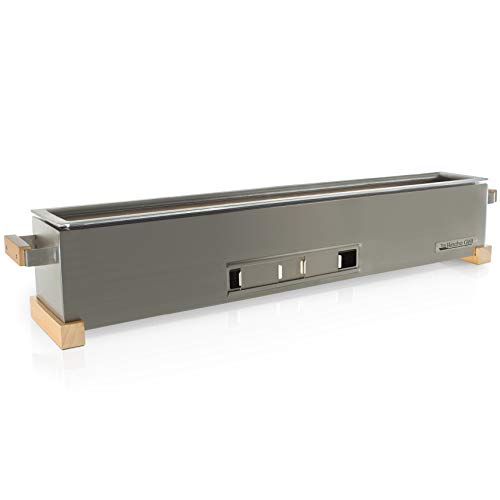 This grill is huge and makes your BBQ ready in very little time. You can enjoy your grilling with this durable and reliable grill.
Key Features:
This grill style is very adorable, and the food it grilled is also fantastic in taste. This grill's weight is 25.8 pounds, so you can easily lift this lightweight grill to place anywhere. The dimension of this product is 17.8 x 11.1 x 7.95 inches.
Open grilling is an old technique of cooking which can never be outdated. The vast majority of the world adore this technique and love to follow it. Over the years, Japan-like other countries in the West have enjoyed grilling, especially during a social gathering.
This light-weighted product is extremely reliable and durable, which makes the meat and vegetables more delicious, sizzling, and yummy. You can use this smart product in your dinners and parties to add joy by making delightful yakitori.
This portable grill will ensure that all your cooking happens in the safest way possible and that you can carry this grill around easily. This fantastic grill is perfect for outdoor cooking events such as hiking, camping, picnics, tailgating, or your average backyard barbecue.Pros
Affordable
Light Weighted
Portable and compact
Cons
Verdict:
Compact and portable products are lovable and worth buying; furthermore, if you get these all features at a fair price then the interest and fun elevate. Buy this great and efficient product if you want a large grill for your family.
Last update on 2023-06-04 / Affiliate links / Images from Amazon Product Advertising API
3. Charcoal Grill Barbecue Portable BBQ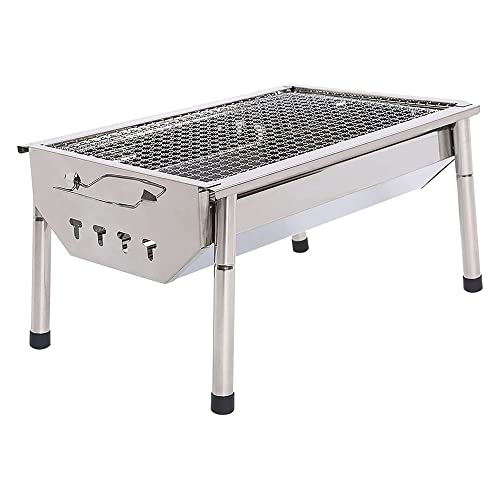 The BBQ grill has to carry able four legs and is designed with more storage space. You can carry your portable grill from one place to another very easily and comfortably.
Key features:
Firm and Durable: This product is made of thick stainless steel material, reliable and excellent abrasion resistance, no rust, no twist, durable and long-lasting. This grill can be used at multiple places like camping, picnics, parks, trailers, tailgate parties, backpacking, etc. This charcoal grill can be placed in a tiny place easily.
This amazing grill is very convenient to assemble like you don't need to take out much time for setting. You can take it anywhere for your fun and entertainment because this compact grill is easy to pick up and carry. Moreover, this ready to use grill doesn't take much time in its setup, so feel free to take it for outdoor parties.
The grill contains four legs, and the bottom of these legs is made of plastic. So, easily adjust the height of the grill and make the BBQ of your choice. The assembled size of this frill is Approx.15.9*11*8.8in. The folded size is Approx.15*12*4in.Pros
Air vents and ash catchers are durable.
Small and light enough to move around
Comes with all the essential gauge
Easy assembly
Cons
The side handle could be a little thicker gauge for more security.
Verdict:
If you are looking for a grill that is easy to assemble and light in weight, then grab a charcoal grill because it is a very light and compact grill. It is one of the top Yakitori Grills that comes with comfortable and ash catches and makes your grilling truly fun. Must place the order of this grill to make your family fun double!
Last update on 2023-06-04 / Affiliate links / Images from Amazon Product Advertising API
4. Uten Barbecue Grill Portable Lightweight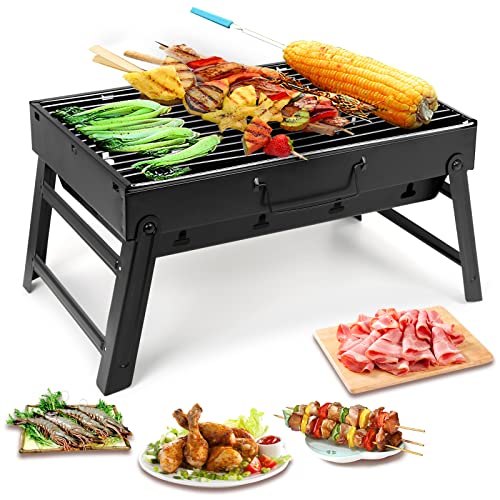 If you love to have smoky grilled flavor in meat and vegetables, then give a chance to Uten BBQ grill because this lightweight BBQ grill can be used anywhere and anytime. Enjoy your get to gather with your friends in a new way and new style.
Key Features:
Foldable and portable! The BBQ Grills folding legs are designed for easy transportation and storage. Its comfortable lifting handles allow you to carry with ease. Uten barbeque grill is one of the great Yakitori Grills that can be easily folded to manage the space. Putting this grill after the use is not a big deal as it doesn't require much space.
You can carry this grill from one place to another very quickly and conveniently. This satin-less steel grill is heat-resistant, which means you do not need to worry much while you are grilling because it doesn't get warm.
Air ventilation design on both ends of the grill is made for even and smooth distribution of heat and airflow. This ventilation also keeps the atmosphere of your surroundings pleasing, airy, and easy to breathe. Non-slip rubber feet keep the atmosphere stable and include a set of tongs for easy handling.Pros
Foldable and portable
1-year money-Back Guarantee
Rust-resistant stainless steel
Cons
The grater is not very comfortable.
Verdict:
If you want one of the ideal Yakitori Grills that are affordable, foldable, and portable, there is no other excellent option than Uten Barbecue Grill. It is made up of a rust-resistant stainless steel structure that gives it extra sturdiness and durability.
Last update on 2023-06-04 / Affiliate links / Images from Amazon Product Advertising API
5. Barbecue Charcoal Grill Stainless Steel Folding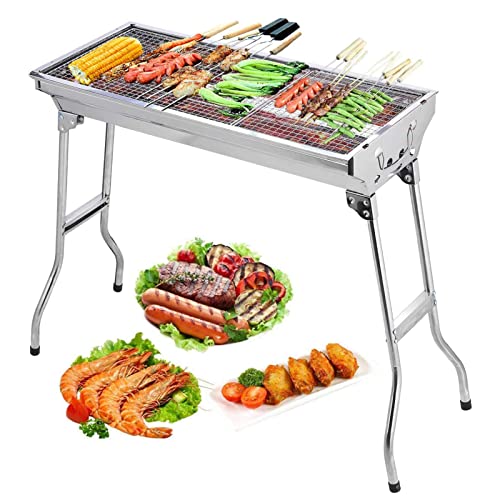 Barbecue charcoal grill is a great yakitori grills that make your grill ready very quickly, and the taste of the grill is exactly what you want. If you're going to make your family's day special and unusual without any stress or extra effort, get this folding grill.
Key Features:
The speedier cooking times also help you save money and time and fill the empty stomachs quickly. Like regular grilling, you don't need to wait longer; it is very prompt in grilling and fills your table in seconds with barbecues.
You can enjoy all your outdoor cooking with this Large Rectangle Yakatori Charcoal Grill by Fire Sense and considered one of the cheap yakitori grills. This grill provides you with 157 square inches of grilling and cooking area.
The Japanese grill manufacturers have always known that ceramic is the best material for grill construction, so this charcoal grill is constructed from handmade clay and features a true Japanese style to add fun and taste to grilled food. The refractory ceramic evenly distributes the heat for more efficient use of the fuel and faster cooking times.
The portable grill uses charcoal as its fuel source, and we do not recommend using wood chunks for the same. The barbecue charcoal grill ensures that this fuel is used in the most judicious manner possible and promises you juicier and tenderer meat. The faster cooking times also help you save money and time and fill empty stomachs quicker.
This portable grill comes with a charcoal grate, a stand with handles, and a chrome-plated cooking grill that enables it to use anywhere and anytime. This camping grill ensures the users' safety and enables you to carry this grill anywhere you want. You can easily change the location even when it's heated up because it's lightweight and non-slip features make everything easy.Pros
Accurate height for the adult so, no needs to bend down to grill meat.
The material is of high quality.
It is stainless steel and durable.
Saves gas expenses.
Cons
Verdict:
If you are looking for a durable grill that saves your gas expenses and offers you high-level taste, then buy this one of the top yakitori grills. It also offers you the perfect height to easily grill.
Last update on 2023-06-04 / Affiliate links / Images from Amazon Product Advertising API
6. Party Griller Yakitori Grill with Double Mesh Grill Grate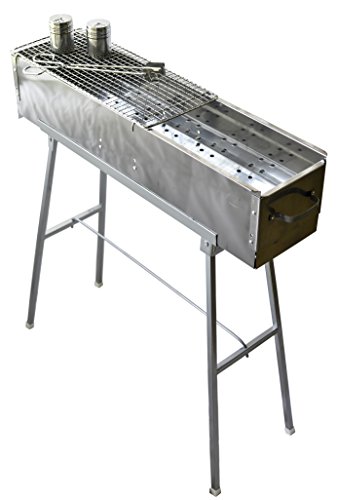 Party griller is a rust-resistant and non-deformable grill. Its durable and robust body is not breakable due to its sturdy and robust material.
Key Features:
Party griller is RUST-PROOF AND WARP-PROOF yakitori grill, which is EASY TO CLEAN. No matter how long you grill or how much your grill is getting oilier, it can be cleaned very quickly end effortlessly.
This durable grill is 32 Inches x 8 Inches Wide and made up of Heavy Duty Stainless Steel from Inside and Outside. This item comes pre-assembled, and you don't need to put extra effort into its arrangement. So, take this out, and it is ready to use with minimal effort.
The edges of this safe grill are round that prevents you from cuts and injuries. This long rectangular grill makes grilled Yakitori, Kebab, and Satay. The Stainless Steel design of this grill makes it light and portable. You can take this mobile to the park and use it as a camp grill to make the food tastier.Pros
Fold-able leg design saves space.
Easy to assemble.
Easy to clean.
Cons
Its color started to change after some time.
Verdict:
If you are searching for a grill that can make your rilling easier, quicker, and yummier, then buy Party Griller Yakitori Grill. It covers with endless marvelous features like its assembling, cleaning, and perfect size appeals to everyone.
Last update on 2023-06-04 / Affiliate links / Images from Amazon Product Advertising API
Buyer Guide of Yakitori Grills
In this article, we have mentioned the great yakitori grills but still, you want some guidelines, suggestions, and recommendations then go through our in-depth guide.
Size
The best way is to pick a grill which is of perfect size according to your need. If you want to buy a yakitori grill for your family then no need of buying a very big grill. On the other hand, if you want something for big parties and guests then approach for a bigger one.
Shape
Traditional yakitori grills come in a rectangular shape and these are easy to handle as well as use. The market is full of different shaped grills as well but rectangular shapes are the best of those.
Air outlets
Ventilation is one of the essential features you should look for. Proper air circulation makes the food cook properly otherwise you need to use a hand fan for air circulation and to avoid the food from under-cooking.
Frequently Asked Questions FAQs
Can you use a yakitori grill inside?
Yes, there are many grills intended for indoor use like Thaan as they produce less smoke but heats quickly. 
What kind of charcoal do you use for yakitori?
The best and accurate Charcoal for Yakitori is IPPINKA Kishu Pro-Grade Japanese Binchotan BBQ Charcoal for quick heating; moreover, it is chemical-free and natural.
How do you grill at home?
Place the grill on the stove and let it heat when it will start scorching, set the heat to normal. Now, you are supposed to maintain the heat through the grilling. Put the food on the grill and let it cook; don't slow-down or high the flame. 
Is a 2 burner grill enough?
If you are looking for a grill for a small family then a 2-burner grill is enough but if you want more space and for a large number of people then buy a 3-burner grill.
Here are other grill articles to check out: