The classic Strawberry Shortcake is such an iconic dessert and so easy to put together. It was nice to see it made with biscuits from scratch.
I know it's easier to use those spongy hollowed-out things in the store, but before you try, look at the ingredients. I'd even suggest using a biscuit mix and adding extra sugar over buying those things.
It's been raining a lot these last couple of days. I'm guessing it's the remnants of Hurricane Isaac meandering its way up the East Coast.
Whatever it is, it's definitely a boredom creator as well as an earth waterer. Dudette's never been one to sit in front of the television for very long and the hand held games bore her pretty quickly, an unfortunate thing on rainy three-day weekends. She's pretty good at using her imagination and playing on her own, but some games need more than one person.
I'm going to let you in on a secret. It's not something that she'd want everyone to know so let's just keep it between us.
You see, my little tomboy; the one who says she's married to Spiderman, that girl who cherishes her Super Hero figurines while I have to hide her Barbies so she won't destroy them, our child who decries any liking for things pink and frilly; Dudette loves Strawberry Shortcake.
We have movies, games, puzzles, lunch boxes and figurines, all featuring this pink-hatted, squeaky-voiced totally girlie-girl. I know, I know. It shocks me too. I've been waiting for all those things to end up on the giveaway pile and let loose a small sigh of relief each time they don't.
I'm all for the sword fights, light saber battles and web slinging. After all, in this case the apple hasn't fallen far from the tree. I had my fair share of skinned knees, tree climbing and rough play. But I also had baby dolls and Barbies. It's all about balance.
So, I encourage Dudette in her Strawberry Shortcake love. What better way than to serve her namesake dessert. A first for our little girl.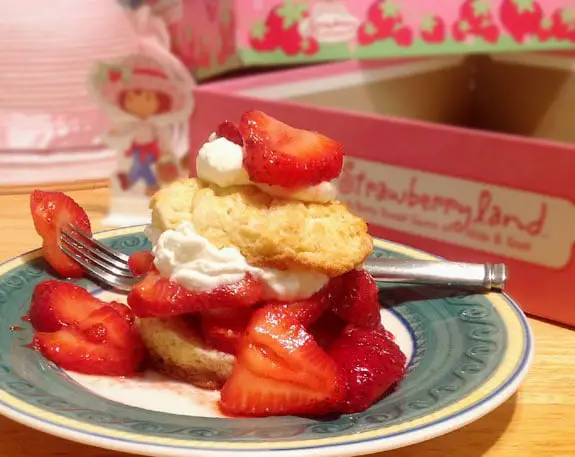 The Process
It could be that these Classic / Classic Updates in Fine Cooking are one of the main reasons I decided to start Turn Back Time Tuesdays. Just maybe. While I love the Classic, it's the challenge of the Classic Update that gets my blood flowing. I almost did this in the wrong order and made the second dessert first. I can't wait for you to see that one. It has Cap'n Crunch in it. Seriously. But that's for next week.
But today we're going to make the classic Strawberry Shortcake.
This recipe comes together so easily, it takes almost as little time as the biscuit mix itself. And tastes better, I promise.
The one thing I didn't like about the process was mashing part of the berries. The instructions call to mash them to a 'chunky puree.' The photo in the magazine makes it look like a beautiful sauce. Mine just looked like hacked apart bits of strawberry in the liquid they always create when strawberries meet sugar and let loose their juice. I'd say if you want a puree, put them in the blender and let 'er rip instead of using a potato masher.
One last thing; don't be scared by how long the recipe looks. I just pasted it in from Fine Cooking and was surprised by the length. It is really quite simple and goes quickly. I promise. Really.
The Verdict
The strawberries and whipped cream are pretty basic, so the verdict is really all about the biscuit, which was delicious, light and just the right amount of sweet. I can't say that mine ended up as tender as cake, as the description in the magazine says, but it was really good. Hubby thought so as well. He's used to having strawberry shortcake served with a hot biscuit and milk, not warm with whipped cream, but he enjoyed it.
Dudette liked her first few bites, but then decided that she didn't like the biscuit anymore. It could have been because she had eaten all the whipped cream off it. It could be because she's six and her whims change with the breezes. Who knows.
Just know that this is a great dessert and was a success in our house.
What I'd Do Different Next Time
I'd take my advice from above and puree some of the strawberries in a blender instead of using a potato masher.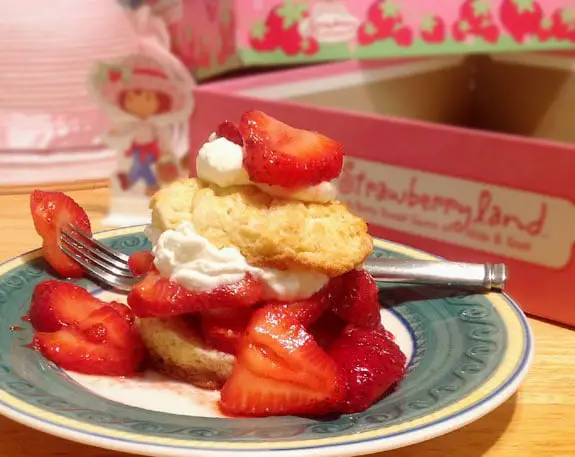 Classic Strawberry Shortcake
from Fine Cooking Magazine
Ingredients  
For the Strawberries
1 lb. ripe strawberries, hulled (about 4 cups)

2 Tbs. granulated sugar; more to taste
For the Biscuits
9 oz. (2 cups) unbleached all-purpose flour; more for rolling

⅓ cup plus 1 Tbs. granulated sugar

2-1/2 tsp. baking powder

¼ tsp. baking soda

½ tsp. kosher salt

4 oz. (1/2 cup) cold unsalted butter, cut into ½-inch pieces

1 large egg

¼ cup heavy cream; more for brushing

¼ cup buttermilk
For the Whipped Cream
1-1/2 cups heavy cream

2 Tbs. granulated sugar
Instructions 
Prepare the Strawberries
Put one-third of the berries in a medium bowl and, using a potato masher, crush them into a chunky purée.

Slice the remaining berries ¼ inch thick and stir them into the mashed berries along with the sugar. Taste the berries, adding more sugar if necessary.

Let the berries sit at room temperature for at least 30 minutes.
Make the Biscuits
Position a rack in the center of the oven and heat the oven to 425°F. Line a large heavy-duty baking sheet with parchment.

Sift the flour, ⅓ cup of the sugar, the baking powder, and baking soda into a large bowl. Stir in the salt. Using a pastry blender, a fork, or your fingertips, work the butter into the dry ingredients until the mixture resembles coarse cornmeal.

In a small bowl, beat the egg and heavy cream with a fork. Mix in the buttermilk. Make a well in the center of the flour mixture and pour in the cream mixture. Mix with the fork until the dough is evenly moistened and just comes together; it will still look a little shaggy.

Gather the dough and gently knead it three or four times. If the dough seems dry and doesn't form a cohesive mass, work in more cream, 1 tsp. at a time.

Transfer the dough to a lightly floured surface and roll it into a ¾ -inch-thick disk. With a sharp 2½-inch biscuit cutter, press straight down to cut the dough into rounds and lift straight up to remove (don't twist the cutter or it will seal the sides of the biscuits and interfere with rising).

Transfer the rounds to the prepared baking sheet. Gather the dough scraps, gently knead them together, re-roll, and cut out more biscuits until you have a total of 6.

Lightly brush the biscuit tops with cream (about 1 Tbs.) and sprinkle with the remaining 1 Tbs. sugar.

Bake, rotating the baking sheet once, until the biscuit tops are lightly browned, 10 to 15 minutes. Let the biscuits cool slightly while you whip the cream.
Whip the Cream
In a large, chilled metal bowl, whip the heavy cream and sugar to soft peaks with an electric hand mixer. (Use immediately or refrigerate, covered until ready to serve).
Assemble the Strawberry Shortcakes
Using a serrated knife, split the warm biscuits in half horizontally and transfer the bottoms to 6 dessert plates. Spoon about three-quarters of the macerated berries and their juice evenly over the biscuit bottoms. It's OK if some of the berries spill out onto the plate.

Top with a generous dollop of whipped cream and cover each with a biscuit top.

Spoon more berries and cream over each shortcake and serve immediately.
For other tasty desserts and recipes, check these out: