I should be inspired. I should be able to wax eloquent for hours. I should have an endless stream of ideas flowing through me onto this electronic piece of paper.
Instead, each time I look at that gorgeous cheesecake, my mind goes blank. Such is its power over me. And I don't know why.
Hubby asked if I could remember the first time I had cheesecake in hopes that it would spark some story that I could tell you, but I don't. Sure, we had the sheet pan variety as made via the recipe on the side of the cream cheese package many times when I was growing up. It was a family favorite.
But my first slice of real, springform pan-baked, egg-laden, several pounds of cream cheese cheesecake? I haven't a clue.
I can tell you my most memorable cheesecake. That one's easy because it was Hubby's and my wedding cake. A friend made it for us as her wedding gift to us. She would never share the recipe, which I still don't understand because it wasn't a family heirloom, just one she found on the Internet, but I do know it had white chocolate in it and it was absolutely amazing.
Surprisingly, considering that this is my most favorite dessert of all time, this is only the second time I've made that springform pan-baked, egg-laden, several pounds of cream cheese cheesecake from one of my magazines. How wrong is that?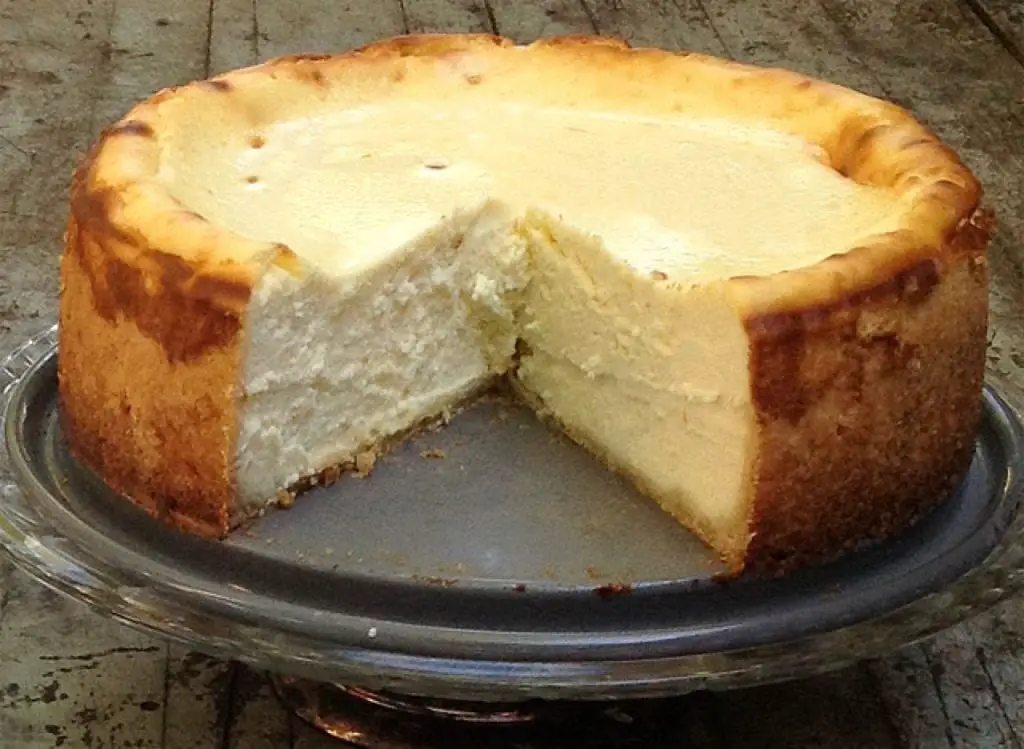 The Process
'Process' is a good word for what it takes to make a cheesecake. It's not hard, but it does take time.
What I like about this recipe, and I mean really like, is the fact that the crust is more along the lines of a pie crust instead of the crumb variety. I also like the fact that the crust is so thin. It provides support yet allows the filling to shine.
If you're a bit nervous about making a cheesecake, this is a good one to start with. The directions are well written and easy to understand. I followed them exactly and look at what I ended up with. Heaven on a platter.
The Verdict
Do I really need to answer this? It's heaven on a platter. So says me. So says Dudette. So says Hubby. It's rich and creamy and delicious. As a personal matter of taste, I'd probably omit the orange zest and just stick with lemon, but that's just me, not a recipe thing.
If you're looking for a go-to cheesecake recipe; look no further. Saveur nailed it for you.
What I'd Do Different Next Time
Nothing can improve on a perfect cheesecake, which this is. Though, that being said, for personal preference, I'd leave out the orange zest.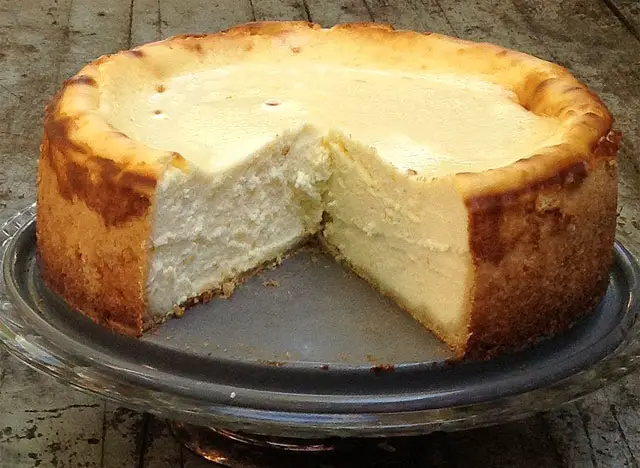 Lindy's Cheesecake
From Saveur Magazine
Ingredients  
Crust Ingredients
1 cup flour

8 tbsp. unsalted butter, cubed

¼ cup sugar

1 tsp. lemon zest

¼ tsp. salt

1 egg yolk

½ vanilla bean, seeds scraped and reserved
Filling Ingredients
2½ lb. cream cheese, softened

1¼ cups sugar

3 tbsp. flour

1½ tsp. orange zest

1½ tsp. lemon zest

½ tsp. vanilla extract

5 whole eggs, plus 2 yolks

¼ cup heavy cream
Instructions 
Make the Crust Instructions
Combine flour, butter, sugar, zest, salt, yolk, and vanilla seeds in a bowl; rub with fingers until dough forms.

Form dough into 2 rounds; wrap each in plastic wrap. Chill for 1 hour.

Press 1 dough round onto bottom of a 9″ springform pan; pull off pieces from remaining dough and press around sides of pan. Set aside.
Make the Filling Instructions
Heat oven to 500°. Beat cream cheese, sugar, flour, zests, and vanilla in a large bowl on medium-high speed of a hand mixer until smooth. Add eggs and yolks, one at a time, beating after each addition, until smooth; stir in cream.

Pour filling into pan, and bake until top begins to brown, about 15 minutes. Reduce heat to 200°, and bake until just set, about 1 hour more.

Transfer to a rack, and let cool completely. Cover and refrigerate at least 8 hours or overnight. Remove cake from pan and cut into slices to serve.
For other great cheesecakes, check out these delicious recipes: