Rich, creamy and delicious, this Irish Cream Cheesecake is the highlight of any meal. It's perfect with coffee.
Confession time. I struggled with whether or not to write this review. In fact, I've had this cheesecake finished and have been whittling away it one piece at a time for several days now. It was, after all, the birthday cake I chose to make myself.
Every time I cut myself a slice, sat down with my coffee and my piece of Irish Cream Cheesecake, I thought of you. I knew that I should be sharing this amazing dessert with you, but I didn't do it. Until today.
If you look carefully at the top of the cheesecake, you'll see why. Try to peek under the dusting of cocoa if you can. It's overcooked. Not badly, but enough to darken the top just a touch too much and to change the consistency from ultra-decadent creamy to just creamy.
But, honestly, every time I have a slice I say 'oh my gosh' out loud and that means something.
It means that Irish Cream Cheesecake is really, really good. And worth sharing.
The Process
Page 49 of Cuisine at Home is what I really look for in a food magazine and what I wish all of them would do. You see, I like to know the 'why' behind the things that recipes ask me to do.
For instance, the instructions say, 'Before adding eggs, loosen each yolk with a fork, then add egg to batter …' In my alone-in-the-kitchen-world, I'd be talking to the magazine, maybe even carrying on a little rant because of it wanting me to mess up more bowls and utensils for what I consider no reason.
But. But Cuisine at Home explains its weird little quirks. Why pre-mix the eggs before adding them to the batter? Because it 'lessens the chances of overmixing the batter.' It's an ah-ha moment, my friends. And this recipe is full of those.
I mixed my liquid ingredients before adding the eggs so that I didn't over beat them, which could have caused the cake to rise, then fall, causing the split on top. I used the water bath because the even heat kept the cake creamy.
See what I mean?
Trust me, if you follow the instructions, you'll end up with an awesome cheesecake. The only reason mine overcooked was because my timer decided to turn off (yes, I'm in the market for a new stove) and while I caught the problem fairly quickly, it did bake for over an hour.
The Verdict
Despite being a bit more overdone than it should have been, this cake is amazing. I love the flavor that the brown sugar and Irish cream (I did use Bailey's)  give it. Hubby enjoyed it too. I don't think that the crust, which is oatmeal-based, is my favorite, but it was good (but yes, I would use a different one next time). And there will be a next time. It's too delicious for there not to be. I'll just use a different timer.
Oh, Dudette? Yes, well, there's alcohol in this so she was destined to dislike it even though the spirits had evaporated off and there was just yummy flavor yet. She did try a bite and her response is not worth repeating. There's a good chance this is an adults-only dessert (which is just fine with me).
What I'd Do Different Next Time
I'd go with a different crust, maybe one with Biscoff cookies as the main ingredient.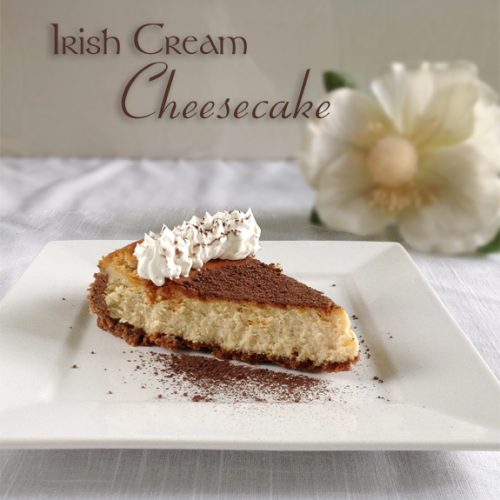 Irish Cream Cheesecake
Rich, creamy and delicious, this Irish Cream Cheesecake is the highlight of any meal. It's perfect with coffee. From Cuisine at Home Magazine
Ingredients  
1½ cups old-fashioned rolled oats

½ cup all-purpose flour

1 cup packed brown sugar, divided

1 teaspoon ground cinnamon

½ teaspoon salt

½ cup unsalted butter, melted

3 8-ounce packages cream cheese, softened

¾ cup granulated sugar

½ cup Irish cream liqueur

½ cup heavy cream

3 eggs at room temperature
Instructions 
Spread the oats out on a baking sheet and toast until they smell nutty, 8-10 minutes. Add the oats, flour, ½ cup brown sugar, cinnamon and salt to a food processor and process until blended. While the machine is running, pour in the melted butter and continue to process until the mixture clumps.

Press the oat mixture into the bottom and up the sides of a 9-inch springform pan then bake the crust 10-12 minutes, or until firm. Remove the crust and let cool to room temperature.

Wrap the base of the springform pan in aluminum foil and place it in a roasting pan.

To make the filling, beat the cream cheese, granulated sugar and remaining ½ cup of brown sugar at medium speed until smooth. Continue beating and add in the Irish cream and heavy cream.

Add each egg separately, gently beating each with a fork to loosen the yolk first before adding it in. Mix to incorporate before adding the next one.

Pour the filling into the springform pan, then pour boiling water into the roasting pan so it reaches 1 inch up the side of the pan.

Bake the cheesecake until the edges are set but the center still jiggles, approximately 1 hour.

Turn off the oven but leave the cheesecake inside for one hour more. Do not open the oven (though how you're supposed to check to see if the center still jiggles without doing that, I don't know).

After the hour, let the cheesecake cool to room temperature on the counter, then cover with plastic wrap and chill for 3-24 hours. Top cheesecake with whipped cream and chocolate shavings if desired.
Notes
What I'd Do Different Next Time
I'd go with a different crust, maybe one with Biscoff cookies as the main ingredient.
I should be telling you that this is my last dish from Cuisine at Home, but honestly, I don't know if it is. There are still at least a dozen tabs sticking out from between the pages. This one might be hard to say goodbye to. We'll see.
Check out these other recipes for great desserts: