A combination of cream cheese and homemade ricotta give this Chocolate-Orange Cannoli Cheesecake a unique, creamy consistency. It's delicious!
I just realized recently that I've never had a cannoli. That's a bit surprising considering that I adore all things Italian, especially the country itself. 
While there isn't a strong reason for not eating one of the little tubes, I guess that I haven't sought them out because the thought of whipped cream in pasty just doesn't flip my switch. It sounds … boring.
I thought about what I've been missing as I puttered around my kitchen, deconstructing a cannoli into a rich, creamy cheesecake.
And I decided that I've definitely been missing something.
The Process
The recipe makes use of the four cups of Homemade Ricotta Cheese that I made a few days ago. In order for the cake to be nice and firm, it's important to make sure that the ricotta is well drained.
I have to admit that when I made the crust I was worried. The photo in the magazine showed a beautiful, dark brown crust. As I patted my pistachio mixture into the pan, it was impossible to miss the fact that it was green, a brilliant pistachio green. It lightened up a little after pre-baking it, but it was still an unmistakable green. 
I crossed my fingers and continued prepping.
A mess. That's the only way to describe my kitchen. The prep is easy, though time-consuming. The food processor and stand mixer do much of the work. 
The clean-up, however, is horrendous. Big bowls, small bowls. Pans, plural. Spatulas, whisks, spoons and knives. Sticky candied orange and melty bittersweet chocolate. A full sink.
My cheesecake baked for the full 50 minutes to get to the 'jiggle slightly when nudged' stage, then it sat in my cooling oven for a full hour before being put on a rack to cool completely.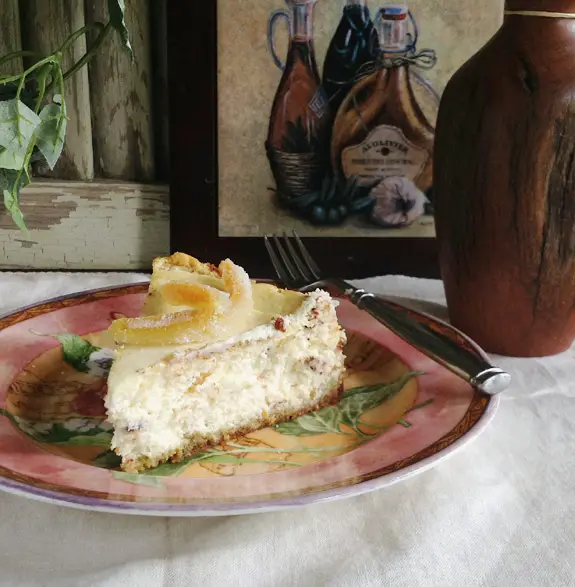 The Verdict
As you can see, the crust morphed into the nice dark brown color I was hoping for, thank goodness. The cheesecake itself was light and creamy. I thought there was a perfect balance of orange and chocolate. Doug and I both found it delicious.
I decided to take a few slices to work and garner more opinions, so yesterday I grabbed a container and did just that. The overwhelming thought was that this cheesecake is fantastic. Everyone loved the flavor, though one die-hard chocolate lover wished that there were more bits of chocolate so she could be assured a taste in every bite of cheesecake.
The one critique people had, including me, was that this cheesecake had a much different consistency than the 'normal' all-cream cheese version.It was lighter and less dense. 
That's not a bad thing, but for those who are fans of the New York style, this is definitely not that.
As an aside, the recipe calls for a 9″ pan, which I used. The magazine's photo, however, seems to use a larger pan because it's much thinner than my gloriously thick cheesecake. 
What I'd Do Different Next Time
Not a thing.
The Recipe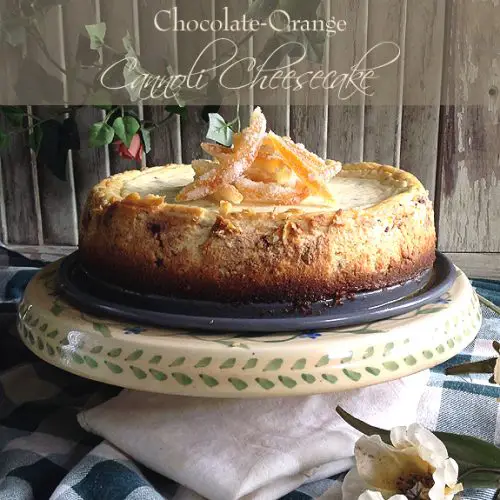 Chocolate-Orange Cannoli Cheesecake
A combination of cream cheese and homemade ricotta give this Chocolate-Orange Cannoli Cheesecake a unique, creamy consistency. It's delicious! From Fine Cooking Magazine, April/May 2015
Ingredients  
Crust Ingredients
3-3/4 oz. (3/4 cup) shelled salted pistachios

1-1/8 oz. (1/4 cup) unbleached all-purpose flour

3 Tbs. granulated sugar

1 oz. (2 Tbs.) unsalted butter, melted and cooled

1 large egg yolk

½ tsp. pure vanilla extract
Filling Ingredients
8 oz. cream cheese, softened

¾ cup granulated sugar

¼ tsp. kosher salt

4 cups homemade ricotta

1 Tbs. amaretto

1 Tbs. finely grated fresh orange zest (from 1 medium orange)

1 Tbs. cornstarch

1 tsp. pure vanilla extract

3 large eggs, at room temperature

1 oz. bittersweet chocolate, finely chopped (1/4 cup)

1 Tbs. finely chopped candied orange peel

Candied orange slices for garnish
Instructions 
Make the Crust Instructions
Pulse the pistachios in a food processor until finely chopped, about 20 one-second pulses. Add the flour and sugar, and pulse until the mixture is mealy.

In a small bowl, whisk the melted butter, egg yolk, and vanilla. Add to the processor and pulse until the mixture holds together when pinched.

Press the mixture into the bottom and about ½ inch up the sides of a 9-inch spring-form pan. Refrigerate for at least 20 minutes.

Meanwhile, position a rack in the center of the oven and heat the oven to 325°F. Bake the crust until lightly browned, 10 to 15 minutes.

Cool on a wire rack. Reduce the oven temperature to 275°F.
Make the Filling Instructions
In a stand mixer fitted with the paddle attachment, beat the cream cheese, sugar, and salt on medium speed until soft and creamy, 1 to 2 minutes. Add the ricotta and beat until the mixture is smooth and light, 1 to 2 minutes.

Meanwhile, in a small bowl, mix the amaretto, orange zest, cornstarch, and vanilla. Add to the batter and beat until combined. Beat in the eggs, one at a time. Do not overbeat the mixture once the eggs have been added. By hand, fold in the chocolate and candied orange peel.

Pour the filling into the crust and smooth the top with a spatula. Bake at 275°F until the edges look set but the center 4 inches jiggle slightly when the pan is nudged, about 50 minutes. Turn the oven off, run a thin paring knife around the edge of the cheesecake, and let cool in the oven with the door slightly ajar for 1 hour. Transfer to a rack and cool to room temperature, about 3 hours.

Refrigerate until thoroughly chilled, at least 4 hours. Once cold, wrap the cake in plastic wrap if not serving right away.

To serve, run a thin knife around the edge of the cheesecake again before removing the side of the pan. Garnish with the candied orange slices before serving. To slice, heat the knife under hot water between each cut and wipe it dry.
Make Ahead of Time Tips
Once baked and completely chilled, the cake can be wrapped in plastic wrap and refrigerated for up to 3 days. Remove the side of the pan and garnish just before serving.
Notes
For the homemade ricotta, drain it for 8 hours in the refrigerator and then bring to room temperature. Or purchase good quality ricotta and drain if wet
Check out these other delicious desserts: