Yesterday I did something that I haven't had the chance to do in a long, long time. I cooked for my parents.
As I did my normal rummage (or as my French-speaking folks would say, as I farfouilled) through drawers and cupboards to find the things I needed in order to make the Bistro Steak in Red Wine Sauce, my mom shadowed me, adding her comments and suggestions in pure mom fashion.
When she would ask why I was using an ingredient, I responded, 'because I'm supposed to.' As I selected a large skillet from the dozen on the wall, she queried, 'Why did you choose that one?' Again, the response was the same, 'I'm supposed to.'
At some point I was out in the garden, searching for early shoots of thyme and rosemary in the herbs, and lamenting that the rosemary was no where to be found, meaning I'd need to use dried. 'Just substitute something else,' was Mom's suggestion.
Ah, major big no-no. I reminded her that there are no substitutions. There are no deviations from the ingredient list. There are no adaptations of the instructions. Food, when made from the magazines, must be made exactly as written.
Except when there's a Dudette around who spills something on herself, which requires the cook to drop everything in order to wash the floor, wash Dudette's clothes, and finally wash Dudette and put her in an adult t-shirt that comes to her calves while her own stuff gets clean.
In that case, a 30-minute meal is allowed to take an hour or so.
The Process
The good news is that this recipe is very forgiving of break-taking. I had the potatoes (which you'll hear about tomorrow) all prepped and on a baking sheet. I had already seared the steak and it was on a platter, covered to keep warm and waiting on the rest of the meal.
The ingredients for the red wine sauce were prepped and waiting by the stove for preparation when the cry for help came. I turned off the stove and walked away for 30 minutes.
When I returned, I popped the potatoes in the oven, put some flame under my skillet and just picked up where I had left off, sautéing shallots and thyme, then adding wine and beef stock.
A touch of butter and Dijon mustard were added off heat, along with salt and pepper and we were ready for a late lunch.
The Verdict
Mom gave the bistro steak four stars. Consider how much relish she ate it with, I'm thinking she could have gone up to five with no trouble. Dad felt the same way. He thought the sauce was excellent, but then again, it was a wine sauce; of course he would.
Dudette and I both enjoyed this very much. The sauce has rich flavor. The butter does a fantastic job of giving the sauce body and richness. The Dijon mustard complements the red wine perfectly.
Mom said that she'd love to make this again (just as is).
What I'd Do Different Next Time
Not a thing.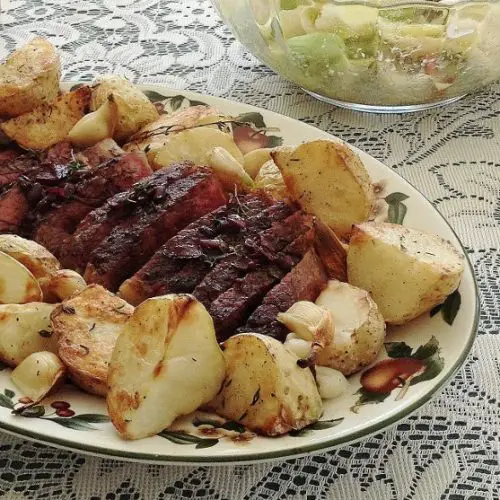 Bistro Steak with Red Wine Sauce
Sirloin steak is pan seared to perfect doneness, then a delicious red wine sauce is created from the drippings. The meal is a bistro dream.
From Cooking Light Magazine
Ingredients  
1 tablespoon canola oil

2 (8-ounce) top sirloin steaks, trimmed

⅜ teaspoon salt, divided

⅜ teaspoon freshly ground black pepper, divided

3 tablespoons minced shallots

2 teaspoons chopped fresh thyme

½ cup full-bodied red wine (such as cabernet sauvignon)

½ cup unsalted beef stock

1½ teaspoons butter

½ teaspoon Dijon mustard

1 tablespoon chopped flat-leaf parsley
Instructions 
Heat a large skillet over high heat. Add oil; swirl to coat. Sprinkle steaks evenly with ¼ teaspoon salt and ¼ teaspoon pepper. Add steaks to pan; cook 4 minutes on each side or until desired degree of doneness. Remove steaks from pan. Let stand 5 minutes.

Reduce heat to medium-high. Add shallots and thyme to pan; sauté 1 minute or until lightly browned. Add wine; cook 2½ minutes or until liquid almost evaporates. Add stock; cook 3 minutes or until liquid is reduced by half and mixture is slightly thickened. Remove pan from heat. Add remaining ⅛ teaspoon salt, ⅛ teaspoon pepper, butter, and mustard; stir with a whisk.

Cut steak across the grain into thin slices; serve with sauce. Sprinkle with chopped parsley.
It's always hard to cook in someone's kitchen and to 'allow' someone free rein in your space, so kudos to my Mom for letting me loose there yesterday. Thanks Mom.
Try out these other delicious recipes: