This chili mac is one that should not be overlooked. It's easy, quick and delicious.
Yes, yes, I know. I said I was done with Paula Deen after Diabetesgate.  I've done so well at passing her magazines by in the grocery stores and ignoring them at Barnes & Noble. I haven't touched one since May of 2011. I even continued to curled my lip when I mentioned her name after all these months.
But I'm not one to hold a grudge. Well, maybe for a little while. Sometimes.
Yes, Paula continued to cook fat-filled foods on her show and pump out magazines that made us gain weight just by looking at them until she cut the deal with the drug company, but that's business. And, after all, it's not her job to tell us what we should cook and eat, right?
Truth be told, it wasn't the photo on the front of this Home Cooking with Paula Deen issue that caught my eye. I think the lasagna photo is too…..bright. No, it was the word 'BREAKFAST,' all in caps. I might have said, 'oooooh,' out loud.
So, I picked up the issue and paged through it. Nine breakfast dishes. Nine. Magazines rarely include a single breakfast item unless it's a special publication issue. I felt like I had scored big.
So, I made peace with the southern belle right then and there and I brought Paula home with me.
The Process
Prep is easy. Open some cans, rip off the top of a few packets and you're good to go.
Ok, yes, I'm being snitty. You also need to cook the macaroni and cook the beef and onion. Then you open the cans and rip off the tops.
I did find that the recipe makes much more than the 13×9 casserole as indicated. After filling the big dish, I had enough left over for those two mini-casseroles.
If your life is busy, you should print this out and keep track of it. I threw it together in the amount of time it took to cook the pasta and had it sitting on the stove when I left with Dudette for Tae Kwon Do. I texted Hubby precise instructions on how to heat the oven and throw the three casseroles in when we got home and dinner was ready by the time I returned.
The Verdict
The flavor of this chili mac is as good as the packet of chili seasoning you use. When you count on packets and cans, that's how it goes. Dudette found it to be a bit too spicy (one of the chili mixes was spicy so she was right), but she did enjoy it. Hubby and I did as well.
It's hard not to like chili mac, but I had to watch the amount I ate since there's so much more salt in the cans and packets than in stuff made from scratch. And, with this casserole being classic comfort food, it was really hard to stop nibbling.
What I'd Do Different Next Time
I'd add a second can of beans. I like beans in my chili.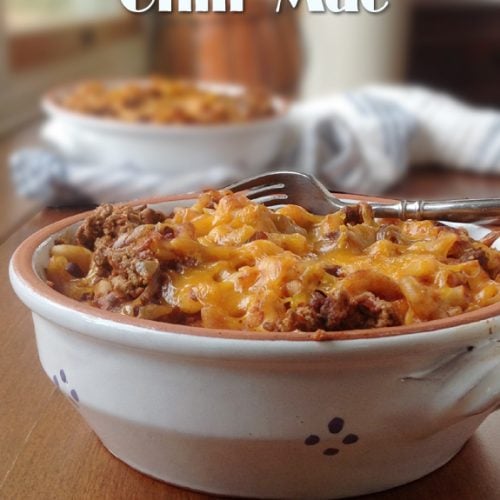 Chili Mac
This chili mac is one that should not be overlooked as a favorite comfort food. It's easy, quick and delicious. From Home Cooking with Paula Deen, January 2013
Ingredients  
1 16-ounce package elbow macaroni

2 pounds ground chuck

1½ cups chopped onion

3 15-ounce cans tomato sauce

1 15-ounce can ranch-style beans, drained

2 1.75-ounce packages chili seasoning mix

2 cups shredded sharp Cheddar cheese
Instructions 
Preheat oven to 350. Spray a 13×9-inch baking dish with nonstick cooking spray.

Cook macaroni according to package directions, and keep warm.

Meanwhile, in a large skillet, cook ground chuck and onion over medium heat, stirring often, until meat crumbles and is no longer pink; drain well.

Stir in tomato sauce, beans, and chili seasoning. Cook over medium heat, stirring frequently, for 15 minutes.

Stir in macaroni. Spoon mixture into prepared baking dish; top with cheese.

Bake for 20 minutes or until hot and bubbly.
For other great-tasting recipes, check these out: