Deep-Dish Mushroom & Onion Pizza: Before you sigh and walk away from this gorgeous pizza, know that it's lightened up. Which means you can have a guilt-free slice.
It's been just about 20 years since I was able drive 10 minutes to Giordano's and order a truly authentic deep dish pizza.
No, I'm not going to get into a debate on whether Giordano's is better than Lou Malnati's or Gino's East.  From where I'm sitting, 800 miles away from all three of them, they're all amazing. And I miss them a lot. 
People say that it's the water in New York that gives the bagels there the unique flavor and chew. Maybe the same goes for Chicago's pizza. I just know that neither can be matched anywhere else in this country. 
That doesn't mean I'm going to stop trying. 
The Process
While it's true that this is not in Cooking Light's super fast meals section and does take a bit of time, it's not difficult to prepare, just a little time consuming.
For instance, the crust needs to be kneaded (we all need to be needed!), and then set aside for a good amount of time to rise, then put in the pan (yes, getting the dough to go halfway up the sides is a cuss-worth endeavor).
And, as a case in point, the onions and mushroom need attention, sautéing both until golden and tender. Marinara needs to be heated, and cheese must be shredded (because you really don't want to use pre-shredded cheese for this gloriously beautiful pizza, do you).
Once all those things are done, putting together the pizza is an easy matter of sprinkling Parmesan on the bottom of the crust, carefully adding the onions and mushrooms over the cheese, topping that with the marinara (don't forget to remove the bay leaf), and putting down a nice blanket of mozzarella over the sauce.
Twenty eight minutes of baking later, a masterpiece comes out of the oven.
The Verdict
Remember, this is me, the mushroom and onion lover in the family. It's no surprise that I found this to be crazy delicious. Everything about it worked. It looked like a deep dish pizza (trust me, I've made some that were unrecognizable). It smelled like a deep dish pizza.
And most importantly, it tasted like a deep dish pizza. I enjoyed it immensely. My only critique would be regarding the amount of salt used. The crust was really good, but a bit more salt would have made it fantastic. The same can be said for the filling.
The recipe uses less than a half teaspoon salt for an entire deep dish pizza. I'd have really loved to see more in there to boost the flavors.
As far as Sophie's opinion, when Hubby got home from work, she told him that she liked the pizza a lot, except for the onions and mushrooms. To me, that says a lot. It shows that the filling doesn't rule the pizza. She was well satisified with what was essentially a cheese deep dish pie. I can handle that. 
Hubby ate it, but since he's not a mushroom fan, he wasn't as thrilled as he would have been if the pizza had been stuffed with sausage. Which is fine, because I will make this again, but I'll add more salt and I'll stuff it with sausage.
What I'd Do Different Next Time
I'd up the salt to 1/4 teaspoon in the crust and 3/4 teaspoon salt; 1/2 half in the mushroom mixture and 1/4 in the marinara.
The Recipe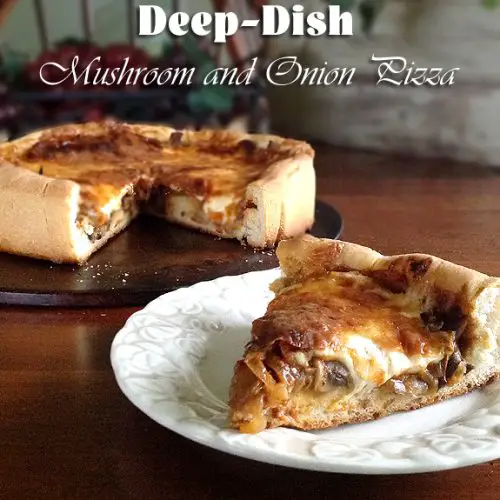 Deep-Dish Mushroom and Onion Pizza
Deep-Dish Mushroom & Onion Pizza: Before you sigh and walk away from this gorgeous pizza, know that it's lightened up. Which means you can have a guilt-free slice.
From Cooking Light Magazine, September 2014
Ingredients  
1¼ teaspoons dry yeast

½ teaspoon sugar

¾ cup warm water (110°)

3 tablespoons olive oil

9 ounces all-purpose flour, divided (about 2 cups)

¼ cup semolina flour

⅜ teaspoon salt

Cooking spray

1 tablespoon olive oil

1½ cups thinly vertically sliced onion

1 tablespoon minced garlic

½ teaspoon dried oregano

¼ teaspoon salt, divided

¼ teaspoon freshly ground black pepper

1 (8-ounce) package sliced mushrooms

¾ cup lower-sodium marinara sauce

1 bay leaf

1 tablespoon olive oil

1 ounce Parmesan cheese, grated (about ¼ cup)

5 ounces part-skim mozzarella cheese, shredded (about 1¼ cups)
Instructions 
Dissolve yeast and sugar in ¾ cup warm water in the bowl of a stand mixer; let stand 5 minutes. Add 3 tablespoons oil. Weigh or lightly spoon 7.9 ounces (about 1¾ cups) all-purpose flour into dry measuring cups; level with a knife.

Add 7.9 ounces flour, semolina, and ⅜ teaspoon salt to yeast mixture; mix at medium-low speed with a dough hook until smooth (about 4 minutes).

Turn dough out onto a lightly floured surface. Knead until smooth and elastic (about 5 minutes), gradually adding remaining ¼ cup all-purpose flour.

Place dough in a large bowl coated with cooking spray, turning to coat top. Cover and let rise in a warm place (85°), free from drafts, 1½ hours or until doubled in size.

Heat a large skillet over medium-high heat. Add 1 tablespoon oil; swirl to coat. Add onion; cook 3 minutes or just until tender. Stir in garlic; cook 30 seconds, stirring constantly. Add oregano, ⅛ teaspoon salt, pepper, and mushrooms. Cook 6 minutes or until mushrooms release their moisture.

Combine remaining ⅛ teaspoon salt, marinara, and bay leaf in a saucepan. Bring to a boil; reduce heat, and simmer 5 minutes. Discard bay leaf.

Preheat oven to 425°. Place oven rack in bottom third of oven.

Coat bottom and sides of a 10-inch springform pan with 1 tablespoon oil. Punch dough down; turn dough out onto a lightly floured surface. Gently press dough into a 13-inch circle.

Carefully lift dough and place in prepared pan. Press dough into bottom and halfway up sides of pan. Sprinkle Parmesan evenly over dough. Top with mushroom mixture.

Spread marinara mixture over mushroom mixture. Sprinkle with mozzarella. Bake at 425° for 28 minutes or until crust and cheese are browned. Let stand 5 minutes. Cut into 6 wedges.
I didn't realize until just now, when I closed the magazine, that I cooked the cover. I don't actively try to do it, but considering how often I'm drawn to a magazine in the grocery store by what's on the cover, it's always fun to see it happen. 
Here are other great recipes for delicious meals: