I discovered another area in which I don't deal with change very well. We all have some of those things to varying degrees.
A big one for me shows up when I write. I have … no, wait. I HAVE to have my mug of coffee by me while I'm writing, which means I have to write in the morning because I don't drink coffee in the afternoon or evening (it keeps me awake when I want to be sleeping).
My latest revelation came when a severe thunderstorm literally blew in (35 mph winds) and knocked our power out for a few hours. When it returned and I tried to boot up my computer, nothing happened. I heard the click of the button, but nothing else.
Long story semi-short, A wonderful, kind, angelic friend took my dead machine to her home to try and revive it. My baby left me on Friday evening. And just like that, I was without a computer.
I. Was. Lost. It wasn't the massive amount of information that I missed, or my calendar, contacts and bookmarks.  It was my computer. my keyboard. my monitor. Sure, I was able to use Hubby's laptop, but what took minutes on my machine took hours on his because nothing worked the same way.
And I missed my office. Horton the elephant wasn't peering at me from the top of my monitor. I couldn't look out my window to the lake across the street. Molly didn't have anywhere to sleep because Hubby's desk is too cluttered for a blanket. The walls I stared at were green, not the rich, warm rough wood I'm used to.
That is why I didn't force Dudette to eat this mac and cheese (but she did have to have just one bite).  The blue box is her comfort zone. This stuff, well, it's Hubby laptop.
The Process
I was always a fan of Anne Burrell when she was on Mario Batali's team while he was with Iron Chef America so I was excited to see a recipe of hers in the March issue of Food Network Magazine. The fact that it was mac and cheese with bacon was a bonus.
It all starts with bacon. I cooked a half dozen slices until they were nice and crispy, then removed them to a plate to drain. I added butter to the bacon drippings (I know, I know) and then threw in some chopped onions to soften.
I added flour, then whisked in the milk, mustard and hot sauce. The instructions said to simmer the sauce until thickened, 6-8 minutes. My sauce was ready within 2 minutes so I quickly got my water boiling and added the pasta.
After throwing the Cheddar, Fontina and Parmesan into the sauce and whisking it until everything was melted and the sauce was smooth, I stirred in the cooked pasta and bacon.
The Verdict
I thought I had measured something wrong because I had way more sauce than pasta to cover it with. Proportionally, there wasn't enough bacon to go around either (approximately one slice per serving).
As far as flavor, other than a heavy taste of Dijon, the mac and cheese was excellent. I like the onion addition and the three cheeses together. I love the salty bacon cutting into the creaminess. Dudette did have a taste and wasn't impressed. She said all she could taste was mustard. I think if the Dijon hadn't been in there she would have enjoyed the mac and cheese.
What I'd Do Different Next Time
I'd double the amount of bacon (you can never have too much bacon), halve the amount of sauce, omit the Dijon and add a teaspoon of mustard powder instead.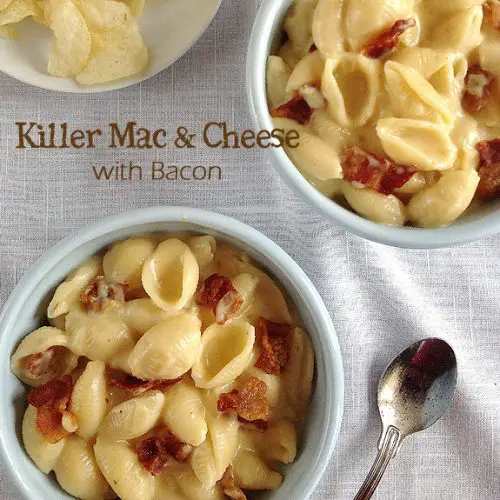 Killer Mac and Cheese with Bacon
From Food Network Magazine, March 2014
Ingredients  
Extra-virgin olive oil

6 slices bacon, cut crosswise into ½-inch pieces

3 tablespoons unsalted butter

1 onion, cut into ¼ inch dice

Kosher salt

½ cup all-purpose flour

1 quart whole milk, plus more as needed

¼ cup dijon mustard

Tabasco or other hot sauce

1 pound medium shells or other short pasta

2 cups grated cheddar cheese (about 8 ounces)

2 cups grated fontina cheese (about 8 ounces)

1 cup grated parmesan cheese (about 4 ounces)
Instructions 
Drizzle a bit of olive oil in a large saucepan. Add the bacon and set the pan over medium heat; cook, stirring occasionally, until brown and crisp, 8 to 10 minutes. Remove from the pan and drain on paper towels. Do not discard the bacon fat: Reserve that deliciousness!

Add the butter and onion to the pan with the bacon fat; season with salt and cook until the onion is soft and aromatic, 4 to 6 minutes. Add the flour and cook, stirring frequently, until the mixture looks like wet sand, about 3 minutes.

Slowly whisk in the milk, mustard and a few shakes of Tabasco. Season with salt and bring to a boil, then reduce the heat to low. Simmer until the mixture is slightly thicker than heavy cream, 6 to 8 more minutes.

Meanwhile, bring a large pot of well-salted water to a boil. Add the pasta and cook 1 minute less than the instructions on the package suggest. Taste it: It should be toothsome, with just a little nugget of hard pasta still in the center-this is al dente. Drain the pasta.

Add the cheddar, fontina and parmesan to the milk mixture and whisk to combine. Taste and adjust the seasoning, if needed, adding a little more milk if the mixture seems too thick.

Stir in the cooked bacon and pasta. The mixture should be very creamy and flavorful. Serve immediately. (If making ahead, transfer to a baking dish or ramekins, then reheat in a 375 degree oven.)
I was without my computer for just four days but that was long enough. Today I am back. Horton's looking at me as I gaze out my window at the lake.
I'm surrounded by my gorgeous wood paneled walls and my computer is humming by my feet. And yes, there's a cup of strong French roast coffee right where it belongs; in front of my monitor and next to my keyboard.
For other tasty recipes, check these out: