Sweet and Spicy Steak Bites: Quick, easy and absolutely delicious, these steak bites make an awesome snack or main dish meat any time of year.
Can you list off five brand name products that come from where you live? I can, and to be honest, I'm a bit surprised about that.
I love my little area of the country, but other than the bigger metropolitan areas like Raleigh-Durham and Charlotte, it's so green and gorgeous, it's hard to imagine it as home to companies like Mount Olive (the pickle folks), Krispy Kreme, Pepsi, Texas Pete, and Burt's Bees.
Not only that, the two biggest soda rivals (pop to you northern folk) were both birthed in North Carolina; Pepsi in New Bern and my beloved Coca Cola in Greensboro. Pretty cool, huh?
While I love the fact that buying any of these products counts as 'buying local,' what I really enjoy is finding the smaller, up-and-coming products that have a home here where I live.
Such is the case with the bottle of BS Sauce that's sitting in my fridge right now.  I discovered it during my recent tour of the totally renovated Reynolda Lowes food store last week and fell in love, so much in love that I've used three quarters of the bottle over the course of the weekend.
Half of it went to these steak bites.
The Process
This is super simple. If you have some beef, butter, salt and pepper and a bottle of BS sauce, you're good to go. Oh yeah, it's also a good idea to have a well-seasoned cast iron skillet. Because everything cooks better in cast iron.
That being said, heat the skillet, then add the oil, allowing it to just begin to bubble. Throw in the beef and season it with salt and pepper. After a few minutes of cooking and giving the meat a chance to sear, add in the sauce and butter. Serve with a smile.
The Verdict
Oh my, oh my. These bites were fantastic. The sauce works perfectly with the beef and turns the bites into little packages of flavor. Hubby and Dudette agreed. In fact, the two adults were a bit surprised (and saddened) by how much our young lady ate. She devoured her share and then some, removing any chance that Hubby would have leftovers for lunch.
They're that good.
The Recipe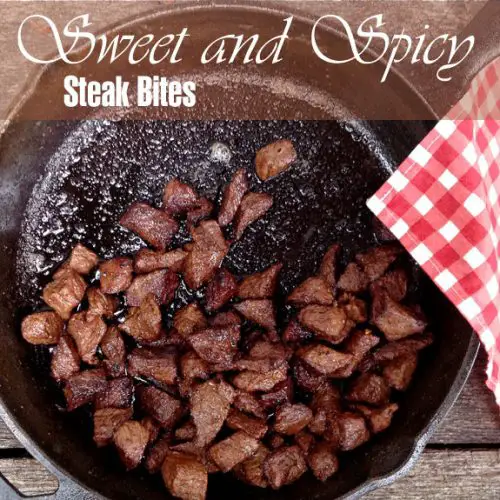 Sweet and Spicy Steak Bites
Quick, easy and absolutely delicious, these steak bites make an awesome snack or main dish meat any time of year.
Ingredients  
2 pounds sirloin tip roast

2 tablespoons olive oil (not extra virgin)

1 teaspoon salt

½ teaspoon freshly ground black pepper

1 tablespoon butter

1 teaspoon hot sauce (I used Texas Pete Chipotle)

2 tablespoons BS Original Cooking Sauce
Instructions 
Heat a large cast iron skillet over medium-high heat (or over direct flame on a grill). Add the oil, heat, then add the beef (it should sizzle and sputter). Season the beef with the salt and pepper and cook on all sides for 3-4 minutes.

Add the butter and BS Sauce, stir to coat and cook for an additional 2-3 minutes.

Remove to a bowl and dig in.
It's usually at this point that you'll see the disclaimers about a product being provided but the opinions being all my own. That's not the case here. The folks that make the BS Sauce have no idea (yet) that I bought a bottle of the sauce, made the steak bites and am telling you about their product. I just believe in supporting local companies … when they're worth supporting. This stuff; totally worth it.
Check out these other great-tasting dishes: