The best pork chop seasoning will make your pork chop the most succulent and delicious. This super simple homemade pork dry rub will make it so you don't have to deal again with boring, bland pork chops.
This easy and delicious recipe for pork chop rub will quickly become a favorite in your spice cabinet. This spice mix adds so much flavor to regular-tasting pork chops and makes them a mouth-watering delight.
This homemade dry rub can be used to season your pork chops in a variety of ways.
My homemade pork rub takes only two minutes to make. Because I don't need to cook any ingredients, it is very convenient and easy to make.
It is much more time-saving to make my own pork seasoning than to buy ready-made. They are fresher tasting and don't contain any preservatives.
You don't need to go far to find the ingredients for this pork chop seasoning recipe. This spice mixture is great tasting and made from regular spices that you likely already have at your home. This is hands down the best seasoning you can use on your pork chops!
How to make Pork Seasoning
Pork seasonings are great because they allow you to add a lot of flavor without having to worry about it overpowering other ingredients in your dish.
This makes it easy to use spices in recipes that might not traditionally call for them. This is a great way to add some extra flavor to your meals without having to change too much about the dish.
Ingredients
1 teaspoon paprika
1 teaspoon garlic powder
1 teaspoon onion powder
1/2 teaspoon black pepper
1/4 teaspoon cayenne pepper
1/4 teaspoon ground cumin
Directions
Combine all ingredients in a small bowl and mix well. Store in an airtight container in a cool, dark place for up to 6 months.
To use
Sprinkle pork seasoning over pork chops, roast pork, or grilled pork chops before cooking. Or, add it to your favorite recipe for an extra boost of flavor.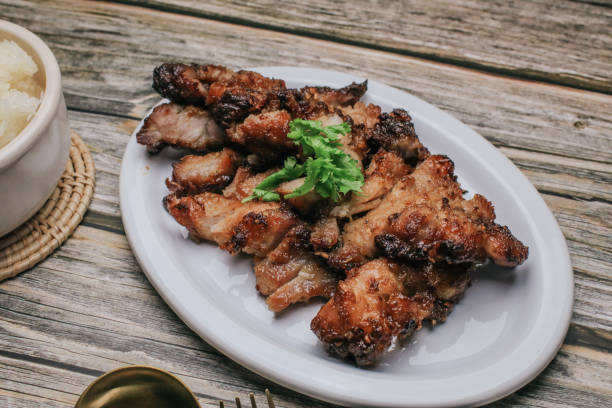 What Are The Best Spices To Use For Pork Chops
Pork chops are a versatile cut of meat that can be cooked in a variety of ways. One of the best ways to cook pork chops is to use a spice rub or marinade to add flavor. There are many different spices that can be used on pork chops, so it is important to experiment until you find the perfect combination for your taste buds.
Some of the best spices to use on pork chops include paprika, garlic powder, onion powder, oregano, thyme, and rosemary. These spices can be combined in any proportion that you like, so feel free to experiment until you find the perfect blend.
Pork chops can also be seasoned with salt and pepper before cooking. If you are using a spice rub or marinade, it is important to let the pork chops sit for at least 30 minutes before cooking, so that the spices have time to penetrate into the meat.
Storing And Reheating
For up to six months, store your pork chop spice mix in an airtight container. It should be kept out of direct sunlight and stored in a dry, cool place.
You should keep the remaining rub separate from any liquids like other dry seasonings. It is not necessary to refrigerate it or freeze it.
How to Use Pork Chop Seasoning
Rub the pork spice mixture all over each pork chop.
If you are using thick slices of pork chop, make sure that the pork rub covers all sides. You can concentrate on the top or bottom of thinner slices, as the sides will be flat.
What Can I Eat This Recipe With?
Although this homemade pork seasoning recipe only requires a few basic ingredients, it's very versatile. It can be used for boneless pork chops, as well as for chicken, beef, steak, and chicken. Pork chops can be served with your favorite side dishes, such as cauliflower rice or broccoli.
Tips and Variations
This dry rub recipe can be modified to suit your needs. You can add white pepper or onion powder to this dry rub recipe, or even more Chili powder.
You can also put all the spices in a Ziploc bag and shake it to combine.
Smoked paprika is used in this recipe for its unique taste. However, regular paprika can be substituted.
After rubbing the seasoning into the pork chop, shake off any excess. Otherwise, crumbs would fall off during roasting and burning.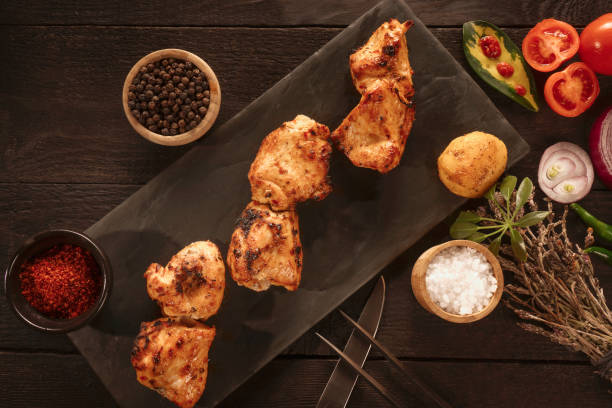 How Do You Make A Simple Pork Chop Seasoning Mix?
Your Pork Chop Seasoning Mix is ready to use now and has a shelf life of one year if stored in an airtight container. You should be able to store it at room temperature as long as you keep it away from heat sources like the stove or oven and don't let it sit in direct sunlight.
Here is an easy way to make your seasoning mix that takes just one minute! This simple formula yields two cups of dry seasoning powder.
1. Start by measuring out 2 cups of white sugar into a mixing bowl. Use a whisk or a spoon to thoroughly combine the sugar with the other dry ingredients in your seasoning mix, like salt, black pepper, garlic powder, onion powder, and paprika.
2. Next, add 1 cup of non-fat dried milk to the bowl and mix until it is evenly incorporated. This will help to keep your pork chops moist and tender while they are cooking.
3. Finally, stir in 1/4 cup of cornstarch until it is fully blended into the dry ingredients and forms a fine powder. Store your Pork Chop Seasoning Mix in an airtight container in a cool, dry place for up to one year.
4. To use your seasoning mix, combine 2 tablespoons of the powder with 1 tablespoon of water until you have a paste-like mixture. Rub the paste onto both sides of each pork recipes chop before cooking in a skillet or on the grill. Cook your pork chops to the desired doneness, then serve and enjoy!
FAQs
What Spices Pair Well With Pork?
Season pork chops with regular salt, and they will still taste good. You don't have to settle for just okay when you can make the best pork chops. This recipe will make your pork taste amazing! This recipe uses garlic, oregano, and other spices that are perfect for seasoning pork.
What Can You Do To Add Flavor To Pork?
Seasoning pork is my favorite way to give it flavor. The flavor of your pork seasoning will vary depending on the ingredients. Marinating pork can also add flavor. This is especially helpful if you have time to marinate the pork before grilling. The marinade will make the pork tender and juicy by soaking up its delicious flavors.
When Is The Best Time To Season Pork?
Season your pork at least 30 minutes to an hour before you start cooking. This will allow the flavors to really sink in. The pork will absorb the delicious seasoning, and it will become juicy and flavorful when it is roasted. You can take the pork chop straight out of the refrigerator, but you should wait until it reaches room temperature before you do so. If you are in a rush, you can cook it just a few minutes prior to cooking. Before you apply the seasoning, make sure to dry it and rub it with olive oils.
For other tasty and delicious meals, check out these posts: