I'm curious; what's your normal knock-around-the-house wear during winter?
Do you dress for show from nice shoes to coiffed hair even if you're not expecting visitors? Or are you at the other end of the spectrum; opting for comfort in barely-decent sweats, ratty sweater and floppy slippers?
Me? I usually wear stuff that I'd be able to head out in public in. Except (there's always an except). I do wear slippers because if my feet get cold, all of me gets cold.  
I also wear a cardigan sweater on top of the other sweater I have on. My favorite is a rather gnarly pink thing that was given to me by an old co-worker about twenty years ago. 
Much like Mister Rogers had, it's a sweater that comes on when I get in the house. Unlike his dapper, neat cardigans that millions of children saw over the course of decades, mine is only seen by family. It comes off the minute the doorbell chimes or I head outside.
Am I embarrassed to be seen in public in it? You betcha. But it's the most comfy thing I own; soft, not scratchy and toasty warm to match the season.
Comfort and warmth. Welcome to winter.
The Process
In the same way my sweater comes out of the closet as soon as cool weather hits, my slow cooker also makes its appearance on the counter. 
There are two types of slow cooker recipes (in my opinion); those whose main instruction is to dump ingredients into the bowl, set the temperature and walk away, and those that require as much prep work as using the oven would. 
Be warned, my friends, this stew is the later. It requires prep. But it's worth it because, in this case, another term for prep is flavor development.
The good news is that all the 'flavor development'; browning the beef, cooking the onions and garlic, creating the gravy, gets done in the same skillet (I used my big cast iron one for the job). Once everything is seared, softened, and simmered, it's added to the slow cooker, the lid's put on, the dial's set to low and you can walk away for 7 hours.
To finish up the dish, I didn't even bother with the colander over a Dutch oven thing. I simply used the lid to keep the chunky stuff in and let the juices pour into the same skillet I had used for searing. I added a wine/flour slurry, whisking until the liquid thickened up perfectly into a gravy, then poured it back over the meat and vegetables. 
Dinner was served.
The Verdict
Wow. I think that about covers it. This is really, really delicious. I may have used my finger to grab up the last bits of potato and gravy just to be sure I got everything. That kind of good. We all thought so, though Sophie did eat around the carrots and mushrooms, gingerly nibbling on the one that she had to eat.
Sometimes when I make a dish from Cooking Light, I recognize it's 'lightness,' be it from a lack of salt or butter or other yummy, health-sabotaging flavor agent. Not this time. This meal offered up a huge flavor hit and total comfort cooking in a 12.2 fat gram package.
What I'd Do Different Next Time
I might add a teaspoon of Dijon mustard to the sauce at the end just to cut the sweetness from the wine a bit.
The Recipe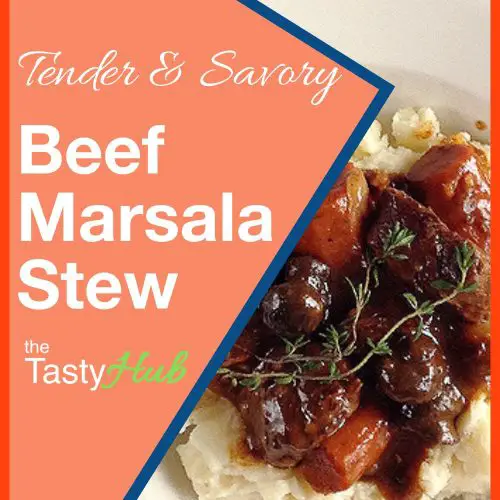 Beef Marsala Stew
Tender, savory and absolutely delicious, this slow cooker Beef Marsala Stew is a perfect weeknight comfort food meal. From Cooking Light Magazine, December 2014
Ingredients  
2 tablespoons canola oil, divided

2 pounds boneless chuck roast, trimmed and cut into 2-inch cubes, divided

1 teaspoon kosher salt, divided

12 ounces cipollini onions

4 garlic cloves, minced

2 tablespoons unsalted tomato paste

½ cup plus 2 tablespoons sweet Marsala wine, divided

1½ cups unsalted beef stock

1 teaspoon freshly ground black pepper

3 thyme sprigs

8 ounces small button mushrooms

4 large carrots, cut into 1-inch pieces

2 tablespoons all-purpose flour
Instructions 
Heat a large, heavy skillet over medium-high heat. Add 1 tablespoon oil to pan; swirl to coat.

Add half of the beef. Cook 8 minutes or until well browned, turning to brown on all sides.

Place browned beef in a 6-quart electric slow cooker; sprinkle with ⅛ teaspoon salt.

Repeat procedure with the remaining 1 tablespoon oil, remaining beef, and ⅛ teaspoon salt.

Add onions to pan; cook 1 minute on each side or until browned.

Add onions to slow cooker. Add garlic to pan; sauté 1 minute. Add tomato paste; cook 1 minute, stirring constantly.

Add ½ cup wine, scraping pan to loosen browned bits; cook 2 minutes or until half of liquid evaporates.

Add stock and pepper; bring to a simmer.

Carefully pour stock mixture into slow cooker; nestle thyme sprigs into liquid.

Top beef mixture with mushrooms; scatter carrots over top.

Cover and cook on LOW for 7½ hours.

Strain mixture through a colander over a Dutch oven or large skillet; discard thyme sprigs.

Bring cooking liquid to a boil; cook 6 minutes or until liquid is reduced to 2 cups.

Stir in remaining ¾ teaspoon salt. Combine remaining 2 tablespoons wine and flour, stirring with a whisk to form a slurry.

Stir into cooking liquid; cook 1 minute or until bubbly and thickened, stirring constantly.

Pour over beef mixture; toss gently to combine. Garnish with thyme sprigs.
I think beef is my favorite meat to add to the slow cooker, especially when using a cut like a chuck roast. This method makes it fork-tender and infuses it with the flavors of whatever's added to it. 
Here are some other great recipes to try out: