Here we are, a mere four days before Halloween. Are you ready? Candy bought? Fake spider webs draped across windows? Costumes at the ready?
Other than the web thing (which I won't do), I can say yes to all those questions, thank goodness. Sophie's going to go trick-or-treating as Evie, a character from Disney's Descendants movie.
Costumes for that character, unfortunately, are either sold out or run upwards of $200+ so we've had to get a bit creative. Sophie and I spent a good portion of Saturday morning at thrift stores, trying on skirts, jackets and tops, all the while trying to adjust a decidedly high school look to a fourth grader's style.
After a day of shopping and another trip to a store for fabric paint, I think we're ready. On Saturday night, we'll head out to our neighborhood's Halloween party, complete with a hay ride for Sophie's trick-or-treating, a bonfire, snacks and hot drinks.
Before I send her in the direction of all that sugar on a cool, fall night, however, we'll sit at the dinner table and eat a good, hearty meal like this one. It'll be food that sticks around and warms her up.
The Process
This beauty is another one-pot wonder and I love it for that. I was able to brown my beef and cook my pasta all in my cast iron skillet. A sprinkle of seasoning and cheese and the meal was ready. It was simple and quick. Perfect for a weeknight or pre-trick-or-treating dinner.
One note, however. I tasted the beef after adding the 1/2 teaspoon of steak seasoning and couldn't tell any difference, so I went ahead and added more. I think I ended up pouring in about two teaspoons' worth.
The Verdict
Doug thought this was okay but wasn't wow'd by it at all. I thought it was good, simple fare, but wished it had more in the way of flavor, like an onion and clove of garlic sautéed in the skillet before the meat was added.
Sophie, on the other hand, loved it. And I mean loved it. As per usual, I had planned that the three of us would eat our servings for supper and the fourth would packaged up for Doug's lunch the next day.  Yeah, that didn't happen. Our kiddo polished off every little bite of tortellini and beef she could find in the skillet and would have probably had more if there had been any.
That alone gives this did six thumbs' up.
What I'd Do Different Next Time
I'd sauté a chopped onion and minced clove of garlic in a tablespoon of oil before adding the beef to the skillet and I'd use two teaspoons of Montreal steak seasoning instead of just 1/2 teaspoon.
The Recipe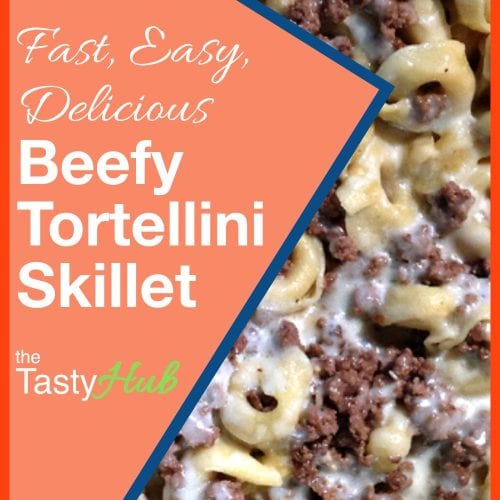 Beefy Tortellini Skillet
Fast, easy and delicious, this Beefy Tortellini Skillet comes together in one pan and is ready in less than 20 minutes. It's a meal the family will love. From Taste of Home Magazine, September/October 2015
Ingredients  
1 pound ground beef

½ teaspoon Montreal steak seasoning

1 cup water

1 teaspoon beef bouillon granules

1 19-ounce package frozen cheese tortellini

1 cup (4 ounces) shredded Italian cheese blend
Instructions 
Cook beef over medium heat in a large skillet for 5-6 minutes, or until cooked through. Stir to break into crumbles and drain.

Add steak seasoning, bouillon and water, stirring to combine, and bring to a boil.

Add the tortellini; return to a boil. Reduce the heat and simmer, covered, for 3-4 minutes or until the tortellini are tender.

Remove the skillet from the heat, sprinkle cheese over the meat and pasta, cover and let stand until the cheese has melted.
Notes
I'd sauté a chopped onion and minced clove of garlic in a tablespoon of oil before adding the beef to the skillet if you like onions and garlic. If you want a stronger taste, I'd use two teaspoons of Montreal steak seasoning instead of just ½ teaspoon.
Check out these other great recipes: