Before we get started, I have one favor to ask on behalf of my mom. This is a recipe that she's honed over the past five decades. Even though she has one of the most generous hearts I know of, it's very hard for her to see this shared here. Please, please, if you use this recipe at all, 'adapted' or not, give credit where credit is due.Ok? Good. On to the good stuff.Those pillow of phyllo are called boeregs, and while this isn't an old magazine recipe that's been pulled out of the archives, it is the fulfillment of a promise I made to you null. It's ok if you don't remember; I assume that you have more important things to do in your life than keep track of mine. I'm planning on giving you a recap anyhow.
This past June, Dudette and I headed up to Chicago soon after she got out of school. She went there to hang with her cousin; I went there to learn some of the handed-down Armenian recipes from my mother.
The dishes we made have been perfected by generations of cooks, my mom included. Each woman put her own little touch of love into the recipe, making every bite something special. So, when I asked Mom if there was any way I could share one of these goodies with you, it was a bit like asking her to give up her child. But she agreed (after a few days of begging and coaxing).
So, I left the decision of which recipe up to you. I showed you all the foods we made and null. And you did. These boeregs won by a landslide, which isn't really surprising. Flaky phyllo dough filled with six different cheeses. What's not to love.
The boeregs in the tray in that photo up there are the ones that I made with my mother, under her watchful eye and instruction. They came out beautifully and my success with them may have give me some false confidence (dare I say hubris) because when I finally decided to make them again, I made them for a get together instead of practice.
Big mistake. Well, kind of. I decided to turn lemons into lemonade.
Introducing my version of 'Boereg Art.'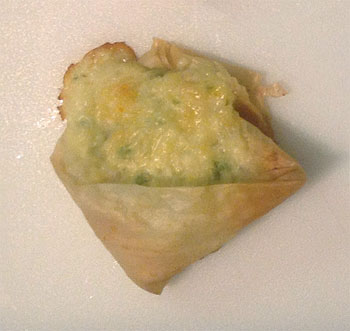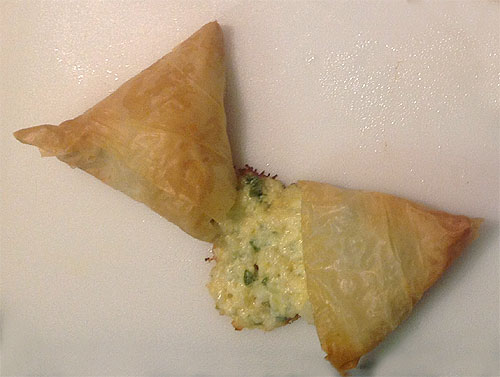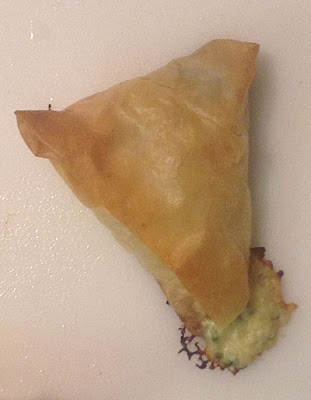 I made over four dozen boeregs. Three dozen for the group on Sunday and another dozen and a half yesterday for the family. They all ended up with some form of 'explosion' like you see above.
With the exception of this one. One perfect boereg out of over four dozen attempts.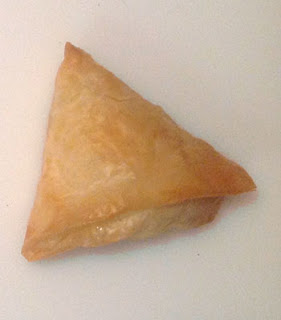 I called my mom and she explained the various things that might have contributed to the boereg explosions I experienced. Her tips are included in my explanation and the directions.
The Process
Putting together the filling is easy. Use your food processor to shred the various cheeses. Please don't buy pre-shredded cheese though. That stuff is lightly dusted with flour to keep the shreds separated and will change the texture of the filling.
The parsley can also be finely chopped in the food processor, keeping the clean-up to a minimum (always a good thing).
Assembling the boeregs is where the work comes in. Get comfortable shoes on and be ready to stand for a while. Melt your butter, get a pastry brush and lets get to work.
Your phyllo dough will need to be square so cut off however much you need to make it so. Each brand makes a different size so some will be cut in half, and some will just have a few inches at one end removed.
When you have your squares of dough in front of you, you're simply going to put a small spoonful of cheese filling on the left center of the square, fold the bottom third up, brush the folded-over dough with melted butter, fold the top third down and brush that dough as well. Now you have a long rectangle. Here's a diagram (the dot is where the cheese mixture is relative to the folding).

This needs to be loosely folded, the same way you see the military folding the U.S. flag. Mom says to make sure it's done loosely so the melting cheese has somewhere to go. Otherwise you'll end up with boereg art. Again, here's a diagram.

(Good luck.)
The Verdict
To tell you that my whole family loves these doesn't really say much since we grew up on them. To tell you that Hubby and Dudette love them carries a bit more weight since they're relatively new to this eating experience (especially Dudette).
To tell you that ten people who had never heard of or seen these before plowed through three dozen boeregs in less than 20 minutes, however, that says a lot. These are crazy good. I don't think I've met a single person that doesn't fall in love with them after the first bite.
Yes, they're time consuming. Yes, you end up with some that explode (less as time goes on, so promises my mother). But yes, they are so worth it.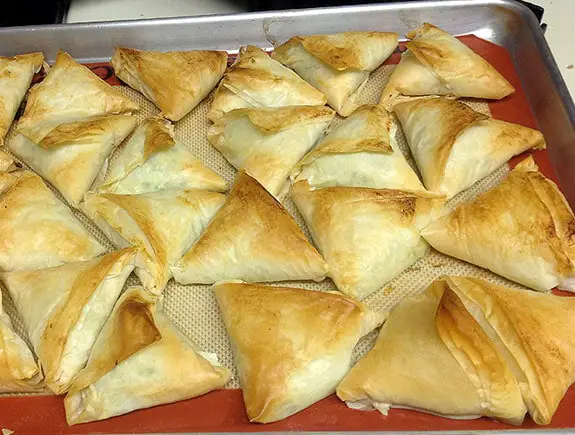 Authentic Armenian Boeregs
Phyllo Triangles Filled with Cheeses
Ingredients  
8 ounces cream cheese, softened

8 ounces Monterey Jack cheese, shredded

8 ounces Meunster cheese, shredded

8 ounces Swiss cheese, shredded

8 ounces Mozzarella cheese, shredded

16 ounce container small curd cottage cheese

½ cup dried minced onion

2 eggs

¼ cup parsley, finely chopped

½ cup (1 stick) butter, melted

1 package phyllo dough, cut into a square
Instructions 
Preheat the oven to 375. Line two baking sheets with Silpats or parchment paper.

Using your hand, mix together the cheeses, eggs, onion and parsley well in a large bowl.

Have the squares of phyllo dough in front of you, the bowl of cheese mixture to the side and the melted butter with brush in easy reach.

Using a teaspoon, place a small mound of cheese mixture on the dough in the position noted on the diagram. Fold the bottom third of the dough up over the cheese. Brush that piece with butter. Loosely fold the top third of the dough down over the piece that's just been brushed, then brush it with the melted butter as well.

Following the diagram, loosely fold the dough into a triangle, place on the baking sheet and brush the top with more butter. Leave about an inch of space between each boereg.

Bake at 375 (the oven needs to be hot enough so the boeregs will puff up) for 15-20 minutes (mine were done after 15 minutes).
Check out these other recipes that you might like: