Rich, silky and totally decadent, this Midnight Mocha Cheesecake is a chocolate lover's ultimate dessert. The hint of infused coffee puts it over the top.
A few days ago, I plopped two magazines in front of Sophie and asked her to choose. The pages were opened to desserts, decadent, delicious, very different sweet treats.
I had already made my pick. And it didn't have a lick of chocolate in it. The other recipe was for a pumpkin tiramisu that looks absolutely amazing. I knew Doug would love it and being the pumpkin fan that I am, I was already on board, in spades.
But, silly me, I left the choice to a chocolate fiend. I guess I banked on the fact that Sophie doesn't like cream cheese. I totally forgot that she can't stand pumpkin. 
Hello Midnight Mocha Cheesecake.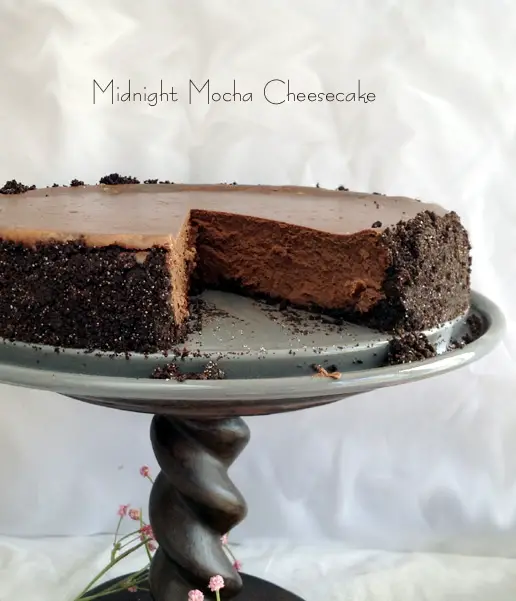 The Process
First thing to do is to pull out just about every bowl in the cupboard. Okay, not all of them, but you will need four, of varying sizes. 
I didn't use gluten-free cookies since we don't have any gluten issues and I didn't want to spend the extra money for no reason. Since I couldn't find plain chocolate wafers or my go-to Oreo cookie crumbs in a box, I ended up buying a package of Oreos, scraping out the creme and crushing the wafers for the crust. 
Oreo abuse, right? Sometimes you gotta do what you gotta do.
The crust came together easily, got baked until set and then cooled while I made the filling. I think the biggest thing to note here is the instruction to scrape down the side of the bowl occasionally.
It's an important step because not scraping means that when the batter is poured into the crust there's a good chance that some of the unmixed cream cheese will create a marbled effect. It would look cool in some cases, but not when making a midnight mocha cheesecake. 
Anyhow, I baked the cheesecake for the hour, then turned off the oven and propped the door open. The cheesecake continued to cook for another hour before I removed it, loosened the sides and let it cool completely.
The Verdict
I've told you before that my love for cheesecake trumps my dislike of chocolate, remember? The amount of chocolate flavor in this dessert comes really close to overwhelming the fact that it's a beloved cheesecake. 
It is rich, it is decadent, and it is really, really chocolaty. Needless to say, both Sophie and Doug loved it, but, like me, they could only handle small pieces at a time.
This is the kind of dessert that belongs on a holiday buffet table and should be served in tiny pieces with an after-dinner cup of coffee. The only issue is that it might overshadow the meal that came before because it's so amazingly delicious.
I do think I could have turned off the oven 5 minutes earlier. The center of the cake is perfectly creamy, but the outside is right on the cusp of been slightly dried out. That could very well be my oven's temperature though.
What I'd Do Different Next Time
I would turn the oven off after 45 minutes, not the full 50 minutes.
The Recipe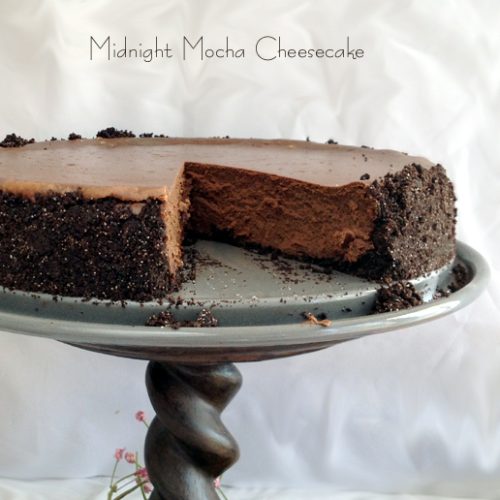 Midnight Mocha Cheesecake
Rich, silky and totally decadent, this Midnight Mocha Cheesecake is a chocolate lover's ultimate dessert. The hint of infused coffee puts it over the top. From Good Housekeeping Magazine
Ingredients  
2 cup(s) (from about 8 ounces cookies) gluten-free crispy chocolate cookie crumbs

4 tablespoon(s) butter, melted

2 tablespoon(s) sugar

1 cup(s) sugar

⅛ teaspoon(s) (plus a pinch) salt

8 ounce(s) (60 to 70 percent cacao) bittersweet chocolate, chopped and divided

¼ cup(s) cold strong coffee

1 tablespoon(s) instant espresso powder

1 teaspoon(s) vanilla extract

3 package(s) (8 ounces each) cream cheese, softened

¼ cup(s) unsweetened cocoa

4 large eggs
Instructions 
Preheat oven to 325 degrees F. Spray 9-inch springform pan with nonstick cooking spray. In medium bowl, combine crumbs, butter, 2 tablespoons sugar, and ⅛ teaspoon salt; transfer to prepared pan. Press into even layer that comes up side of pan slightly. Place on rimmed baking sheet. Bake 10 minutes. Cool completely.

Meanwhile, in small microwave-safe bowl, microwave 6 ounces chocolate on high in 30-second intervals or until mostly melted, stirring in between; let cool.

In small bowl, stir together coffee, espresso powder, and vanilla. With mixer on medium-high speed, beat cream cheese until smooth. Reduce speed to low. Beat in cocoa and remaining 1 cup sugar, scraping down side of bowl occasionally.

Beat in coffee mixture. Increase speed to medium. Add eggs one at a time, beating well between additions, scraping down side of bowl occasionally. Beat in melted chocolate just until well mixed.

Pour batter into cooled crust. Bake 50 minutes on rimmed baking sheet.

Turn oven off and prop door open with wooden spoon. Let cheesecake stand in oven 1 hour. With small icing spatula or knife, loosen side of cheesecake from pan. Refrigerate, uncovered, 2 hours or up to 2 days.

When ready to serve, loosen cheesecake once more from side of pan; remove springform ring. In small microwave-safe bowl, microwave remaining 2 ounces chocolate on high 30 second or until just melted, stirring. Drizzle over cheesecake.
I did have a piece of cheesecake with my coffee this morning and the coffee helped cut some of the intense chocolate flavor. It was awesome.
For other cheesecakes and desserts, check this out: