This fried chicken sandwich is a perfect place to stop for a minute and talk about the magazines I use, so let's put aside all the stories about Dudette, critters around our yard or my childhood and conversate about the thing that makes this tiny bit of the Internet tick; Taking On Magazines.
Currently, there are five sitting here on my desk and stacks of them behind me, using precious space on my book shelves. And I love all of them. And I never throw them away.
The biggest questions I get, however, all start with, 'Why'.  Why am I going through Cooking Light, Bon Appetit and Fine Cooking this month? Why do I make the recipes I make? Is there a method to my magazine madness?
Well, yes. And no.
You see, I make at least two dishes from Cooking Light every month. You see the red box over in the right column that says Cooking Light Bloggers' Connection Member? That's why. That, and because I'm trying to get into a swimsuit this summer. They're helping me do it.
The other magazines are selected in very random ways. If you ask me to go through one, I'll look for it and if I find it, it joins the line-up. The same things happens if a magazine is  given to me, the title is e-mailed or someone mentions it in passing.  In fact, I love it when someone lets me know about their favorite and it ends up being one I've never heard of before.
Another way the magazines make the cut is if they come in the mail. I don't subscribe to any, but I do receive a good stack from various publishing companies.
Does that affect my reviews? Nah. If you've been around long enough, you already know that. When a publisher asks if they can provide me with a magazine or subscription, I always make sure that they know it will not influence my writing at all.
Finally, there's the whim factor. I go to the grocery store, pharmacy or bookstore. I stand in front of the magazine racks and see if anything catches my eye. It might be a photo or it could be a headline. A guaranteed trip to my house is the word 'Breakfast' on any cover.
In this case, Bon Appetit came home because of this sandwich. It's their cover photo. It looked so incredibly good. In fact, I flipped the magazine open to check out the rest of the sandwiches and just about wept over what I saw.
You already know how I felt about the Roasted Eggplant and Pickled Beet Sandwich. In the next day or so you'll find out if I actually like the Bacon and Egg Sandwiches with Pickled Spring Onions as much as I think I will.
The Process
Fried chicken always seems like a very long, tedious process to me. And messy. I can't forget messy. Apparently using boneless, skinless chicken breasts removes the 'very long' and 'tedious' parts of the equation. I can deal with messy if I'm not worn out from the cooking. Score one for the chicken sandwich.
I threw these bad boys together after the three of us returned home from church famished. They were ready in about 40 minutes from the first zest of garlic to the toasting of the last sandwich roll.
The slaw is crazy easy to pull together, especially since the juice is simply some of the pickle juice. If you can thinly slice stuff, you're good to go.
The mayo is just as easy. Simply grate a garlic clove with a zester, add it to mayonnaise along with some hot sauce (I used Sriracha) and it's done too.
Yes, the chicken is the only speed bump in this process. As with all good fried chicken, it's done in a heavy skillet. In this case, halved boneless, skinless chicken breasts are used since eating a chicken sandwich with bones makes no sense.
The recipe calls for the chicken to be fried for 3 minutes per side. That timing made me a little nervous considering the size of my breasts (no comment folks), so I pounded them down to about 1/2″ thickness before coating them with flour and buttermilk. Then I fried them probably closer to 5 minutes per side.
Even with the added time, Hubby's ended up still a little pink in the center so it needed a quick couple of minutes in the microwave. The others were cooked perfectly.
The Verdict
Success. Huge success. Of course, Dudette's serving didn't have spicy mayo or the slaw with jalapenos in it, but she loved her plain fried chicken sandwich. A lot.
Hubby and I both liked the heat that this sandwich gave. It was there, but not so much that took away from enjoying the flavor too. And there is tons of flavor.  To be able to pull off such glorious fried chicken in less than 45 minutes is outstanding. Having it taste as amazing as it does puts it over the top.
What I'd Do Different Next Time
I'd mix a little of the spicy mayo in with the slaw so it had more than just pickle juice for dressing.
I also recommend pounding the halved chicken breasts to a half-inch thickness before coating them with the flour and buttermilk so they fill the bun and cook more evenly (and quickly). Longer cooking times mean more potential for over-cooking the coating.
The Recipe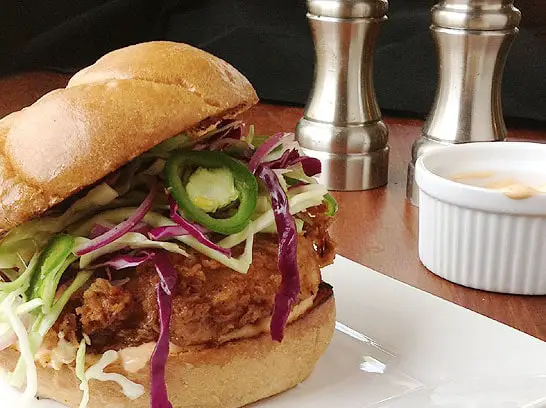 Fried Chicken Sandwich with Slaw and Spicy Mayo
From Bon Appetit Magazine
Ingredients  
Spicy Mayo and Slaw
1 garlic clove, finely grated

½ cup mayonnaise

1 tablespoon Louisiana-style hot pepper sauce

½ small red onion, thinly sliced

1 jalapeño, thinly sliced

4 cups thinly sliced cabbage

½ cup Bread-and-Butter Pickle slices, plus ¼ cup pickle juice
Fried Chicken and Sandwich Rolls
2 cups all-purpose flour

1 tablespoon ground black pepper

½ teaspoon kosher salt plus more

1 cup buttermilk

2 8-ounce skinless, boneless chicken breasts, halved crosswise

Peanut or vegetable oil (for frying)

4 white sandwich rolls

2 tablespoons unsalted butter, room temperature
Instructions 
Spicy Mayo and Slaw
Mix garlic, mayonnaise, and hot pepper sauce in a small bowl; cover and chill. Toss onion, jalapeño, cabbage, pickles, and pickle juice in a large bowl to combine; cover and chill.
Fried Chicken and Sandwich Assembly
Whisk flour, pepper, and ½ teaspoons salt in a shallow bowl. Pour buttermilk into another shallow bowl. Working with 1 piece at a time, dredge chicken in flour mixture, shaking off excess. Dip in buttermilk, allowing excess to drip back into bowl. Dredge again in flour mixture, shaking off excess.

Pour oil into a large heavy skillet to a depth of ½-inch. Prop deep-fry thermometer in oil so bulb is submerged. Heat over medium heat until thermometer registers 350°.

Fry chicken until golden brown and cooked through, about 3 minutes per side. Transfer to a wire rack set inside a baking sheet; season with salt.

Spread cut sides of rolls with butter. Heat another large skillet over medium heat. Working in batches, cook rolls buttered side down until browned and crisp, about 1 minute. Spread with spicy mayo.

Build sandwiches with rolls, chicken, and cabbage slaw.
I really do love finding and trying new magazines, so I'd love to know what your favorite is for recipes. If I can get my hands on a copy, I'll pick it up and go through it with you. Who knows, maybe it'll be come my new favorite.
Here are other recipes that you might like trying out: