Packed with vegetables, loaded with protein and absolutely delicious, this California Quinoa Greek Salad is my choice for #BloggerCLUE reveal day.
Hello, my friends, and welcome to another reveal day in the Blogger C.L.U.E. club! About six weeks ago, I was handed a clandestine, self-destructing envelope with the name of my secret blogger and instructions to pick a dish that I'd like to bring to a picnic to share with you.
Oh, did I hit the jackpot. My secret blogger is Kim from Liv Life, someone I love dearly even though I've never met.
While a face-to-face coffee date hasn't happened (yet), I consider Kim my friend on the other side of the country. Over here on the east coast, I have Canada geese waddling away from me as fast as they can while I try to snap photos of them on my front lawn so I can share them with my west coast friend who's never seen one in the 'wild.'
On the other side of the country, Kim visits avocado farms and brings home bushels of the fruit while I look on via the Internet, as green with envy as the avocados that grow there but not here are.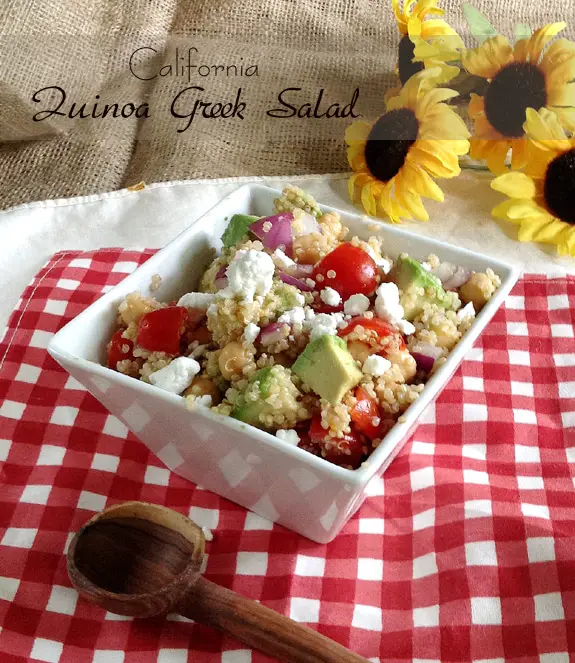 Kim's blog, Liv Life, is named as a clever pun and a celebration of her daughter, Liv, who inspires her family in 'living life to its fullest'.
It was so easy for me to find a picnic-type dish on Live Life. Kim's the queen of salads so I knew I was going to find the perfect one before I started looking.
This California Quinoa Greek Salad stopped me in my tracks as soon as I saw it. It was so super simple to make and contained everything I love about summer so I made it right away. In fact, I made it twice. And will make it over and over this summer.
Holy cow, this was good. I loved it. To share my joy in the salad, I reached out to another Kim, this time a friend who lives on my side of the country. When she came to pick up her daughter, who'd been having a play date with Sophie, I handed her a bowl full and asked her opinion.
Let's just say that the amount of salad that was left in the bowl was much decreased after Kim's 'taste.' She enjoyed it as much as I did, maybe even more (if that's possible). The flavors meld well together and their awesomeness is punctuated by the feta cheese's exclamation point of salty goodness.
The fact that I've made this salad twice this month and plan to make it again and again as the summer wears on is a testament to how good it is.
The Recipe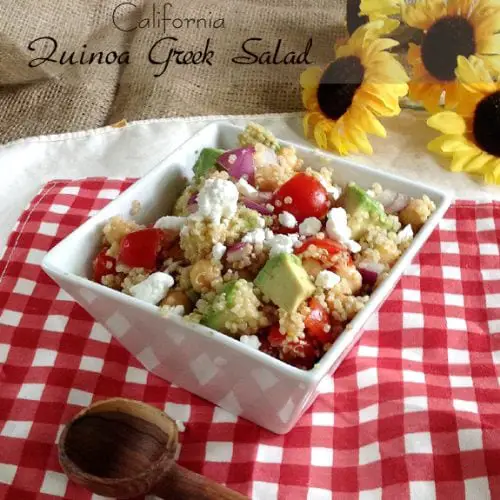 California Quinoa Greek Salad
This California Quinoa Greek Salad is packed with vegetables, loaded with protein and absolutely delicious.
Ingredients  
½ cup uncooked quinoa

1 cup water

Cherry tomatoes, quartered

red onion, chopped

garbanzo beans (chickpeas), about ½ can – drained and rinsed

avocado, chopped

2 Tbs (or so) freshly squeezed lemon

2 Tbs (or so) good quality olive oil

salt to taste

feta cheese, crumbled
Instructions 
In a small saucepan add the 1 cup of water and the ½ cup of quinoa. Bring to a boil then reduce the heat and simmer, covered, until the liquid has been absorbed (about 15 minutes). Set aside to cool.

In a medium bowl combine the cherry tomatoes, red onion, chickpeas and avocado. Squeeze a wedge of lemon over the top and drizzle with olive oil. Salt to taste, but salting lightly if you will be using the crumbled feta. Stir gently to combine. Add the quinoa, stirring gently again to combine.

Spoon onto serving plates and top with crumbled feta.
As you know from the last several second Wednesdays of the month, the Blogger C.L.U.E. Society is a group of food bloggers who play a game together; sneaking around each other's sites and surprising one another with the dishes we make from what we find. It's our chance to have fun together and since you're here, you get to be a part of the game.
Check out these other great recipes to try: