Would you like to know the best part of this bread? The zucchini and blueberries are fresh picked. Shortly before these berries became bread, they were hanging on heavy-laden bushes just begging for someone to come along and set them free. I was so happy to oblige.
Going through my bookmarked recipes, I came across one for Blueberry-Zucchini Bread that looked perfect for my fresh bounty. There will be plenty of zucchini showing up on my doorstep this summer, I'm sure, and this recipe will get plenty of use over the next few months because it's fantastic and because it's easy to make.
The Process
If you like to start by prepping everything first (which is what I do), grate two cups of zucchini and measure out a cup of blueberries. The recipe also calls for a cup of chopped walnuts, but since Dudette doesn't care for cooked nuts, I left them out. You'll also need to grease and flour two bread pans.
First off, mix together all the dry ingredient; flour, salt, baking soda and powder and ground cinnamon. In a bigger bowl, combine eggs, vegetable oil, vanilla extract and sugar. Once that's done, mix the dry ingredients into the wet and stir until combined. This batter is very thick so be ready for that.
Add the zucchini and blueberries (and nuts if you're using them), fold in carefully but complete and then pour the batter into the two pans. Put them in the oven and bake for 40-60 minutes. It took my breads the full 60 minutes to cook fully.
The Verdict
Dudette's spidey senses alerted her to the fact that there was zucchini in the bread and she wanted nothing to do with it. Hubby and I both fell in love with it. If you remember, last summer I shared my favorite zucchini bread recipe. That's not it anymore. This is. We've done serious damage to both loaves and I don't think they'll last through tomorrow. It's that good. It's a good thing I still have more zucchini and blueberries.
What I'd Do Different Next Time
Nothing. But as the summer winds down and the supply of zucchini wanes, I will make many, many loaves and freeze them for winter days when I want to remember how wonderful summer and its produce bounties are.
The Recipe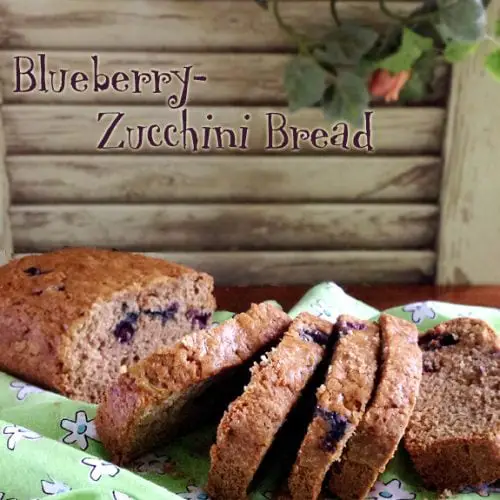 Blueberry-Zucchini Bread
I love using fresh-picked zucchini and blueberries to make the bread.
Ingredients  
3 cups all-purpose flour (I do half whole wheat flour)

1 teaspoon salt

1 teaspoon baking soda

1 teaspoon baking powder

3 teaspoons ground cinnamon

3 eggs

1 cup vegetable oil (can substitute ½ applesauce for ½ cup oil)

2¼ cups white sugar

3 teaspoons vanilla extract

2 cups grated zucchini

1 cup fresh blueberries

1 cup chopped walnuts – optional
Instructions 
Grease and flour two 8 x 4 inch pans. Preheat oven to 325 degrees F (165 degrees C).

In a medium bowl, sift together flour, salt, baking powder, soda, and cinnamon. In a different, large bowl, beat the eggs, oil, vanilla, and sugar. In batches, add the sifted ingredients to the creamed mixture, and beat until well blended. Carefully fold in the zucchini, blueberries and nuts until fully incorporated. Pour batter into prepared pans.

Bake for 40 to 60 minutes, or until a wooden toothpick inserted in the center comes out clean.

Cool in pan on rack for 20 minutes. Remove bread from pan, and completely cool.
Here are some other delicious recipes to try out: