A sandwich is a staple food in lots of households with several different variations. You can prepare sandwiches that are crunchy, juicy, spicy, or tangy. The list goes on and on! One such variation of the sandwich is the grilled roast beef sandwich.
It requires little preparation time and less usage of cooking utensils for preparation. Follow these easy steps to prepare this tasty delight and impress your family and friends!
Ingredients:
1 pound thinly sliced roast beef
8 slices of sourdough bread
1/2 cup BBQ sauce
4 tablespoons butter, softened
1/2 cup shredded cheddar mozzarella cheese
Instructions:
1. Preheat grill to medium heat.
2. Spread BBQ sauce on both sides of the bread.
3. Place sliced beef and cheese sandwiches onto 4 slices of bread, then top with the remaining slices of bread.
4. Butter the outside of each sandwich and place them onto the grill (butter side down). Grill until golden brown and crusty, about 2-3 minutes on each side.
Sliced Roast Beef Thin And Grill On Both Sides.
The slice of roast beef should be thin and grilled on both sides. It's best to start with a good quality cut of meat and then treat it right. You need a very sharp knife, some salt and pepper, and ideally a griddle or panini press. Start by seasoning the meat well on both sides with salt and pepper. You can use any seasoning you like or none at all, but it's always a good idea to have salt and pepper on hand.
Once the meat is seasoned, take your sharpest knife and make several very thin slits across the surface of the deli roast beef. This helps break down some of the muscle fibers so that they don't contract as much when cooked, resulting in a more tender final product.
Next, heat up your grill or griddle to high heat. When it's nice and hot, place the roast beef slices on and cook for 1-2 minutes per side. You want them to be nicely browned on both sides but still pink in the center.
Spread Aioli (Or Any Other Sauce) On A Fresh Baguette
Aioli is a delicious sauce that can be spread on many types of bread. If you've never had aioli before, it's sort of like mayonnaise but with more flavor. To make your own batch of aioli, start by placing two egg yolks in the bowl of a food processor or blender. Add two tablespoons of lemon juice and one teaspoon of Dijon mustard, then blend together until smooth.
While the motor is running, add olive oil to the bowl in a slow stream. The mixture will thicken as you add more oil. You can adjust the thickness by adding more or less oil. Once you've reached the desired consistency, add in some salt and pepper to taste. Spread the aioli over a fresh baguette for a delicious and satisfying snack!
This easy and tasty sandwich is perfect for a summer picnic or lunch on the go! Simply spread aioli (or any other sauce) on a fresh baguette, and layer on sliced cucumbers, thick-cut tomatoes, and sprouts. Season with salt and pepper. Slice and serve.
Add Grilled Roast Beef, Tomatoes, Onions
If you're looking for a hearty, filling meal, this grilled roast beef, tomatoes, onions, and greens on a sub panini is perfect. The beef is flavorful and juicy, the vegetables are fresh and crunchy, and the greens add a touch of bitterness that pairs perfectly with the other flavors. Plus, it's easy to make and the preparation only takes a few minutes.
Ingredients:
About 1 pound of leftover roast beef, sliced into thin strips
2 medium tomatoes, cut into rounds or wedges
1/2 purple onion, thinly sliced and separated into rings (or use about 16 small red onions)
6 cups greens (arugula, spinach, or lettuce), washed and dried
1/2 cup balsamic vinegar
1/4 cup olive oil
2 tablespoons Dijon mustard salt and freshly ground black pepper to taste
Directions:
Preheat grill to medium-high heat. If using a charcoal grill, light the coals and let them burn until they are covered with a thin layer of ash.
Arrange the roast beef, tomatoes, onions, and greens on a large platter. In a small bowl or jar with a lid, mix together the balsamic vinegar, olive oil, Dijon mustard, salt, and pepper. Drizzle the dressing over the vegetables on the platter, toss gently to coat, and set aside.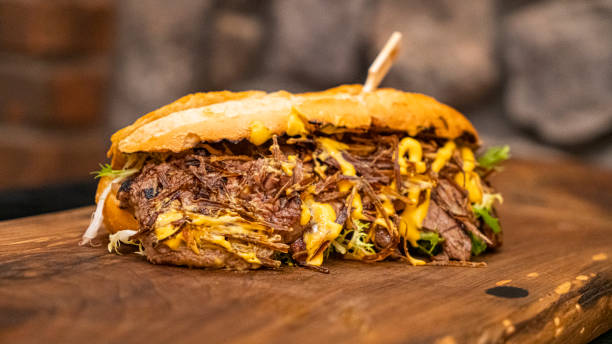 When the grill is hot, place the platter of vegetables on the grill rack and cook until they are heated through and slightly charred, flipping them carefully halfway through cooking (about 3-5 minutes per side). Serve immediately so that the bread doesn't get soggy.
Once your grilled roast beef, tomatoes, onions, and greens are ready to serve on a sub panini or other type of sandwich bread, it's time to eat! This meal is perfect for a quick lunch or dinner when you need something hearty yet healthy. It's best enjoyed with friends or family as you sit back and enjoy the summer weather.
Preheat Grill To Medium-high Heat
Coat Both Sides Of Chicken With Olive Oil And Season With Salt, Pepper, Garlic Powder, Onion Powder, And Italian Seasoning.
Grill Chicken For About 10 Minutes Per Side Or Until No Longer Pink In The Center. Remove From grill And Allow To Rest For A Few Minutes Before Slicing Into Strips.
In a small bowl, whisk together olive oil, salt, pepper, garlic powder, onion powder, and Italian seasoning. Set aside.
Preheat grill to medium-high heat. Coat chicken with the olive oil mixture and place on the grill. Grill for about 10 minutes per side or until no longer pink in the center. Remove from grill and allow to rest for a few minutes before slicing into strips.
Serve With Your Favorite Side Dish
This recipe is so versatile and can be served with just about any side dish you like! Try it with roasted vegetables, mashed potatoes, steamed rice, or even a simple salad. No matter what you pair it with, this dish is sure to be a hit!
This recipe is so versatile and can be served with just about any side dish. Our personal favorite is to serve it over a bed of rice or quinoa, but it would also be delicious with roasted potatoes, sweet potatoes, or even a simple green salad.
Here are other recipes that you may be interested in: