I've been eating artichokes since I was a little girl so when I saw the Artichokes with Parmesan-Black Pepper Yogurt in Bon Appetit, I had to have them.
Eating artichokes while growing up helped teach me a lesson that I now use with my own daughter. It's all thanks to my dad.
You see, artichokes were a rare treat (they're not the cheapest things, after all), so when we saw my mom prepping them; pulling off the small, tough leaves and trimming the bottom of the stalk, we were over-the-top excited to sit down at the table and dive in.
Dad always made the vinaigrette that we dipped the leaves in, but mom knew how to steam them to perfection; never tough, but not mushy soft.
Scraping the leaves with out teeth was fun, but the best part, and I mean best part, was when all the leaves had been pulled, eaten and placed in a stack to the side of our plates. The heart. Everyone loves the heart of the choke.
We'd carefully remove every bit of the hair in the center. Then my dad, being the giving sort of guy he was, would offer to take the 'nasty' stalk off our hands so we could concentrate on the tender meat at the center of our artichokes.
My friends, I fell for that line for years.
The Process
My mom used her pressure cooker to make the artichokes. It cut down on the cooking time and she says made a better, more tender choke. I use mine sometimes, but this recipe asked me to steam them, so I did that. Easily done.
While the artichokes sat over simmering water, I grated my cheese, zested and juiced my lemons and blended it all together with yogurt, olive oil, salt and pepper.
The recipe's that easy.
The Verdict
My life has changed. Where the six of us would fight over the infrequent remaining artichoke on the table, I'm the only one in the house now that will eat them. So, I had this one for lunch one day and was well satisfied.
Most dipping sauces I've seen for artichokes use mayo as the base and I've never been fond of that. If I have to choose a creamy sauce over my standard vinaigrette, this is the one I would pick. I really liked the bite that the yogurt and lemon gives it, followed by the flavor of the Parmesan and pepper. It's very, very good.
What I'd Do Different Next Time
Nothing.
The Recipe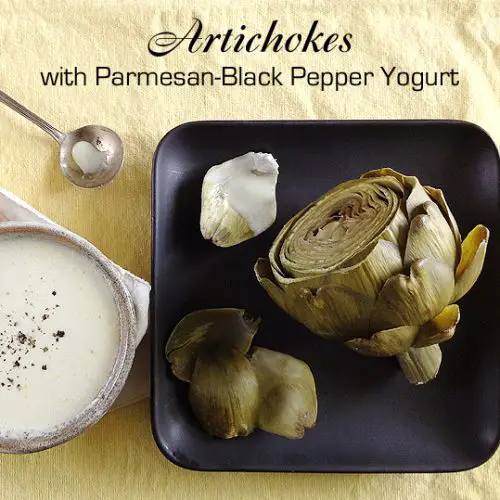 Artichokes with Parmesan-Black Pepper Yogurt
I've been eating artichokes since I was a little girl so when I saw the Artichokes with Parmesan-Black Pepper Yogurt in Bon Appetit, I had to have them.
Ingredients  
1 tablespoon finely grated lemon zest

3 tablespoons fresh lemon juice, divided

4 large artichokes, stems trimmed, top 1" removed, tips of remaining leaves trimmed

½ cup finely grated Parmesan

½ cup plain yogurt

2 tablespoons olive oil

Kosher salt and freshly ground black pepper
Instructions 
Place a metal steamer basket in a large saucepan and pour in water to a depth of 2". Add 2 Tbsp. lemon juice. Bring water to a boil, then add artichokes. Cover, reduce heat, and simmer artichokes until stems and hearts are easily pierced with a paring knife, 30–40 minutes.

Meanwhile, blend Parmesan, yogurt, oil, lemon zest, remaining 1 Tbsp. lemon juice, and 3 Tbsp. water in a blender until smooth; season with salt and a generous amount of pepper. Serve artichokes with yogurt sauce for dipping.
Curious about that stalk? It's a bit like celery. The outside has tough strands that can easily be removed. The inside is simply and extension of the choke; it's delicious.  
On a final note, I can't tell you how many times I take one for the team (or at least let Dudette think that I do). It's pretty awesome.
Here are other tasty recipes you might like: