Chock full of delicious vegetables and beef sausage, these Beef & Egg Breakfast Mugs are super easy to make and yummy to boot.
You know those sayings about how apples don't fall far from trees or that kids will follow in their parents' footsteps, blah, blah, blah?
Basically, I'm good with all that kind of thing. I like that Sophie's developed a love for reading, hopefully because she sees the shelf upon shelf of books that both Doug and I have and more often than not sees us with books open in front of us.
I'm thrilled that my girl's a cat lover (like me), into muscle cars (like both of us), eats peanut butter on her bananas (like her father), and on and on. 
Then, of course, there are the 'other' things. Things like taking off her shoes and leaving them where she took them off (I won't mention who she takes after with that one). Or the habit of having partially empty glasses of water in several rooms (yup, it's me).
Or that she doesn't want to eat breakfast in the morning, claiming that it's too early for her to eat, which is a direct echo of what I say many times.
Yeah, that's my bad too.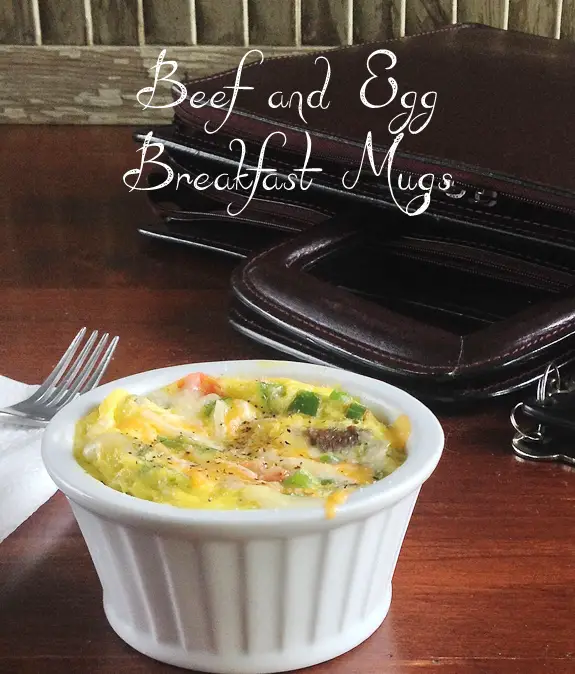 The Process
There are two parts to the prep in this dish. The first is the veggie portion. The work for that consists of chopping up vegetables into pretty small pieces. I used the tomato, bell pepper and green onion this time, but next time would go with tomato, onion and mushrooms.
The second part to the prep is making the beef breakfast sausage. I simply combined the ingredients in a bowl and cooked the mixture in a skillet until is was done.
After that I divided both portions between eight zip top bags and stored them in the refrigerator.
To make a breakfast mug, I simply broke two eggs (one just didn't seem like a good ratio of egg to filling) in a ramekin/mug, added a tablespoon of water (the steam gives the eggs some poofiness) and whisked them up with a fork. I added one of my filling packets, stirred it up and put it all in the microwave.
After 30 seconds, I stirred again and set the timer for another minute. One final gentle stir after [carefully] removing the ramekin, a sprinkle of cheese, salt and pepper, and breakfast was ready.
The Verdict
I already knew that I'd really like this and Sophie wouldn't, so my big test was Doug. He was really surprised that it took two minutes to pull together a hot breakfast with eggs and sausage, and even more so after tasting how good it was. While I ate mine with just the cheese, he did add a bit of spicy mustard to his.
Regarding the beef sausage, it's actually really good. I could tell that it wasn't pork sausage, but adding a sprinkle of caraway seeds to my next batch really brought out the sausage flavor. I really liked the fact that I used lean ground beef instead of the normal fatty ground pork typical of sausage.
This recipe was a hit.
What I'd Do Different Next Time
I'd add a teaspoon of caraway seeds to the sausage mixture before cooking it.
The Recipe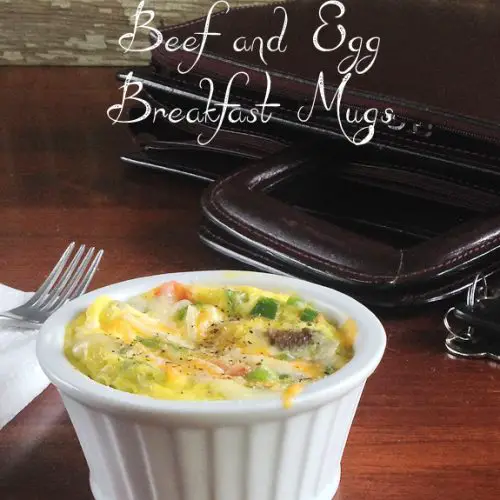 Beef and Egg Breakfast Mugs
Chock full of delicious vegetables and beef sausage, these Beef & Egg Breakfast Mugs are super easy to make and yummy to boot. From Ground Beef Cooking
Ingredients  
Country Beef Breakfast Sausage Ingredients
1 pound lean ground beef

2 teaspoons chopped fresh sage or ½ teaspoon rubbed sage

1 teaspoon garlic powder

1 teaspoon onion powder

½ teaspoon salt

¼-1/2 teaspoon crushed red pepper
Breakfast Mug Ingredients
Country Beef Breakfast Sausage

1 cup chopped fresh vegetables, such as tomato, baby spinach, bell pepper, zucchini or green onion

8 large eggs

½ cup shredded reduced-fat cheese such as Cheddar, Monterey Jack or American

Salt and pepper, optional
Toppings (Optional)
Sour cream, salsa, Sriracha hot sauce or ketchup, optional
Instructions 
For the Country Beef Breakfast Sausage
Combine all the ingredients in a medium bowl. Using your hands, mix the meat and spices together gently, but thoroughly.

Heat a large nonstick skillet over medium heat. Add the sausage and cook for 8-10 minutes, breaking larger chunks into ½-inch pieces. Remove from the heat and let cool.
For the Breakfast Mugs
After chopping the vegetables and making the Country Beef Breakfast Sausage, evenly divide beef and vegetables into 8 food-safe zip top bags. Refrigerate for up to 4 days.

For each serving, coat a 6 to 12-ounce mug or ramekin with cooking spray. Add an egg and one tablespoon of water. Whisk briefly, then add a bag of the refrigerated mix and give it a quick stir.

Microwave, uncovered, on high for 30 seconds. Stir. Continue to microwave on high, 30-60 seconds longer, or until the egg is just set.

Stir again, then top with the cheese. Let stand for 30 seconds or until the cheese melts. Season with salt and pepper, add desired toppings and serve.
Notes
What I'd Do Different Next Time
I'd add a teaspoon of caraway seeds to the sausage mixture before cooking it.
I will try this recipe out on Sophie, as soon as this batch of mixings is gone and I can make one without the tomatoes or green peppers. Heck, she'll probably be happiest if the mug just has the eggs and sausage in it. That's okay though, especially if it gets her eating breakfast.
Try out these other delicious recipes: