Here's a perfect breakfast treat as we head into fall. Delicious pumpkin surrounds chocolate chips, crystallized ginger. Pumpkin-Chocolate Chip Muffins.
I just finished completing a survey about 9/11 for a high school friend. It wasn't hard to do because it does not feel like it was twelve years ago.
I don't plan on giving a long discourse on 9/11. I was home alone at the time and that was good. In those first few moments of horror, I needed the time to allow the shock to settle and then to sit in grief and anger.
The same goes for today. I have a routine on 9/11. When everyone's out the door, I pull out a VHS tape of a 9/11 documentary that was created by the Naudet brothers. I settle on the couch with a cup of coffee and I watch the video. I cry. I cry a lot. I grieve for the lives lost. And I remember. I will always remember.
So, that's it. I have a documentary to watch. I'm going to leave you with these muffins, which are a perfect fall breakfast treat, especially for those you love. Make them, then give them to your spouse and children along with a big hug and an 'I love you.'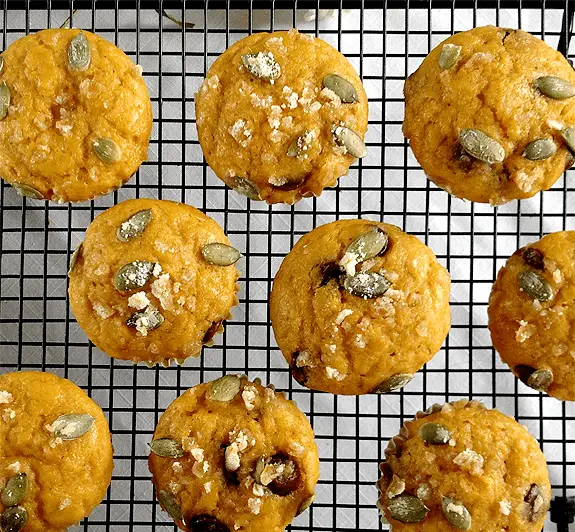 The Process
The recipe says that these muffins take 15 minutes to prepare, but I think that's generous. It may have taken me 10 minutes to pull the ingredients together in their separate bowls, whisk everything up, then pour the liquids into the solids and stir to combine.
As far as cooking time, my muffins were done in 18 minutes. I'm beginning to think that I need to re-calibrate my oven.
The Verdict
It was odd to make pumpkin muffins without any kind of pumpkin spice in them. The ginger adds some flavor, but not a whole lot. In a way, these were more just muffins with chocolate chips in them. I hadn't realized how much pumpkin relies on cinnamon and nutmeg for a boost.
But they're good (yes, even with chocolate). The muffin itself is very tender and moist. I like the use of the crystallized ginger and the crunchy pumpkin seeds on top.
What I'd Do Different Next Time
I'd add a half teaspoon of pumpkin pie spice.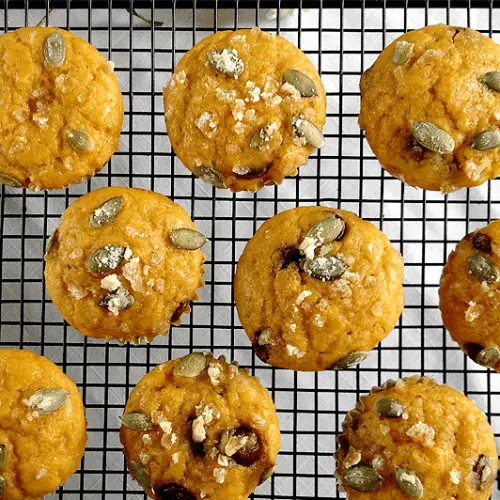 Pumpkin-Chocolate Chip Muffins
Here's a perfect breakfast treat as we head into fall. Delicious pumpkin surrounds chocolate chips, crystallized ginger. From All You Magazine
Ingredients  
1 cup all-purpose flour

¾ cup whole-wheat pastry flour (or all-purpose flour)

½ cup plus 2 Tbsp. packed light brown sugar

2 teaspoons baking powder

½ teaspoon baking soda

½ teaspoon salt

1 cup pumpkin puree

2 large eggs

1 cup plain yogurt (not nonfat)

¼ cup vegetable oil

1 cup semisweet chocolate chips

½ cup minced crystallized ginger

2 tablespoons pumpkin seeds
Instructions 
Preheat oven to 375ºF. Line a 12-cup muffin tin with paper liners or mist with cooking spray.

In a large bowl, whisk both flours, brown sugar, baking powder, baking soda and salt. In a medium bowl whisk pumpkin, eggs, yogurt and oil. Stir pumpkin mixture into flour mixture until just moistened. Stir in chocolate chips and ¼ cup ginger.

Divide batter among muffin cups. Sprinkle with remaining ginger and pumpkin seeds. Bake until muffins are golden and a toothpick inserted into center of a muffin comes out clean, 20 to 22 minutes. Let cool in pan 5 minutes, then turn muffins out onto a rack to cool completely.
Here are some other good recipes to try for tasty dishes: