Looking for a sweet or savory fall dish now that autumn's arrived? Here are 10 fantastic pumpkin dishes and desserts for you.
If you're not a pumpkin fan, you may as well just walk away right now. I promise I won't feel bad. Heck, my daughter's headed out the door as we speak. She's just not a fan.
I hope her dislike of my favorite fall food will change with time, but for now, all it means is that I don't have to share.
That being said, I am more than willing to share a few of the pumpkin dishes I've made and reviewed over the past few years with you. From breakfast to pie to side dish, each of these recipes made it to our table and was devoured by me, and usually Hubby.
I hope you enjoy them too. 
1. Pumpkin Cream Cheese Bars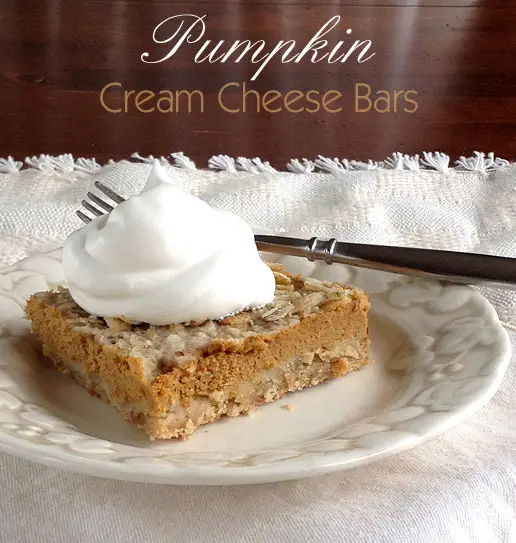 Pumpkin and cheesecake together. It's like a match made in heaven. These Pumpkin Cream Cheese Bars belong right up there, not only because of the pumpkin cheesecake filling, but because the shortbread crust is an exclamation point to an already awesome dessert.
Make this and it'll be breakfast, maybe lunch and definitely dessert.
2. Broiled Pumpkin with Apples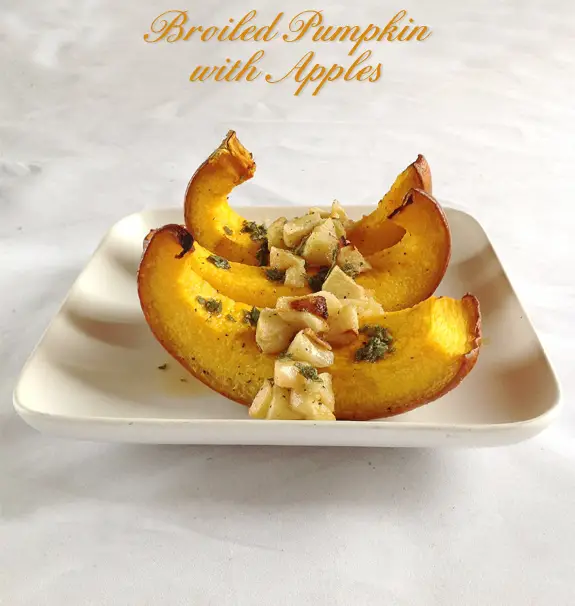 Even though none of us really loved the Broiled Pumpkin with Apples, I am really proud of it because I adapted something that Mario Batali created and I think it's gorgeous. It just doesn't fit our family's taste.
I think if the fish sauce and vinegar had been left out, and a little brown sugar had been added instead, we would have inhaled the pumpkin and apples. As it was, we just played with our food. It's a pretty gorgeous, dramatic presentation though, wouldn't you say?
3. Pumpkin-Ginger Tunnel Cake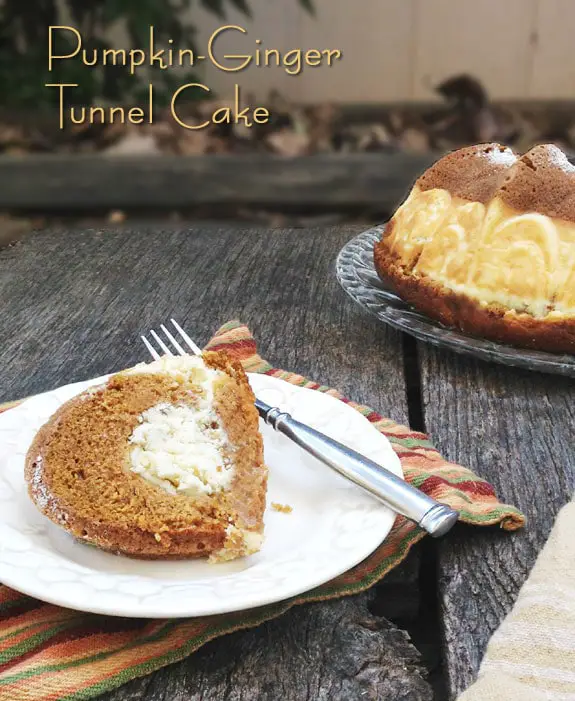 What can you say about a cream cheese-stuffed pound cake? Nothing bad, that's for sure. This Pumpkin-Ginger Tunnel cake was delicious. The cake was dense and moist, just like a good bundt is supposed to be, and the cream cheese filling was a nice, tasty treat.
The only advice I'd give is to make sure that the cream cheese 'tunnel' is made well into the cake and is small enough so it bleeds as little as possible to the edges, turning your cake into a striped thing.
4. Pumpkin-Chocolate Chip Muffins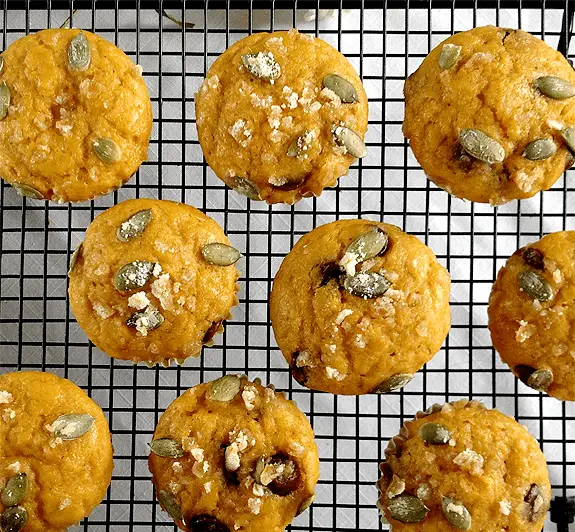 There has to be chocolate somewhere along the way, right? If there was any hope of getting Sophie to eat pumpkin, it would have to be these tasty Pumpkin Chocolate Chip Muffins.
Because there isn't any pumpkin pie spice in these muffins, the chocolate carries the flavor while the pumpkin adds moisture more than taste. They're delicious, especially with the crunchy pumpkin seeds on top.
5. Warm Pumpkin-Blueberry Bread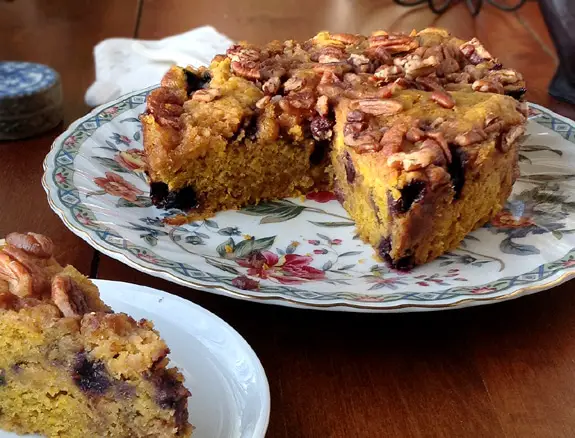 You know why that dessert is in an oval shape instead of round? It's because I made it in my slow cooker. Yup. For me, the truth is that I'm more apt to run out of time to make dessert than I am dinner. I can always throw together some kind of quick meal in 20-30 minutes, but unless I'm opening a box of pudding, desserts are a little more time-consuming.
That's why I love this Warm Pumpkin-Blueberry Bread. I shared it with a guy who was doing work on our house and he agreed that it's tasty. We only wished that there had been a bit more sweetness to it.
6. Brandied Pumpkin Pie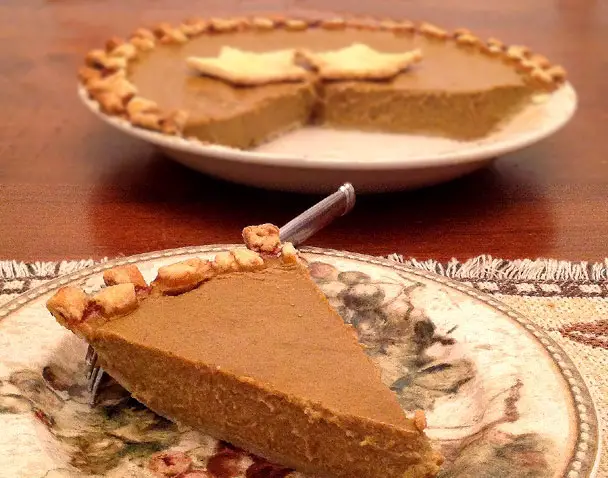 My favorite pie in the world. Come to mama. I love this stuff, well and truly I do.  This Brandied Pumpkin Pie is from Gourmet Magazine, and it's fantastic.
While it doesn't quite measure up to my mom's (does anything ever?), it's a grown-up, rich, creamy pie that would be the star of any Thanksgiving dessert table.
7. Pumpkin-Pecan Pie Bars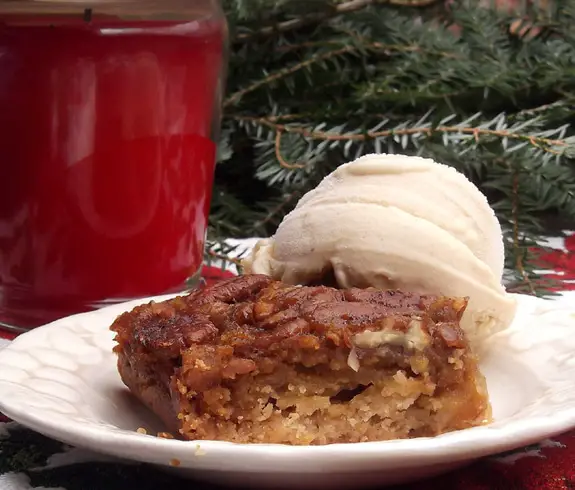 I love making these Pumpkin and Pecan Pie Bars every Christmas and keep them popping out of my oven. That's how good they are.
I'm not even a really big pecan pie fan but I loved these. Dudette, as per usual, wouldn't even try it.
8. Pumpkin & Ginger Pound Cake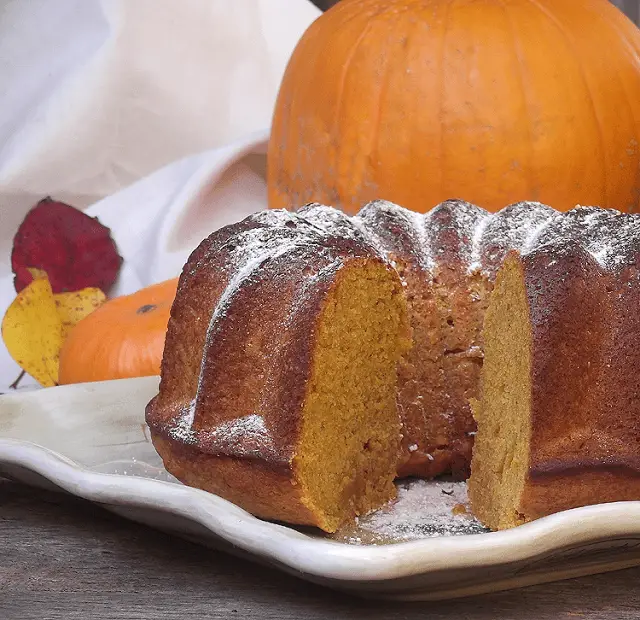 Are you ready for this one? Sophie loved this cake. Seriously. I'm shocked too. Here's the thing though. I first made this Pumpkin & Ginger Pound Cake when she was just 4 years old.
That means that she's developed this dislike of pumpkin since then. That also makes me think that it's just orneriness. You just might see me 'coaxing' her to eat more cakes like this in the near future. Just maybe.
9. No-Bake Pumpkin Cheesecake Mini Trifles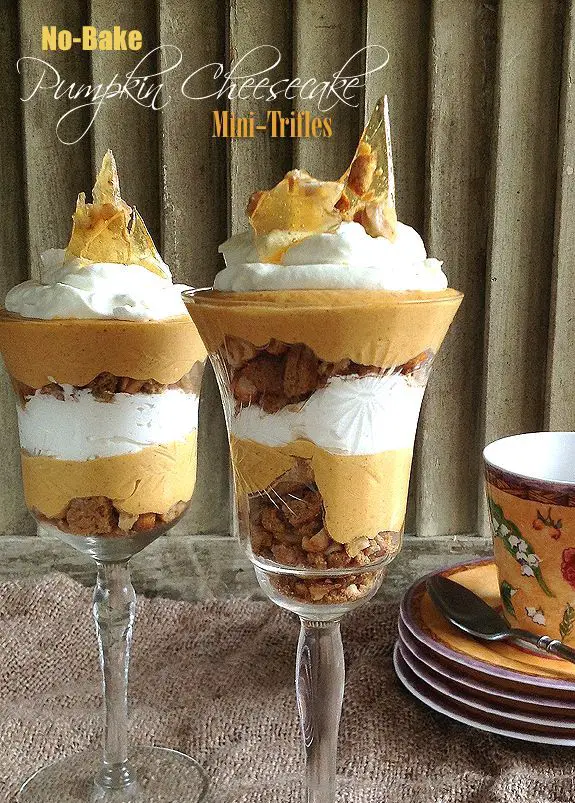 These Pumpkin Cheesecake Mini-Trifles are excellent and they're No-Bake! It's really out-of-this-world delicious. Yup, I'm definitely making this again … soon.
10. Classic Pumpkin Pie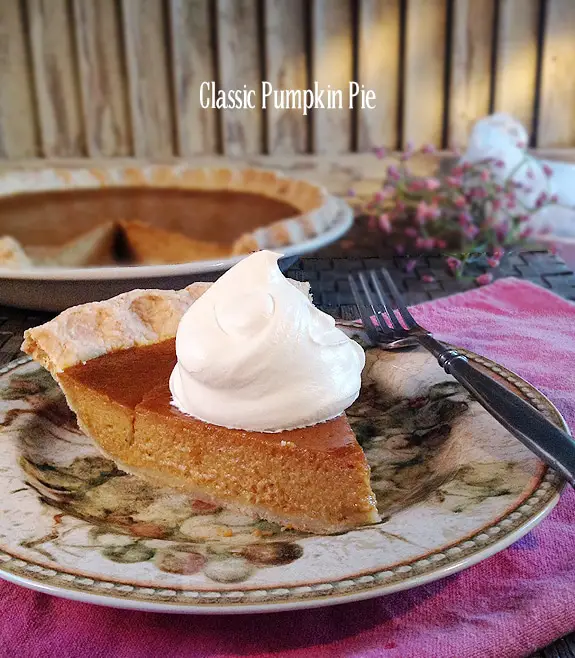 Best. Pie. Ever. No question about it. This, my friends, is the Classic Pumpkin Pie I learned to bake from my mom. It's awesome. I've adored it since I was knee-high to a grasshopper. I'll eat it for breakfast, lunch and dinner. And probably as a snack in between all those. It's the best. It's delicious. It's awesome.
There you go. Ten dishes and desserts that are all about pumpkin. Since the stuff will be on the shelves for the next couple of months, we might as well take advantage of that and use it up, don't you think? I know I'm going to head out and fill my cart with a few dozen cans.
You might be interested in these other articles and recipes: