Pull up a towel, sit under a palm tree and enjoy a slice of delicious Key Lime Bundt Cake!
March is supposed to come in like a lion, you know. I think ours whimpered its way into existence this year.  Before we hit the middle of the month, Hubby had already turned on the air conditioning a couple of times. The temps weren't at hard to handle, being in the low 80s as the humidity they created after a few rainy days.
Supposedly things will go back to a bit more 'normal' this weekend as we'll supposedly dip back below freezing. I'm not holding my breath.
What I am doing, however, is thinking ahead. These few balmy days have me anticipating summer. I'm imagining white sand beaches, palm trees swaying and drinks with little umbrellas sticking out the top.
That, my friends, is what led me to suggest a tropical theme for March's #BundtBakers when our auspicious leader asked for someone for ideas. Since swimsuit weather is almost upon us, why not prepare ourselves mentally with cake; key lime bundt cake to be exact.
There's plenty of time for the physical preparations over the next couple of months. I promise.
The Process
I was feeling lazy when I made this so I used my stand mixer. That made the process go so much more quickly. I just dumped and scraped until I had the perfect batter. I buttered and floured my pan really, really well, poured the batter in and baked the cake for a hour twenty five minutes.
While it was still hot, I brushed on the glaze, which melted right on the cake. Then I let the whole thing cool before letting anyone touch it (that was hard).
The Verdict
Desserts don't get much better than this one. It's delicious, decadent, yet fresh and reminiscent of beaches and tropical breezes all at the same time. As with the pound cake version, this one disappeared quickly with choruses of moans and groans of delight with every piece. We love this cake.
Key Lime Bundt Cake Recipe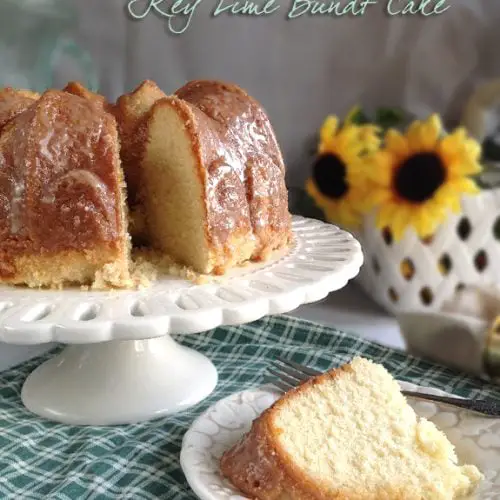 Key Lime Bundt Cake
Pull up a towel, sit under a palm tree and enjoy a slice of delicious Key Lime Bundt Cake. Adapted from Southern Living Magazine, March 2011
Ingredients  
1 cup butter, softened

½ cup shortening

3 cups sugar

6 large eggs

3 cups all-purpose flour

½ teaspoon baking powder

⅛ teaspoon salt

1 cup milk

1 teaspoon vanilla extract

1 teaspoon lime zest

¼ cup Key lime juice
Key Lime Glaze
1 cup powdered sugar

2 tablespoons fresh Key lime juice

½ teaspoon vanilla extract
Instructions 
Preheat oven to 325°. Beat butter and shortening at medium speed with a heavy-duty electric stand mixer until creamy.

Gradually add sugar, beating at medium speed until light and fluffy. Add eggs, 1 at a time, beating just until blended after each addition.

Stir together flour, baking powder, and salt. Add to butter mixture alternately with milk, beginning and ending with flour mixture. Beat at low speed just until blended after each addition.

Stir in vanilla, lime zest, and lime juice. Pour batter into a greased and floured 10-inch (12-cup) tube pan.

Bake at 325° for 1 hour and 15 minutes to 1 hour and 20 minutes or until a long wooden pick inserted in center comes out clean. Cool in pan on a wire rack 10 to 15 minutes; remove from pan to wire rack.

Prepare Key Lime Glaze by whisking together powdered sugar, Key lime juice, and vanilla until smooth.

Immediately brush over top and sides of cake. Cool completely (about 1 hour).
Here are some other tasty dishes to try out: