Looking for the perfect dessert? These key lime cheesecake parfaits are no-bake. The homemade raspberry sauce and crispy, crunch Quaker Oats crumble is delicious.
Why does oatmeal cause such a debate?
Don't know what I mean? Stop in our household on a day when Dudette requests oatmeal for breakfast. The bowl that's finally put in front of her differs from one parent to the other.
If she asks Hubby, the oatmeal is boiled in water, spooned into a bowl and milk is added to finish it off. It's the way his mom made it so it's the way he prefers.
When I'm the one that's approached with the 'I'm hungry' line, that final bowl looks a lot different. I cook the oatmeal in milk along with a pinch of salt. Once done, I add a tablespoon or two of brown sugar and swirl it in.  It's what I was raised on and it's what I love.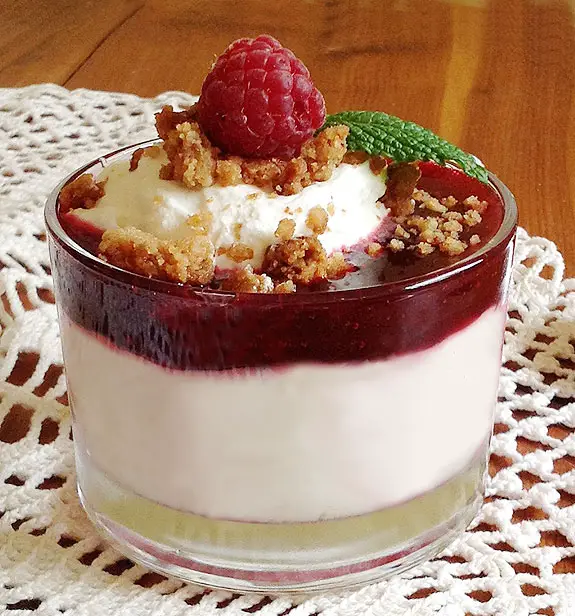 It's not just bowls of cooked oatmeal either.
Consider the oatmeal cookie. I like mine chewy and with raisins. Hubby's aunt makes the best ones I've ever had in my life. On the flipside, many folks love them crisp with chocolate, a crunchy oatmeal chocolate chip cookie.
I have to admit that when Quaker sent me a package of their Crunchy Oat Granola Cookies with Mixed Berries my brain started working through all the possibilities. Cookies are cookies and while they're great as a snack or in a lunchbox, there are so, so many other things that can be done with a package or two.
The Process
My desire for a quick, delicious dessert that bridged winter and summer is what led to this little gem. The cheesecake is no-bake and takes just a few minutes to whip together. If key limes aren't available, use a bottled version, but don't use regular lime juice. Key limes are more acidic and will 'bake' the cheesecake into a nice firm texture.
Since raspberries were on sale, I chose to make a fresh raspberry sauce, which is a little more work, but definitely worth it. Adding a little of the lime juice keeps it from being overly sweet and carries the flavor profile over.
The crowning glory is the crumble, made with my Quaker Crunchy Oat Granola Cookies. I used a nice, heavy meat tenderizer to crush the cookies since I wanted some bigger chunks to bite into, but a food processor can be used just as easily.
The Verdict
Much as I hate to toot my own horn, I have to admit that this was fantastic. All three of us thought so. In fact, Dudette said that I didn't have to look any further for the dish of the week. This has already won. The oat granola and berries in the crumble add fantastic crunch and depth of flavor to the tart cheesecake and sweet raspberry sauce.
The three of us loved this and it'll be on the dessert list again and again. The fact that we got 10 grams of whole grains per serving, so lots of fiber, and just 6 grams of fat….a bonus.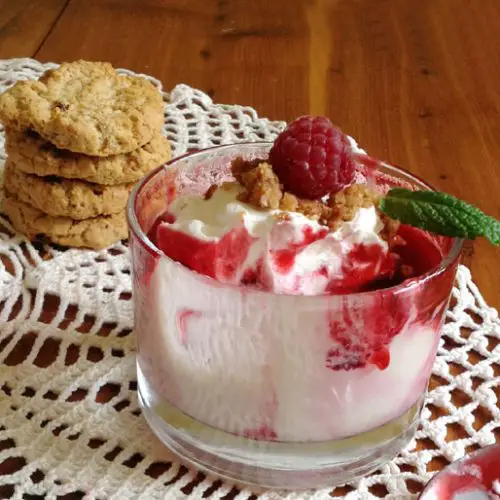 Key Lime Cheesecake Parfaits with Raspberry Sauce and Quaker Oatmeal Cookie Crumble
Looking for the perfect dessert? These key lime cheesecakes are no-bake. The homemade raspberry sauce and crispy, crunch Quaker Oats crumble is delicious.
Ingredients  
Key Lime Cheesecake
8 ounces cream cheese, at room temperature

1 14-ounce can sweetened condensed milk

½ cup key lime juice

Pinch of salt

Zest of one lime

1 cup whipped cream
Raspberry Sauce
18 ounces fresh raspberries

1 cup sugar

1 teaspoon lime juice
Quaker Oat Granola Cookie Crumble
½ cup brown sugar

½ cup all-purpose flour

1 cup Quaker Oat Granola Cookies, crushed

6 tablespoons cold butter

Whipped Cream, for each serving
Instructions 
For the Cheesecake
Beat the cream cheese, sweetened condensed milk, key lime juice and salt until smooth. Fold in the whipped cream and lime zest until fully incorporated. Spoon cheesecake into individual serving dishes, spreading until the tops are even.
For the Raspberry Sauce
Heat the raspberries, sugar and lime juice in a small saucepan over medium heat until simmering. Reduce heat to low and simmer until sugar melts, approximately 5 minutes. Set aside until cool.
For the Quaker Oat Granola Cookie Crumble
Preheat oven to 350. Stir together brown sugar, flour and crushed Quaker Oat Granola Cookies until well mixed. Add butter and mix together with fingers until only pea-sized lumps remain. Spread crumble on a parchment-lined cookie sheet and bake for 20 minutes, stirring once midway through baking time.

When ready to serve, pour raspberry sauce over each cheesecake parfait, dollop with a spoonful of whipped cream and top with a serving of Quaker Oat Granola Cookie Crumble.
Check out these other great Key Lime recipes: