Need a splash of sunshine in your day? This glorious Key Lime Icebox Cake is a bright, light dessert that will be a family favorite at first bite.
I have a 'thing' for citrus.
Sophie knows that after Halloween's haul is brought home, I'll be doing casual searches through her stash for any lemon, orange or lime goodies that might have been dropped in her bag.
You know the stuff I'm talking about. Starbursts and Skittles; Lemonheads and Jelly Bellies. My favorites, however, are those glorious 'other' Tootsie Rolls and soft, chewy Starbursts.
After Sophie's sweets are gone, I'm left fending for myself and I think I get along pretty well, thanks to my magazines. If you've been around long enough, you've seen my citrus addiction in action. Remember the Lemon Pudding Cakes? Or the Chocolate-Orange Cannoli Cheesecake, Orange and Olive Oil Cake or the Lemon Poppyseed Bread?
And then there's key lime, my favorite of all the citruses. Need proof? Well, okay.
Let's talk Key Lime Cheesecake Skillet Blondies, Key Lime Cheesecake Parfaits, Lime and Ginger Chewies, Key Lime Bars, and Key Lime Pound Cake (and that's not all of them).
So, as I was cataloging the recipes in my stacks of magazines, is it any wonder that I stopped dead in my tracks when I saw this desert and headed to the kitchen to make it?
I didn't think so.
The Process
At the top of the page for this recipe is a little blurb that says:
Whip Up A No-Bake Cake
Layers of tangy-sweet Key lime custard and graham crackers stack up to make one quick and easy layer cake
with just enough pucker to take off the heat of summer.
Reading that stuff about 'whipping up' and 'quick and easy', you'd figure that this process takes just a few minutes, right? Not so, my friends.
That bit about a Key lime custard? Home made custard = time at the stove. True, there's no baking involved, but the time spent standing at the stove whisking eggs, half and half and sugar together until thickened more than makes up for the lack of oven use. Reserve about 20 minutes for that step alone.
That being said, once the custard is ready and has cooled down in a bowl set in ice (another 20 minutes or so), it's easy enough to layer the custard with squares of  graham crackers.
The directions say to use an 8-inch square cake pan (with plastic wrap laid down inside) and that worked perfectly for me. I put three rows of two crackers down the length, laid two at the bottom in the other direction, and broke a final square to fit in the little area left in the corner.
I wrapped my cake tightly and put it in the freezer for several hours.
The Verdict
The question comes down to whether this dessert is worth the effort of making the custard, which is pretty darn yummy. Unfortunately, I think the ratio of custard to graham crackers is a bit off so the crackers are the predominant flavor.
That being said, we did enjoy it. The custard has a nice, fresh tang and the graham crackers soften up beautifully after sitting in the freezer overnight.
Taste-wise, it's a good, solid dessert.
What I'd Do Different Next Time
I'd cut out one of the graham cracker layers so there's more filling and less cracker.
The Recipe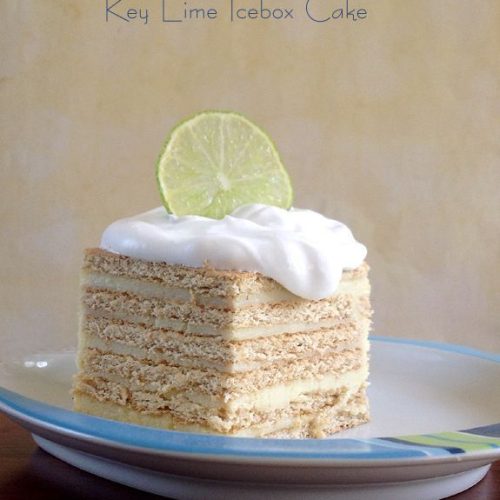 Key Lime Icebox Cake
Need a splash of sunshine in your day? This glorious Key Lime Icebox Cake is a bright, light dessert that will be a family favorite at first bite. From Southern Living Magazine, August 2013
Ingredients  
¾ cup granulated sugar

¼ cup cornstarch

⅛ teaspoon kosher salt

4 large egg yolks

2 cups half-and-half

3 tablespoons butter

2 tablespoons Key lime zest*

½ cup fresh Key lime juice*

45 graham cracker squares

1 cup whipping cream

¼ cup powdered sugar
Instructions 
Whisk together first 3 ingredients in a heavy saucepan. Whisk together egg yolks and half-and-half in a bowl. Gradually whisk egg mixture into sugar mixture; bring to a boil over medium heat, whisking constantly. Boil, whisking constantly, 1 minute; remove from heat.

Whisk in butter and zest until butter melts. Gradually whisk in juice just until blended. Pour into a metal bowl, and place bowl on ice.

Let stand, stirring occasionally, 8 to 10 minutes or until custard is cold and slightly thickened.

Meanwhile, line bottom and sides of an 8-inch square pan with plastic wrap, allowing 4 inches to extend over sides. Place 9 graham crackers, with sides touching, in a single layer in bottom of pan to form a large square. (Crackers will not completely cover bottom.)

Spoon about ¾ cup cold custard over crackers; spread to edge of crackers. Repeat layers 3 times with crackers and remaining custard, ending with custard; top with remaining 9 crackers. Pull sides of plastic wrap tightly over cake; freeze in pan 8 hours.

Lift cake from pan, and place on a platter; discard plastic wrap. Cover loosely; let stand 1 hour.

Beat whipping cream at high speed with an electric mixer until foamy; gradually add powdered sugar, beating until soft peaks form. Spread on top of cake.
Notes
*Regular (Persian) lime zest and juice may be substituted.
Check out these other great tasting recipes: