Smoked Spatchcock Chicken is deliciously juicy and moist. The chicken has more smoke exposure, which means that the cooking time is faster and the chicken gets more smoke flavor. This is the most delicious, mouthwatering chicken you've ever seen thanks to slow wood smoking and low heat.
There are a few reasons why we love whole chickens. A whole chicken is usually cheaper than buying cut pieces. In our family, we have different preferences for the breast and the leg meat. A whole chicken is a great way to make sure everyone gets the best part of your meal.
Another thing I love about cooking whole chickens is that we always have enough meat thermometer leftover to make chicken spaghetti, chicken salad, or cheesy quesadillas the next night. Repurposing leftovers is my favorite way to make something new.
What Is Spatchcock Chicken
Spatchcock chicken refers to a chicken whose backbone has been removed. The chicken can then be laid flat on a barbecue, smoker, or baking sheet while it cooks. This is also called butterflying a chicken.
This method results in perfectly cooked chicken that melts in your mouth and is juicy and tender. It also reduces the time it takes to roast or smoke a whole chicken.
Smoking whole chickens can cause the breasts to dry out faster than the rest of your meat. However, this is not the case with spatchcock chickens.
Thanks to Nicole, from the blog Whatever You Do, Spatchcock chicken has become our favorite way to smoke chicken in our Traeger grill.
I made Nicole's Traeger Smoked Spatchcock chicken. Since we didn't have Traeger chicken rub, I used her DIY barbecue seasoning mix.
Nicole's website has tons of Traeger recipes. Even her logo has a smoker! Since we recently upgraded to a Traeger, I knew this was the right route for me. Their Ultimate Guide to Traeger Wood-Pellet Grills is a great resource for anyone new to the pellet grill.
Their smoked Italian meatballs and smoked spicy Asian pork tenders were also tempting me. They also have many other delicious recipes for those who don't own a smoker.
You Will Need These Items To Smoke Spatchcock Chicken
A whole chicken
Large cutting board
Kitchen shears
Set up a smoker or grill for indirect heat
Hardwood or wood pellets (apple and hickory, maple and cherry are our top wood flavors for smoking chicken)
How To Spatchcock Chickens
Spatchcocking chickens is easy. This technique is used to intimidate me, but it is actually very easy. You only need a pair of kitchen shears or any other sharp scissors.
Start with a whole bird and take out any stuff from the cavity. Flip it over on a cutting board. In the above image, you can see that the whole chicken is breast-side up. This is how yours will look if you flip it.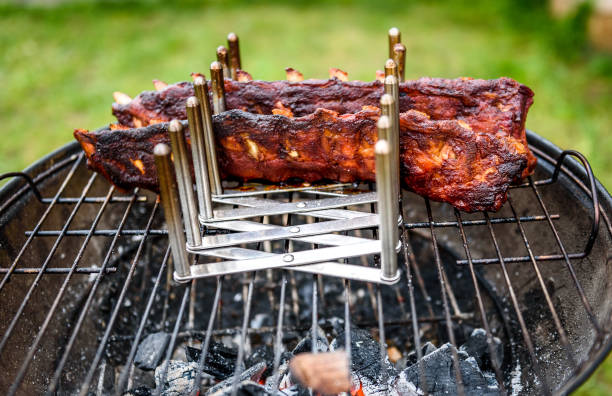 Clear your surroundings to make it easier to clean up and disinfect afterward.
Start by cutting along the backbone. Next, cut down the length from neck to tail using sharp kitchen shears. The skin and bones should be easy to cut.
Then, you can continue the process by slicing down the backbone on the opposite side. Finally, lift the entire chicken piece. Since I am right-handed, I turn the cutting board around to cut the opposite side. However, it doesn't matter which direction you go, neck-to-tail or tail-to-tail.
For chicken broth, you can freeze the backbone in zip-lock bags that are freezer safe.
Use a sharp knife or a razor to cut the chicken's breastbone. A small cut in the tough cartilage will help flatten the chicken.
To flatten the chicken, flip it over. Use the heel of your hand to press between the breasts with the palm of your hand. The chicken breast meat should be flattened with the legs extended to the sides.
For the best presentation and even cooking, place the wingtips underneath the breasts. Next, rub the chicken with olive oil and your favorite rub (or the one I have included in the recipe). The olive oil helps the rub stick very well.
If you wish, you can brine your bird for up to 12 hours. It is something I do not always do because it takes extra planning. However, brining poultry can really enhance its texture and flavor.
What Is The Smoking Time For A Spatchcocked Bird?
This question is really up to you. Whether you prefer to smoke the chicken faster (also valid reason), or for more smoke penetration (also valid reason).
You can consider your smoker as a slow cooker. This allows you to choose whether to cook the food on low or high. You can't go wrong with most things. This is the case for smoking spatchcock chicken.
High Heat Takes Less Time (About One Hour)
This spatchcock chicken recipe has a great advantage: it cooks quickly compared to whole chickens that have not been spatchcocked or flattened. The chicken can be cooked at a higher temperature, and it will cook in a short time.
Cook your chicken on a Traeger grill at high heat for about 30 minutes. Then, reduce the heat to 325°F and continue cooking. Smoked chicken takes about an hour to cook.
Slow Approach: Low Heat (About 3-4 Hrs)
To ensure maximum smoke penetration, I recommend smoking chicken at a lower temperature (between 225 and 275° F). A chicken of three to four pounds will take about 3-4 hours to reach 165°F.
If you enjoy grilling or smoking meat, you should get a good digital thermometer. Smoking meat at the right temperature is more important than a time limit. Other factors such as the size and temperature of your chicken before you start the smoke can also play a role in the final time it takes.
This question is often asked me. As long as there is enough room in your smoker to hold the meat, you are able to smoke multiple spatchcock chickens at once without increasing the cooking time.
Before slicing and serving, let the chicken rest 10 minutes from when it was removed from the grill or smoker. This will allow the juices to redistribute.
How To Make A Dry Rub For BBQ
A brown sugar-based rub is my favorite when it comes to barbecue. It adds sweetness to the barbecue and caramelizes beautifully on the grill or smoker. This rub can be used on pork and vegetables (like the sweet potatoes that I served with my spatchcock chicken). It's delicious.
Combine brown sugar, garlic powder, cumin, and cinnamon in a large bowl. Mix everything together until it is well combined. Then sprinkle the mixture generously on the meat and rub it in.
This same technique can be used with a spatchcock Turkey using turkey seasoning to create a unique Thanksgiving dinner!
Sauce Or No Sauce? That Is The Question
Although I love good BBQ sauce, sometimes I just want the flavors of the chicken and rub to be enjoyed without the addition of sauce.
To sauce your chicken, you will need to watch that the internal temperature reaches 150°F on a digital thermometer. This can be done in the breast or thigh meats. After brushing the chicken with your favorite barbecue sauce (I HIGHLY recommend my Alabama White BBQ Sauce), continue cooking until the internal temperature reaches 160 degrees F. This usually takes about 15-20 minutes.
Grilled Spatchcock Chicken On A Charcoal Or Gas Grill
One of the families that can have a smoker, gas grill, and charcoal grill is ours. We love all three. Not only because I am a food blogger, and I have tried recipes on each one. This chicken was made with my Traeger smoker, but you can also use a charcoal or gas grill to achieve great results.
Pre-heat your grill and place it in an indirect heat zone. This is where the chicken will not be directly above the flames. To use your grill as an outdoor smoker, you can soak hardwood chips or go with the natural charcoal flavor. Grill the chicken on indirect heat for about 165°F.
What To Serve With Smoked Poultry?
Grilled or smoked chicken is a great choice for classic side dishes such as macaroni salad or potato salad or baked beans. I used olive oil to fry some sweet potato discs, then added the chicken, and then rubbed them with BBQ seasoning. Finally, I served it with grilled zucchini.
Here are other cooking articles that you might be interested in: