I had an epiphany with this dish. It's pretty cool when a dish of food will do that to a person. Well, it's either awesome or someone needs to get out more. I'll let you decide.
You see, I don't eat sweet and sour chicken … at all. When we go out to a Chinese restaurant, I never order it. I much prefer the heat of Hunan or Kung Pao chicken over a sweet dish like the other.
There's another factor at play in my restaurant decisions though. I know what the cooks and chefs do to make it taste good. I'm well aware of the number of baby cows that went hungry so the amount of butter needed for my dish could be made with their milk. I have a good clue as to the height of the mountain of salt added to my food so the flavors would pop.
I may know those things in my head, but as long as all the voodoo cooking magic goes on behind closed doors and the food tastes amazing, it's all good. It's a double bonus; my favorite foods tasting as amazing as they should and I don't have to do the dishes afterwards.
So, that being the case, it makes a whole lot of sense for me to continue to drag my family to a restaurant for the more complex, multiple ingredient foods I love and to experiment with the newer stuff (like Sweet & Sour Chicken) at home, where I spend less money and can feel better (at least a little) about throwing it out if I don't like it.
Awesome epiphany, eh?
The Process
Sweet & Sour Chicken. I'm sorry, but even the name is unappealing. But, Hubby likes this kind of stuff and it took all of 20 minutes to pull together so I was more than willing to give it a go. It's hard to say no when the expense is a bit of chicken and a bell pepper.
The prep is incredibly easy. All I had to do was chop up chicken and the pepper and mince a bit of ginger. I threw all the sauce ingredients into a mason jar and gave it a good shake so when it was time to add the sauce to the rest, I just poured it in.
The Verdict
Okay, apparently I like Sweet & Sour Chicken. Who knew. This was awesome. I don't really have anything else to compare it to, but I thought there was a fantastic balance of sweet and sour in the dish. The fried rice, which was a nice little add-in recipe on the same page of the magazine, was fine, but it just tasted like rice with carrots and peas in it. It did do a good job of sopping up the extra sauce though.
Hubby, who is a fan of this dish, liked it a lot too. In fact,  he got totally disgruntled when he found out that I finished off the last of the leftovers the next day. Who knew we'd be battling over Chinese food.
Dudette doesn't like Chinese food and I'm not inclined to force it on her. The poor kid has to deal with a lot of unique flavors as it is. So, I made this on an afternoon when she wasn't home and she never knew it was in the house.
What I'd Do Different Next Time
I'd add a quarter teaspoon of red pepper flakes. It may not add any authenticity, but we'd enjoy it.
The Recipe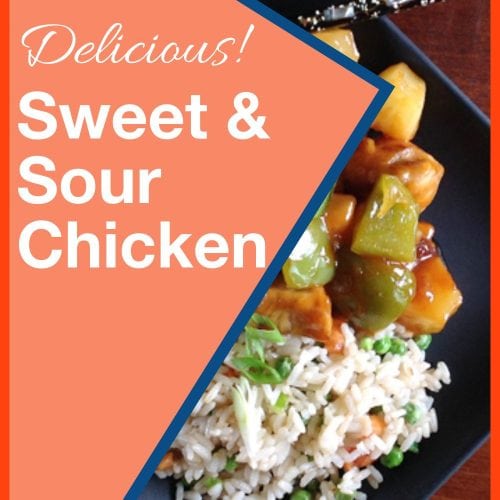 Sweet & Sour Chicken
Forget take-out. This Sweet & Sour Chicken is phenomenally delicious and only takes 20 minutes to make. From Every Day With Rachael Ray Magazine, May 2014
Ingredients  
1 pound boneless, skinless chicken thighs, fat trimmed, then cut into ¾-inch pieces

6 teaspoons cornstarch

2 tablespoons lower-sodium soy sauce

⅓ cup ketchup

¼ cup sugar

¼ cup cider vinegar

1 8 ounce can pineapples chunks in juice, drained, juice reserved

2 tablespoons canola oil

1 tablespoon minced ginger

1 green bell pepper, cut into ¾-inch pieces
Instructions 
In a medium bowl, combine the chicken, 4 tsp. cornstarch and 1 tbsp. soy sauce.

In a small bowl, whisk the remaining cornstarch and soy sauce with the ketchup, sugar, cider vinegar and pineapple juice.

In a large nonstick skillet, heat the oil over medium-high until it shimmers.

Add the chicken and cook, turning once, until browned, about 4 minutes.

Add the ginger and cook, stirring often, until fragrant, 30 seconds.

Add the pineapple chunks and the bell pepper.

Cook, stirring occasionally, until the pepper is crisp-tender, about 3 minutes.

Stir in the ketchup mixture, bring to a boil and cook until the sauce thickens, about 1 minute.
Notes
I'd add a quarter teaspoon of red pepper flakes. It may not add any authenticity, but we'd enjoy it.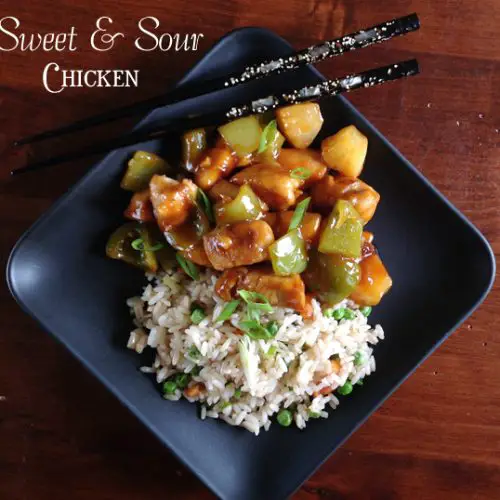 Fried Rice
From Every Day With Rachael Ray Magazine, May 2014
Ingredients  
4 teaspoons toasted sesame oil

¾ cup frozen peas and carrots

½ cup chopped scallions

2 cups cooked rice

2 teaspoons lower-sodium soy sauce
Instructions 
In a skillet, heat sesame oil over medium.

Add peas and carrots, scallions and rice.

Cook, stirring, 1 minute. Stir in soy sauce.
I'm trying to think of other dishes that I've wanted to try but have been unwilling to pay full price for at a restaurant. They're the perfect ones to make at home.
If you've already had this idea, please don't tell me. I want to think my epiphany was the best in the world.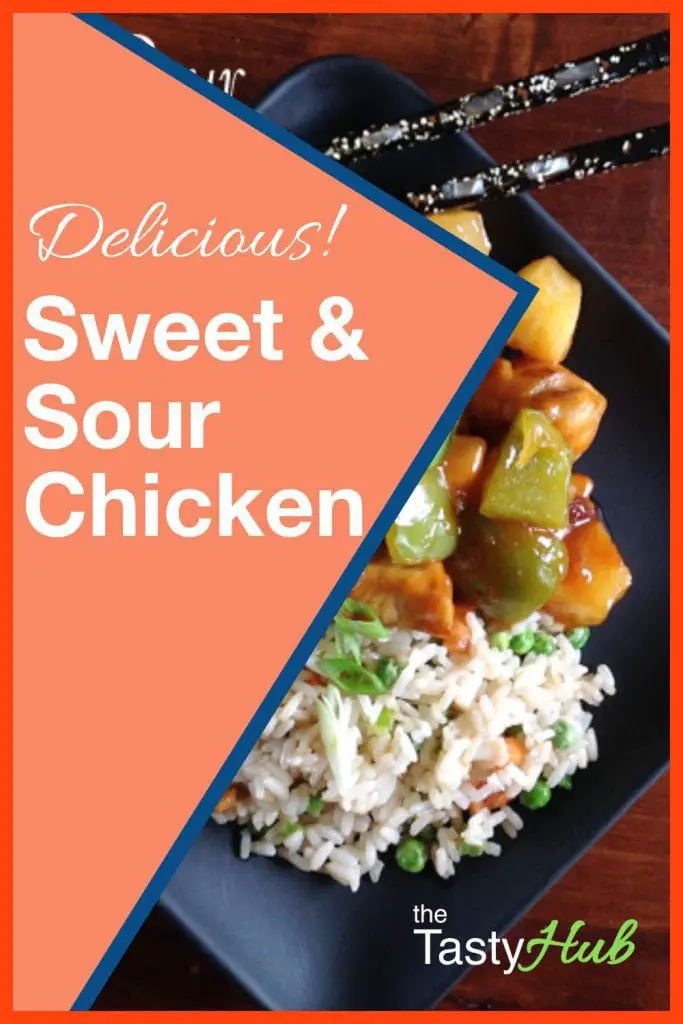 Try out these other delicious recipes: