Rich and creamy, these Key Lime Bars are a refreshing and delicious treat with just the right amount of pucker power.
The story I'm about to tell you happened many years ago, long before Dudette was a gleam in anybody's eye. In fact, I'm not even sure if it happened before or after Hubby and I were married. It was a different city and a different time.
The only reason the timing matters is that I don't want anyone thinking that they may know the person in the story I'm about to tell you. You don't, I promise.
Way back whenever it was, we were invited to dinner at the home of a young couple who had an adorable toddler. We had fun around the table and then enjoyed playing with the little girl and watching her do a fantastic imitation of a drunk sailor as she wove her way around the room on unsteady legs.
Then dessert came. It was cake. Cake with gooey frosting. Hubby and I enjoyed our piece while the mom ate a bite or two while fending chubby fingers from latching on to the slice on her plate.  When her piece was finished, the little one said what any child would, 'More.' Her mom pushed the empty plate to the center of the table and told her daughter to go ask her daddy for some of his cake.
Immediately all eyes went to the man of the hour. He sat in a chair on the other side of the room with about half of his cake on his plate. As our eyes went to him, his widened in horror as he watched his daughter make a beeline for the gooey, delicious cake on the plate he held in his hand.
And what came next really happened. I swear as I'm sitting here. The man picked up his fork and finished that cake in two bites. I kid you not.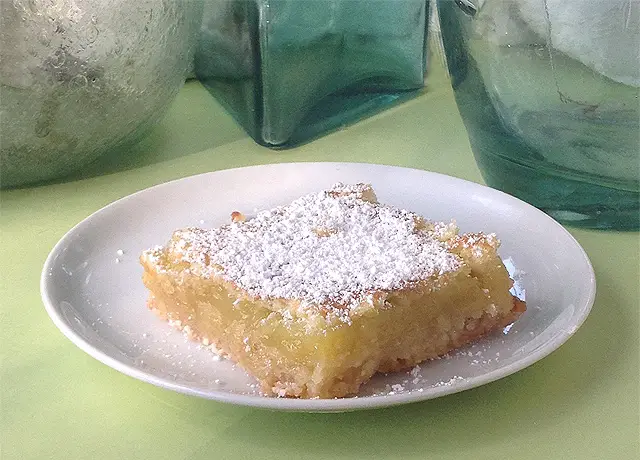 To this day, any time that Hubby or I do anything remotely selfish in the food arena, we call it pulling a Gordon.
I told you that story because I almost pulled a Gordon today. I made these bars while no one was home.  No one would have known if they'd all been gone before Dudette's bus showed up. I kid you not.
The Process
This may just take the prize for the easiest to make bar cookie that makes you wait the longest before you can eat it. That might also be the reason why these were still in the house when Dudette's bus did arrive.
The key lime bars are very, very easy to make. The crust is made up of basic shortbread ingredients and is a basic beat, dump, press and bake type.
The filling is even easier since you just beat everything together and pour it in. In fact, I washed out the crust bowl while it was baking and just used it so it was a one-bowl treat. I like those.
I did bake mine for 25 minutes. I probably could have gone a little longer, but the top was a good shade of brown and I didn't want it to dry out. I prefer gooey to firm with this kind of bar.
The Verdict
It really is a good thing that these need to sit in the refrigerator for at least an hour before cutting (overnight would be even better). They're delicious. They are on the tart side, which I like very much. I really, really like these bars.
Dudette, her bus was almost an hour late so I was glad that I had something like this to give her when she finally came in. Her first remark was, "These are pretty good." After a second bite she amended her comment to be, "These are very, very, very, very good."
I call that success.
What I'd Do Different Next Time
Many recipes call for an 8×8 pan (like this one does) and then tries to cut the fat content by asking us to cut that little pan's worth into 12 portions. I made 9; probably always will.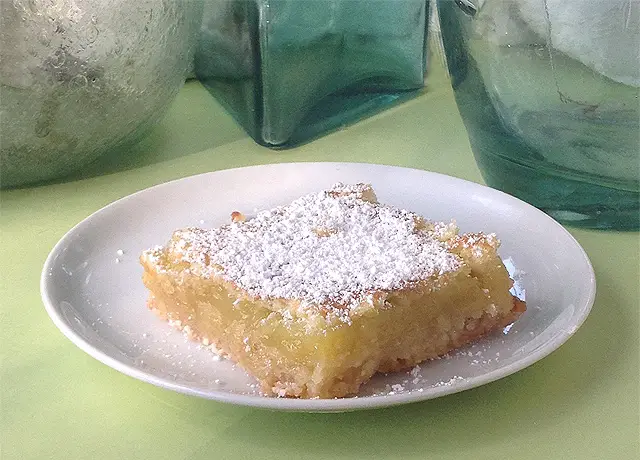 Key Lime Bars
Rich and creamy, these Key Lime Bars are a refreshing and delicious treat with just the right amount of pucker power. From All You's Delicious On A Dime Cookbook
Ingredients  
8 tablespoons (1 stick) unsalted butter, softened

¼ cup sugar

1 cup all-purpose flour

¼ teaspoon salt
Filling
2 large eggs

1 large egg yolk

1 cup sugar

⅓ cup Key lime juice

1 teaspoon grated lime zest

2 tablespoons all-purpose flour

Confectioners' sugar, for dusting (optional)
Instructions 
Preheat oven to 350°F. Line an 8-inch square baking pan with foil, leaving an overhang. Mist foil with cooking spray.
Make the Crust
Using an electric mixer on medium-high speed, beat butter and sugar until light, about 2 minutes. Beat in flour and salt. Press evenly over bottom of pan.

Bake until firm and light golden around edges, 20 to 25 minutes. Cool slightly.
Make the Filling
Make filling: Using an electric mixer on medium speed, beat eggs, yolk and sugar until smooth. Stir in lime juice and zest. Fold in flour.

Pour filling over crust and bake until set, 20 to 30 minutes. Cool on a wire rack. Cover and refrigerate for at least 1 hour or overnight.

Use foil overhang to remove bars from pan to cut.

Dust with confectioners' sugar just before serving, if desired.
Here are other delicious key lime recipes: