Brownies have nothing on this dessert. The perfect key lime cheesecake skillet blondie is essentially a skillet blondie that's covered with key lime cheesecake and topped with a glorious white chocolate key lime glaze.
Amid the collection of Stephen King, John Irving and Carl Haaisen books on the shelves behind me are several by another of my favorite authors, Irving Stone. Even though I've read all of them at least twice, there's just one that comes to mind on a regular basis.
This book, titled Those Who Love, twirls around the life of Abigail Adams, President John Adams wife. I think of her often because Mr. Stone goes into fascinating detail about Abigail's day-to-day care of the family, including her time in the kitchen.
It's the little things that caught my attention. Like baking. The kitchen timer had about 160 years to go before it was invented, yet Abigail regularly made bread and sweet treats for her family.
How? Heck, I have an overabundance of clocks and timers in my kitchen, yet I can't tell you how many times I've over-toasted things. How'd she do it?
My friends, Abigail sang. All the ladies did. Each baked good had it's own set of verses, timed perfectly to end when what was being made was ready to come out of the oven. Genius, no?
As I think about that and look at my cast iron skillet, an item which Abigail would have had several of, I can only imagine what she made in hers. Corn bread, biscuits, cakes, and probably brownies.
So, while I will tell you that the idea of combining key lime, cheesecake, blondies and white chocolate is all mine, I will not even attempt to insinuate that the skillet brownie was my idea.
I don't have that much hubris.
The Process
Three bowls, a few ingredients, a cast iron skillet, and a little time. If you have those, you can make this skillet blondie. And trust me, you're going to want to.
The blondie itself is basic; brown sugar, butter, eggs, vanilla, flour, salt, and baking powder all mixed together, then spread on the bottom of a cast iron skillet.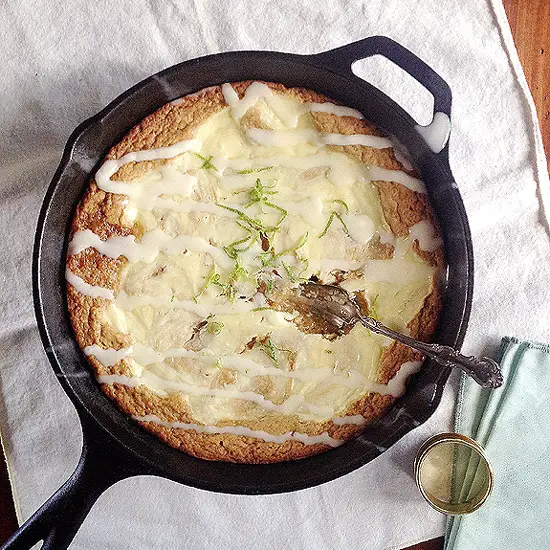 The cheesecake layer is just as easy to pull together. Cream cheese, an egg yolk, sugar, and key lime juice combined, then spread over the blondie layer.
Once the blondie is cooked, a glaze of white chocolate, cream, powdered sugar and key lime juice is drizzled over each slice. Or, if you can't wait, just grab a spoon and dig in.
The Verdict
As you might figure, I love this. The sweet blondie, topped with creamy cheesecake and a tangy glaze? Yeah, baby. Come to mama. I could eat the entire thing all by myself. But, unfortunately, I wasn't allowed to do that. Hubby is a key lime freak too and he enjoyed this (too much).
Somewhere in this past year or so, Dudette lost the love of citrus and wanted nothing to do with the cheesecake and glaze. She did like the blondie on its own, though.
The Recipe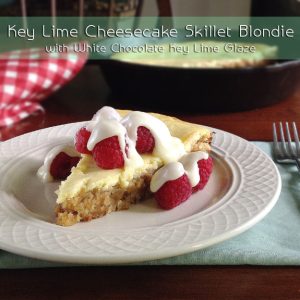 Key Lime Cheesecake Skillet Blondies with White Chocolate Key Lime Glaze
Brownies have nothing on this dessert. The perfect skillet blondie is covered with key lime cheesecake & topped w/a glorious white chocolate key lime glaze.
Ingredients  
1½ cups packed light brown sugar

½ cup butter, softened

2 eggs, lightly beaten

1 teaspoon vanilla extract

1½ cups all-purpose flour

½ teaspoon baking powder

½ teaspoon salt
Key Lime Cheesecake Layer
8 ounces cream cheese, at room temperature

1 egg yolk

3 tablespoons sugar

1 teaspoon key lime juice
White Chocolate Key Lime Glaze
¾ cup white chocolate chips

1 tablespoon heavy cream

2 tablespoons key lime juice

¾ cup powdered sugar
Instructions 
Combine the brown sugar, butter, eggs and vanilla in a large bowl until just blended. Add the flour, baking powder and salt and mix until fully incorporated.

Spread the batter in a 10-inch lightly greased cast iron skillet.

Beat together the cream cheese, egg yolk, 3 tablespoons sugar and key lime juice until smooth. Spread over the blondie layer in the skillet.

Bake the skillet blondie for 55-60 minutes, or until a toothpick inserted near the center comes out clean.

While the blondie is baking, whisk together the glaze ingredients in a small bowl until smooth. Set aside.

Cool on a wire rack, then cut in wedges, drizzle with the glaze and serve.
I get a bit shy about posting my own creations here, but this one was so yummy that I just had to pass it along. If you're not fond of squeezing all those tiny key limes for the juice needed, I recommend Nellie and Joe's Key Lime Juice. I always, always have a bottle in the fridge.
Here are other tasty Key Lime recipes to try out: