Did you notice what I did yesterday? I tried to be really subtle about it.
C'mon. Anyone? Did you notice that I used a Rachael Ray magazine? Or that you haven't seen a recipe of hers at all in April? Yup, that's right. I started in on May a few days early.
I couldn't help myself. Once I have my magazines, it' is so hard to keep paging through them without making something. Okay, without making many things. So, why not just dive in?
There's another reason too, however. I did an April Magazine Round-Up on Saturday. Two of the dishes that I featured were grilled cheese sandwiches and both were outstanding. (The Grilled Cheese with Bacon and Guacamole ended up being a particularly strong favorite.)
In response to a post about the round-up on Facebook, my friend Liz echoed my sentiments and commented that she was going to miss all the grilled cheese recipes.
Yes, I was pretty bummed that April was ending, which meant that food magazines would be done with the whole grilled cheese thing (remember, April is/was National Grilled Cheese Month [cue the eye roll]).
But, my friends, it appears that Cooking Light walks to the beat of the same drummer as me, one that's a little more unique.  One that includes two grilled cheese sandwiches in their May magazine after National Grilled Cheese Month is over.
I love those guys.
The Process
If you can thinly slice avocados and tomatoes and grate sharp, white cheddar, you can make this sandwich.
I did change up the order in which I put the sandwich together, however. Since avocado has a reputation of sliding all over the place, I sprinkled some of my grated cheddar on it before adding the last piece of bread. The cheese at both top and bottom worked like glue and kept the whole sandwich together really well.
Also, I have a grill pan so went ahead and used it, but any skillet would work just fine. The sandwich just won't look as cool afterwards.
The Verdict
Hubby doesn't like tomatoes or avocados and you already know where Dudette stands on the green vegetable-type stuff so I was on my own with this one, and that suited me just fine.  If you're a fan of those two things, there's nothing not to love about this, as proven by me. I loved it.
The avocado adds creaminess and fills in where just three and a half tablespoons of cheese leave off. The tomatoes keep the sandwich juicy and include the bit of acidic bite to offset all the smoothness.
I do recommend being liberal with the freshly ground black pepper. It works really, really well in this sandwich. And using sharp, sharp cheddar (which is what white cheddar usually is).
What I'd Do Different Next Time
Nothing.
The Recipe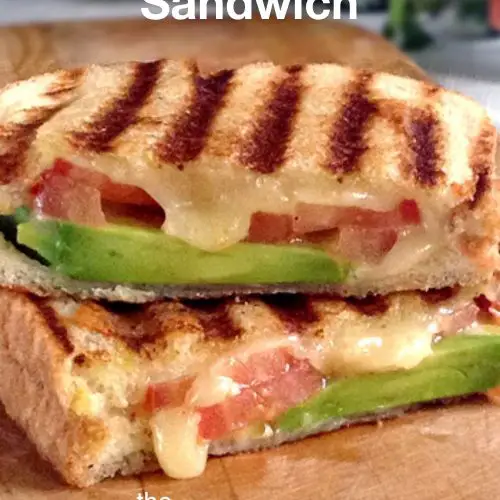 Avocado and Tomato Grilled Cheese Sandwich
Rich cheese and avocado complement ripe tomatoes for a perfect gooey Avocado and Tomato Grilled Cheese Sandwich.
From Cooking Light Magazine, May 2014
Ingredients  
3 ounces white cheddar cheese, shredded (about ¾ cup)

8 (3/4-ounce) slices multigrain bread

8 thin tomato slices, seeded

1 ripe peeled avocado, cut into thin slices

¼ teaspoon salt

¼ teaspoon freshly ground black pepper

Cooking spray
Instructions 
Sprinkle 3 tablespoons cheddar cheese over each of 4 bread slices.

Top each with 2 tomato slices.

Arrange avocado slices evenly over tomato slices.

Sprinkle evenly with salt and pepper.

Top with remaining 4 bread slices.

Lightly coat the outsides of sandwiches with cooking spray.

Heat a grill pan over medium heat. Place sandwiches in a pan.

Cook 3 minutes on each side or until bread is toasted and well-marked, and the cheese melts.

Cut each sandwich in half; serve immediately.
Believe it or not, I behaved myself and used just 3 tablespoons of cheese for this sandwich. I was a bit surprised at how far it went, even allowing me to put a bit of it on the avocado.  
After all, when all's said and done, Avocado and Tomato Grilled Cheese Sandwiches are really all about the cheese, right?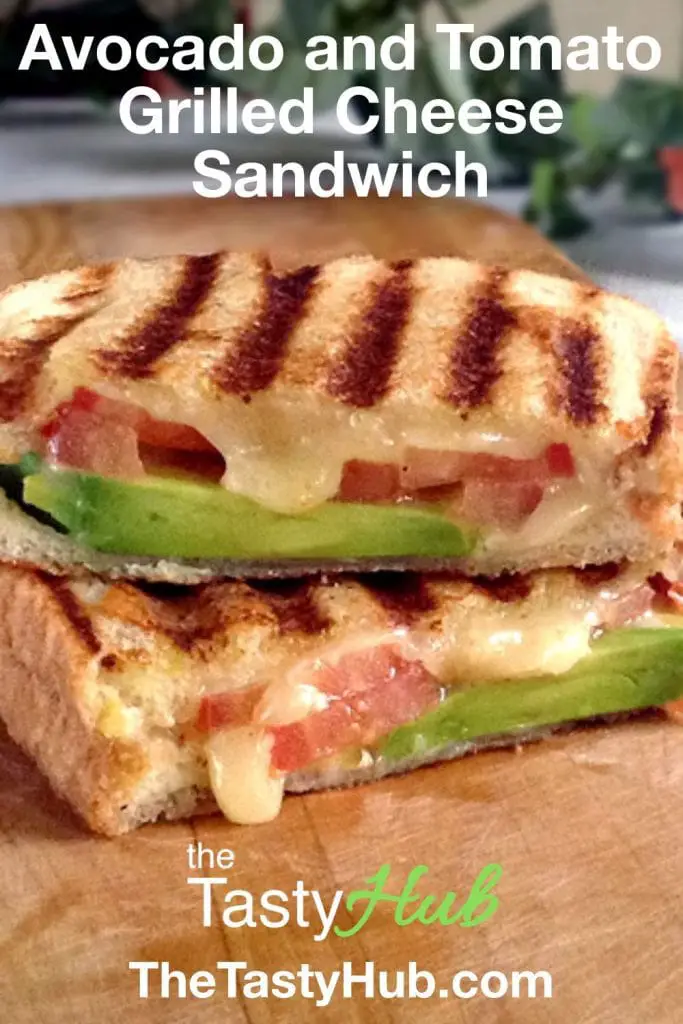 Try out these other great recipes: