Did you ever see the movie 'Roxanne' with Steve Martin and Daryl Hannah?  If not, you should, it's really cute, but I'm not asking because I want to be a movie critic.
There's a scene where Steve and Daryl are arguing on the porch of her house. She goes inside and shuts the door, then they argue some more. At one point, Steve says something … well, have a look yourself to see what I'm getting at.
I laughed really hard when that scene came on in the theater because I totally get it. C'mon, you know you do too. Hearing Jimi Hendrix say 'C'mon while I kiss this guy,' instead of 'C'mon while I kiss the sky'?
When I was in high school, my friend Rachel thought that Kenny Rogers was singing that Lucille picked a fine time to leave him 'with ten hundred children and a crop in the field.' (It was actually ten hungry children.)
This has absolutely nothing to do with Vietnamese Caramel Pork, in case you're wondering. The movie came to mind this morning and the thought of that scene gave me another giggle so I thought I'd share because it was so good.
Kinda like this dish.
The Process
Twenty minutes, my friends. That's all it takes. Heck, if you're wanting to make this for dinner and know you'll be stretched then, prep everything even hours beforehand (it's just a matter of cutting up the pork, chopping the vegetables and mixing the sauce), then all you need to do when you get home is wok and roll (sorry).
I did do one thing a little different. I didn't add my garlic in with the other veggies at the beginning. I waited until the end of the two minutes and then threw it in so it would cook but not burn.
Other than that, because this is a stir fry, it goes really quickly. That's why it's important to prep everything first. Within ten minutes, it was ready to serve.
The Verdict
The half teaspoon of red pepper flakes made this too hot for Dudette to eat, which was unfortunate because it was awesome. Hubby and I loved the flavors that danced around in our mouths. What a party. It's seriously hard to stop at just one serving.
I had never heard of or had Vietnamese Caramel Pork before, but now that I know what it is, I'll be eating it again, and again. The quick serve was a bonus but I spend the time making a slower version too if it tasted that good (or better).
What I'd Do Different Next Time
I'd reduce the red pepper flakes to 1/8 teaspoon for those who can't handle too much heat.
The Recipe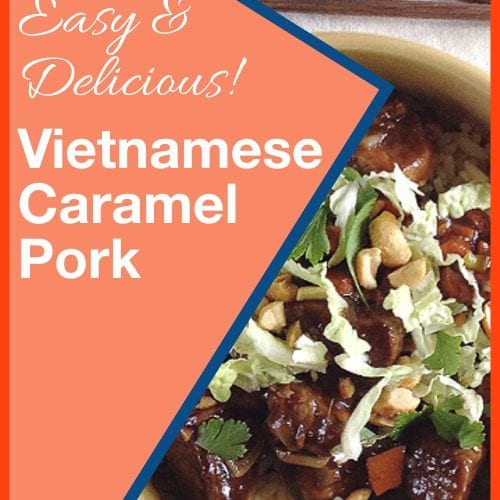 Vietnamese Caramel Pork
It takes just 20 minutes at the stove to create this incredibly delicious, healthy Vietnamese Caramel Pork meal. It's a one-bowl wonder. From Cooking Light Magazine, May 2014
Ingredients  
1

tablespoon

dark sesame oil

1

pound

pork tenderloin, trimmed and cut into 1-inch pieces

1

cup

chopped onion

1

cup

chopped carrot

1

tablespoon

minced peeled fresh ginger

5

garlic cloves, thinly sliced

1

cup

unsalted chicken stock (such as Swanson)

3

tablespoons

dark brown sugar

1

tablespoon

fish sauce

1

tablespoon

lower-sodium soy sauce

2

teaspoons

cornstarch

2

teaspoons

rice vinegar

½

teaspoon

crushed red pepper

1

package

(8.8-ounce) precooked white rice

1

cup

thinly sliced napa (Chinese) cabbage

¼

cup

chopped unsalted roasted peanuts

¼

cup

cilantro leaves

4

lime wedges
Instructions 
Heat a wok or large skillet over high heat.

Add oil to pan; swirl to coat.

Add pork; stir-fry 6 minutes, browning on all sides. Remove pork from pan.

Add onion, carrot, ginger, and garlic to pan; stir-fry 2 minutes.

Combine stock and next 6 ingredients (through red pepper) in a bowl, stirring with a whisk.

Add stock mixture to pan; bring to a boil. Reduce heat; simmer 4 minutes or until sauce is thick and bubbly.

Return pork to pan; cook 1 minute, stirring to coat.

Spoon ½ cup rice onto each of 4 plates; top each serving with ¾ cup pork mixture and ¼ cup cabbage.

Sprinkle each serving with 1 tablespoon peanuts and 1 tablespoon cilantro.
Notes
I'd reduce the red pepper flakes to ⅛ teaspoon for those who can't handle too much heat.
The May issue of Cooking Light has a section on quick Asian favorites with four different recipes. I'm hoping I'll be able to get to the Five-Spice Orange Beef and Broccoli because it looks amazing too. We'll see how it goes.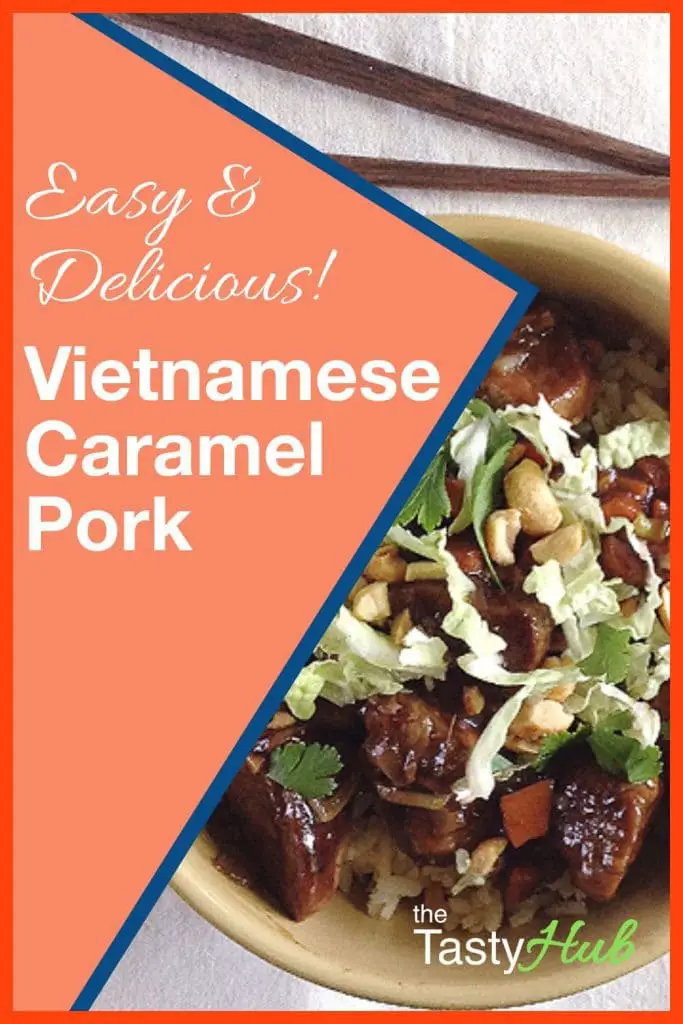 Check out these other tasty recipes: