Fish doesn't show up very often here, much to Dudette's relief and joy. Hubby and I both like it, but all it took was one bad school experience to put her off the stuff for life.
Every once in a while, however, something comes up that warrants putting her taste needs aside and stepping up to the plate. Today is one of those days.
I don't talk about family matters all that often, but today's a little different.
Today we are joining together to help raise awareness for Heart Disease.
Kim of Cravings of a Lunatic lost her Mom to heart disease when her mother was 47, and Kim was 15. Each year on the day her Mom passed she shares stories and photos of her Mom. This year she joined forces with Jen of Juanita's Cocina, whose life was also touched by heart disease when her Stepfather had a heart attack. Jen's Stepfather is alive and well more than a decade later, and for that, Jen is thankful every day.
The ladies got in touch with other bloggers to ask them to share their own stories about how heart disease has touched their lives. So today we share stories and recipes from our hearts to yours, in memory and honour of Momzie, Kim's Mom. We hope you will share your stories with us today as well.
You see, it runs in my family. I lost two of my grandparents to heart disease. My father has had a couple of heart attacks as well as bypass surgery. My mom has heart issues as well. Mom's trouble could be linked to an arthritis drug she took years ago, but we'll never know.
In remembrance of Kim's mom, and to honor my parents who are both alive and well despite their own heart issues thanks to a healthy diet and lifestyle, I put fish on my family's table. Poor Dudette.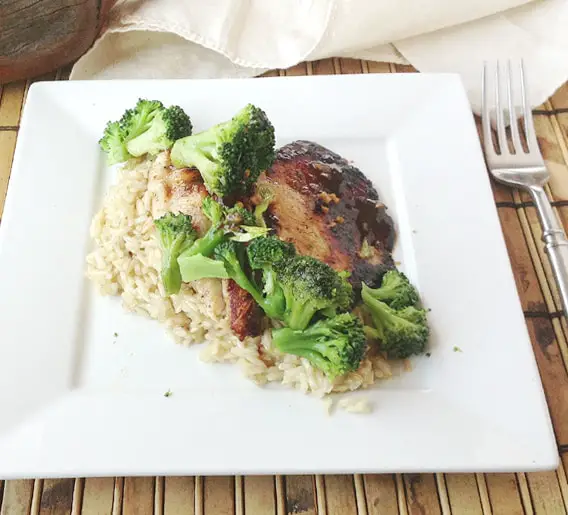 The Process
This is one of Cooking Light's Super Fast meals, ready in about 20 minutes, especially if you use the boil-in-bag rice. It's a simple matter of sauteing fish and vegetables.
The only thing I did differently was to use broccoli since Dudette doesn't like snow peas and to leave off the mushrooms since Hubby and Dudette don't like them.
The Verdict
I tried to hide what dinner was going to be from Dudette so her first reaction was to let us know that she didn't like the chicken. Ah well. Hubby came clean and she gave me her standard look of betrayal while finishing her minuscule piece of flounder.
Hubby and I both enjoyed this very, very much. The glaze is delicious. and would work well on just about any kind of meat.
What I'd Do Different Next Time
Not a thing.
The Recipe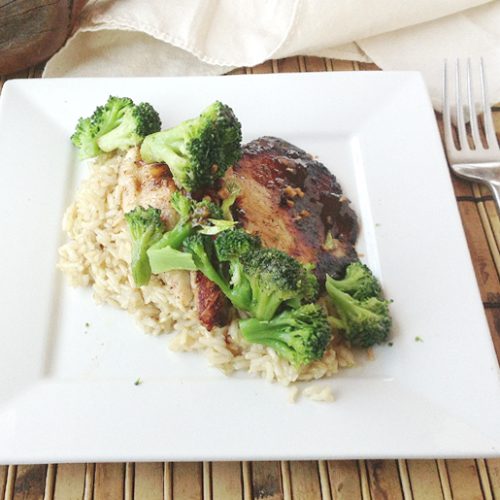 Hoisin Flounder
This is a fast meal ready in about 20 minutes, especially if you use the boil-in-bag rice. It's a simple matter of sautéing fish and vegetables. From Cooking Light Magazine
Ingredients  
1 (3½-ounce) bag boil-in-bag brown rice

2 tablespoons hoisin sauce

1 tablespoon water

2 teaspoons lower-sodium soy sauce

1½ teaspoons minced fresh ginger

1½ teaspoons dark sesame oil

½ teaspoon black pepper

3 tablespoons canola oil, divided

4 (6-ounce) flounder fillets

¼ teaspoon kosher salt

1 cup diagonally sliced snow peas

2 green onions, thinly sliced

1 cup sliced shiitake mushroom caps
Instructions 
Prepare rice according to package.

Combine hoisin and next 5 ingredients in a bowl. Reserve 4 teaspoons.

Heat a nonstick skillet over medium-high heat. Add 1 tablespoon canola oil. Sprinkle fillets with salt. Add two fillets to pan; cook 4 minutes. Turn; brush each with 1 teaspoon hoisin mixture. Cook 2 minutes. Remove fish from pan. Repeat with 1 tablespoon canola oil, 2 fillets, and 2 teaspoons hoisin mixture.

Heat a skillet over high heat. Add 1 tablespoon canola oil. Add peas and onions; sauté 1 minute. Add mushrooms; sauté 2 minutes. Place ½ cup rice onto each of 4 plates. Top each with 1 fillet and ½ cup vegetables; drizzle with 1 teaspoon hoisin mixture.
If you like this recipe, you might light these other tasty recipes: