This month's has me grilling a delicious Zucchini with Sea Salt and Lemon Zest side dish. Perfect for summer.
You know what happens when summer hits, right? Windows are opened, swimming pools filled, deck chairs washed down and grills are uncovered, grates are cleaned and charcoal is purchased.
That's why Blogger C.L.U.E.'s July theme is grilling. And that makes me very happy. What thrilled me even more was being given a new food blogger to stalk. While Heather from girlichef and I have been in this same little group for months now, we've never had the opportunity really to get to know each other other than saying howdy on each other's stuff every once in a while.
This month, that all changed. I spent a looooong time exploring girlichef in my search for the perfect yummy grilled goodie. Truth be told, it was the most drool-worthy search I think I've ever done. Heather makes everything from grilled pizza to barbecue ribs.
Like me, Heather's a Midwest girl. She's married and has three kids (I have no idea how she can manage her fantastic blog with three kids!). One of the things that Heather does once in a while is help a friend out, like when they print a cookbook and she's willing to review it.
When she went through the book, Heather began with a vegetable side, one that I fell in love with the minute I saw it. Grilled zucchini highlighted with lemon zest, basil, mint and the crunch of toasted almonds was just to delicious-sounding to pass up.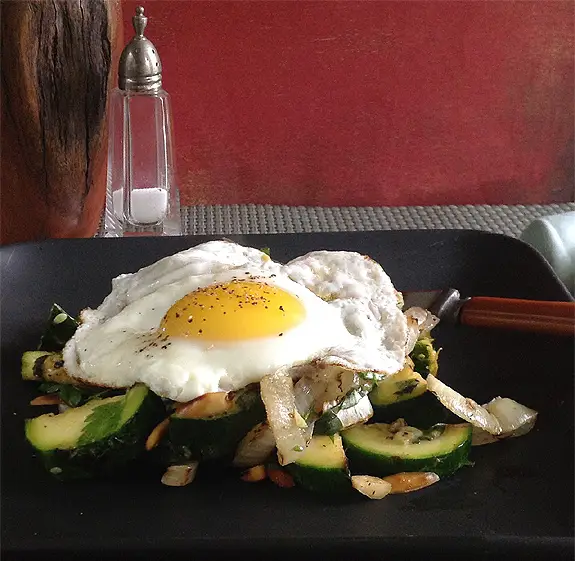 I was right in my decision to go with this grilled dish. It was excellent. I did change it up just a tad and added some grilled onion because I adore the zucchini/onion combination, but that's all I did different. It didn't need anything else.
As you can see, I had leftovers after eating a bowl of the zucchini for lunch, so I heated it the next morning and added a cooked egg over it. It made a delicious, healthy breakfast.
The Recipe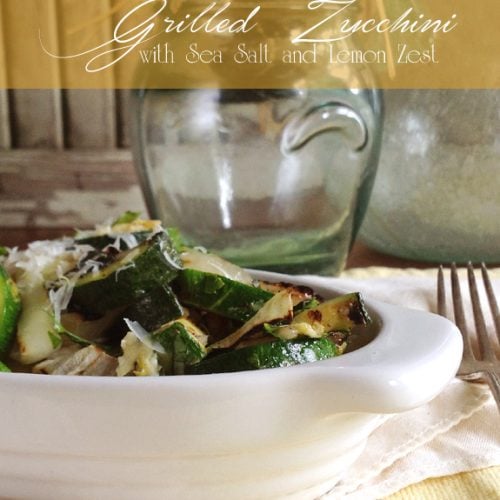 Grilled Zucchini with Sea Salt and Lemon Zest
Grilling a delicious Zucchini with Sea Salt and Lemon Zest side dish. Perfect for summer. Adapted slightly from girlichef
Ingredients  
2 tablespoons olive oil

2 medium zucchini, ends removed and sliced ½" thick lengthwise

1 sweet onion, cut into ½" circles

sea salt

freshly ground black pepper

finely grated zest of 2 lemons

2 tablespoons (20 g) slivered almonds, toasted

2 tablespoons (10 g) roughly chopped parsley

5 basil leaves, cut into a chiffonade

4 mint leaves, cut into a chiffonade

1 tablespoon grated Parmesan cheese

coarse sea salt, for serving
Instructions 
Build a medium direct fire. Spread an even layer of unlit charcoal in the bottom of the grill. Fill a chimney halfway with charcoal. Stuff two sheets of newspaper in the bottom of the chimney and light it.

When the coals are fully engaged – you should see flames peeking over the top – pour them over the unlit charcoal. If using a gas grill, light the gas and adjust the temperature on both sides to medium.

Lighty oil the zucchini and season with salt and pepper.

When you can hold your hands over the fire for no more than 5-8 seconds, clean the grill grate. Place the zucchini on the grill and cook for 2-3 minutes. Flip and cook for another 2-3 minutes, until golden brown and the zucchini is firm but you can bend it with tongs. Remove from the heat and place on a cutting board.

Slice the zucchini crosswise about ¼" thick and place in a bowl.

Place the onion slices on the grill and cook for 2-3 minutes on each side. Cut each slice in half. Add to the zucchini.

Add the remaining ingredients to the zucchini and toss very gently to combine.

Sprinkle sea salt over the salad and serve immediately or at room temperature.
Try out these other recipes for delicious meals: