Sometimes, over the course of a month, I realize that I'm gravitating towards one magazine more than the others. This happens most often when the stack is larger than normal, as is the case with May.
Cook's Country is my magnet this month. Personally, I blame Leia. If Cook's Country comes and tells me I've topped my limit of dishes from this issue, I'm sending them her way.
She's the one that wrote and asked if I'd give the Braciole a try, which I did.
Since the magazine was just sitting there, I perused the whole thing and quickly tabbed a bunch of other recipes. How could I resist making the Sheet Pan Pizza? It's just dripping with home made sauce and oozing with melted mozzarella.
Lots of rainy days in a row encouraged me to pull out the slow cooker and make the Slow Cooker Pulled Chicken so we could have an indoor picnic.
And, after I was given a nine-pound ham, it seemed natural to pull out the magazine and dive into the Crumb-Coated Baked Ham. After all, none of the other magazines shared a ham recipe this month.
Of course, the folks at Cook's Country take care of their readers. They wouldn't share a recipe for a nine-pound ham without also providing a way to use up the leftovers.
Enter Hawaiian Fried Rice.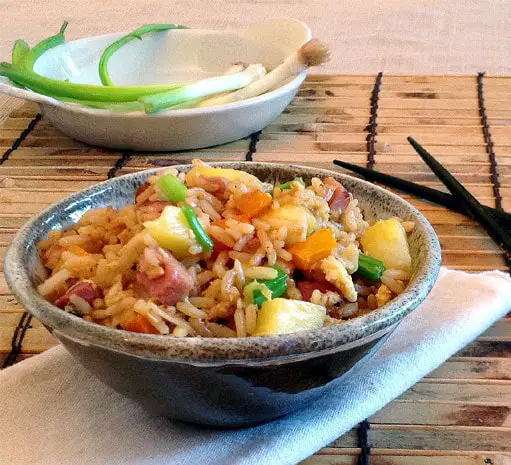 The Process
Because fried rice is in the stir-fry family, it's really important to prep everything before turning on the oven.
Measure out and whisk the sauce together, chop the ham, cut up the bell pepper, mince the scallions and garlic, slice the onion, measure out the ham, lightly beat the eggs in a small bowl and cube the pineapple. Have it all lined up and ready. Seriously.
Once all that is done, heat up the skillet with oil and start cooking. I followed the instructions exactly. Everything cooked up as expected in the exact amount of time suggested. It's a perfect method.
The Verdict
In all honesty, I didn't expect us to care for this dish. I'm not a fan of pineapple in savory foods. I'll eat pineapple upside-down cake until I'm sick, but pineapple and rice? I don't think so.
But I do think so. This dish was fantastic. All three of us thought so. Hubby had three servings and took a heaping amount to lunch today. Dudette found it to be very tasty as well (huge surprise), but it was too spicy for her. A full tablespoon of Sriracha will do that. She ended up have plain rice and ham for dinner.
Me? I found this to be addicting. I ate, then ate some more. I snagged another bite while putting the leftovers away. An hour later, I found myself thinking about those leftovers and wanting them. I resisted, but I'm definitely having Hawaiian Fried Rice for lunch.
What I'd Do Different Next Time
For adults, nothing. For Dudette's sake, I'd use have the amount of Sriracha.
The Recipe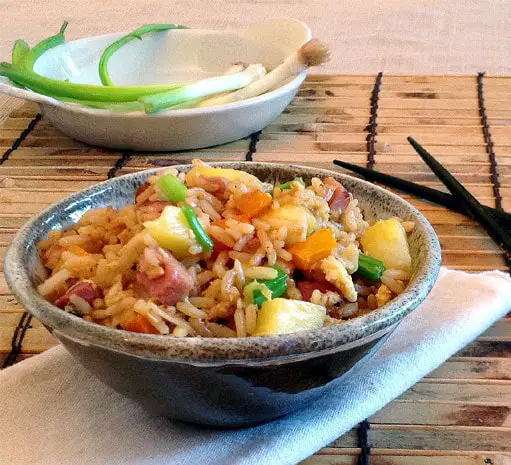 Hawaiian Fried Rice
Perfect tropical treat with your leftover rice. From Cook's Country Magazine
Ingredients  
3 tablespoons soy sauce

2 tablespoons toasted sesame oil

1 tablespoon Sriracha sauce

2 tablespoons plus 1 teaspoon peanut oil

1 cup (6 ounces) chopped ham

1 red bell pepper, stemmed, seeded, and cut into ½-inch pieces

6 scallions, white parts minced, green parts cut into ½-inch pieces

1 small onion, halved and sliced thin

3 garlic cloves, minced

1 tablespoon minced fresh ginger

4 cups cooked long-grain white rice, cold

2 large eggs, lightly beaten

1 cup ½-inch pineapple pieces
Instructions 
Combine soy sauce, sesame oil, and Sriracha in a bowl and set aside.

Heat 1 tablespoon peanut oil in a 12-inch nonstick skillet over medium-high heat until just smoking. Add ham, bell pepper, scallion whites and onion and cook, stirring occasionally, until lightly browned, 7-9 minutes.

Stir in garlic and ginger and cook until fragrant, about 30 seconds. Transfer to plate.

Heat 1 tablespoon peanut oil in now-empty skillet over medium-high heat until shimmering. Add rice and cook, breaking up clumps with spoon, until heated through, about 3 minutes.

Push rice to one side of skillet; add remaining 1 teaspoon peanut oil to empty side of skillet. Add eggs to oiled side of skillet and cook, stirring, until set, about 30 seconds. Stir eggs and ham mixture into rice. Stir soy sauce mixture into rice until thoroughly combined.

Off heat, stir in pineapple and scallion greens. Serve.
I know you've heard me say it before, but I'm going to say it again. Reading the recipe online, either here or on the official website, is nothing like reading it in the magazine. You're missing out on the reasons that the ingredients are chosen. You don't find out how the methods that were used were developed. You don't get to see the little blurb on how to make 'Faux Leftover Rice' that Cook's Country provides for those that don't have any cold leftover rice in their fridge. I love my magazines.
Here are other great recipes to try out: