I am one of those bizarre women who don't like shopping. I avoid the mall like the plague and consider trips to Walmart and Target a form of torture.
Grocery shopping is the exception. I love wandering through the aisles, looking at all the amazing varieties of foods available and dreaming of the different things I can make with all the ingredients at my disposal.
So, when I look at a recipe and find out I'm short just one little ingredient, the last thing Hubby wants is for me to 'run' out to the grocery store to buy it. He's never sure when I'm going to get back home and in what shape our bank account will be in afterwards.
I've learned that if I need one thing, I either need to let him know so he can go out and buy me that item or I need to come up with it myself.
Yesterday, I made Hummus "Cheesesteak" Hoagies. But I quickly discovered that I didn't have any hoagie buns.I was pretty impressed that I managed to have poblano and red bell peppers in the house but no rolls. So, I punted. A quick search found me a recipe that looked fantastic and I was off to the races.
The Process
I'm learning that I really like kneading dough and prefer the 'old' method to the no-knead type of bread-making. I'd rather put in some elbow grease for 6-8 minutes than have to hang around the kitchen moving bread around with a spatula every half hour.
I'm also learning how to treat yeast. I've learned that what some people call warm water is really pretty hot. And that if you put that pretty hot water in a cold bowl, it ends up being lukewarm and doesn't get the yeast going.
So, before adding the 110 degree water to your bowl, swish some hot water around in the bowl to heat it up first. Then add your sugar, let it dissolve a minute or two and add your yeast. The little guys will love their nice hot bath and will bloom like crazy.
The rest is cake (or bread).
The Verdict
It's a keeper. Easy to make, tender and delicious. Perfect hoagie rolls in the whole family's eye.
What I'll Do Different Next Time
I read that yeast responds poorly to hard water. I didn't know that so next time I'm using filtered water instead. I'll let you know how it works.
Recipe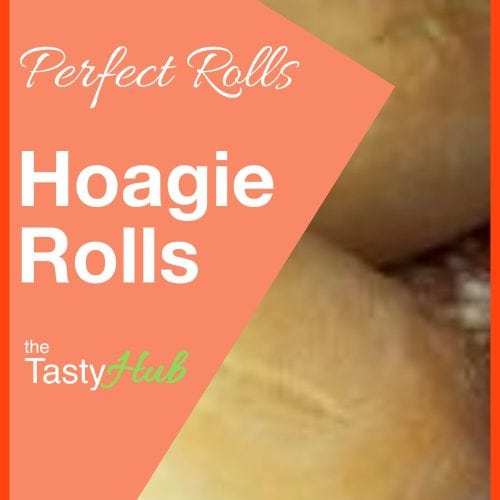 Hoagie Rolls
Adapted from food.com
Ingredients  
1 (1/4 ounce) package active dry yeast

1½ cups water , divided (110-115 degrees)

4 teaspoons sugar , divided

⅛ cup vegetable oil

2 teaspoons salt

4 -4½ cups all-purpose flour
Instructions 
In a mixing bowl, dissolve the yeast in ½ cup warm water add 2 teaspoons sugar and then let stand about 5 minutes.

Add remaining water and sugar. Beat in oil, salt and 4 cups flour until smooth. Stir in enough extra flour to form a soft dough if necessary. Turn the dough onto a floured board and knead until smooth and elastic; about 6-8 minutes.

Place in a greased bowl turning once to grease the top. Cover with plastic wrap and let rise in a warm place for 45 minutes.

Punch dough down. Turn onto a lightly floured board, divide into 18 pieces. Shape into an oval. Place 2 inches apart on a greased baking sheets. With scissors cut a ¼-inch slash across the top of each.

Cover and let rise 20 minutes.

Bake at 400° for 13-18 minutes until golden brown. Remove to wire racks to cool.
Try out these tasty recipes the next time you're cooking: