I live on the outskirts of a little town called Bethania. Founded in 1759, it is the only remaining independent, continuously active Moravian village in the southern United States.
Bethania is quaint, it is quiet and it is beautiful. In addition to a visitor's center that sits in a 1792 farm house, an old mill that's been renovated into a variety of shops and a cafe, the majority of the homes in the town are beautifully preserved to maintain the historical atmosphere of the village.
Central to Bethania is the Bethania Moravian Church. Ironically, this building has a much newer appearance than the rest of the town because the original church burned in 1942 and was rebuilt.
We drive through Bethania almost every day on our way to one place or another. We've taken part in the town's annual Black Walnut Festival, eaten at the cafe, visited the little shops in the old mill and Hubby and I have been in the church since it's our election voting venue.
Every year, that same church puts up signs that say 'Moravian Chicken Pies for Sale'. And every time I drive by those signs, I wonder to myself why anyone would pay money for a chicken pie, even if made by Moravians, when they could just make one at home.
Now I know.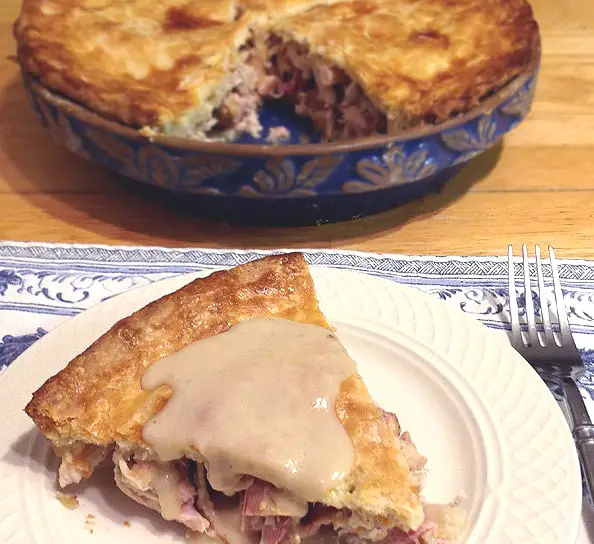 The Process
If you are looking for a quick, 30-minute meal, walk away now. This isn't it. If, however, you remember how good Cook's Country is at building layers of flavor when they create recipes, be sure to bookmark or print this recipe off right away.
First, the crust. While this is probably not the kind of crust you'd want to make for a dessert pie, it's absolutely perfect for a hearty filling like chicken or beef. It's also really easy to make and seems to be much more forgiving of over-handling. Other than mixing the sour cream and egg, the food processor does all the work.
The filling. Here's where all the labor comes in. Be prepared to stand at the counter and stove for about an hour (maybe a little less).
First, realize that you won't be throwing anything out except chicken bones. For instance, the first thing you'll do is brown the chicken in a Dutch oven. Once that's done, don't toss the fat in the bottom of the pan. That's the base for creating the roux for the gravy.  Everything helps build flavor. I love that.
Once the chicken is browned, it needs to be cooked fully, so it's put back in the pot with chicken broth and a bay leaf. Again, building flavor. Not only does the chicken poach, it gives more oomph to the chicken broth, soon to be gravy, in the process.
After the chicken is cooked and the broth has been strained, it's a simple matter of shredding chicken, making gravy, rolling the dough and putting it in the pie plate, combining shredded chicken and gravy (but leaving some for dousing slices of pie later), putting the gravy-covered chicken in the shell and baking it. Simple, yes. Simple and time-consuming. (I did warn you.)
The Verdict
Hubby ate Moravian Chicken Pie until he was uncomfortably full. Dudette polished off a full piece and then some. I did likewise. This is an uber-delicious chicken pie. Yes, it takes a long time to prepare, but it's worth it. Really, really worth it. And, no, it wouldn't taste the same if you tried to short-cut it and use rotisserie chicken instead.
What I'd Do Different Next Time
Absolutely nothing.
Recipe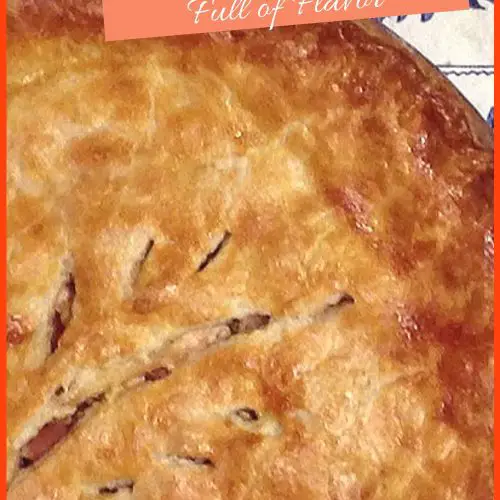 Moravian Chicken Pie
This Moravian Chicken Pie is rich, delicious and full of flavor. It's comfort food at its best. From The Complete Cook's Country TV Show Cookbook
Ingredients  
Crust Ingredients
½ cup sour cream, chilled

1 large egg, lightly beaten

2½ cups (12½ ounces) all-purpose flour

1½ teaspoons salt

12 tablespoons unsalted butter, cut into ½-inch pieces and chilled
Pie Ingredients
2 (10 to 12-ounce) bone-in split chicken breasts, halved crosswise and trimmed

3 (6 to 7-ounce) bone-in chicken thighs, trimmed

Salt and pepper

1 tablespoon vegetable oil

3 cups low-sodium chicken broth

1 bay leaf

2 tablespoons unsalted butter

¼ cup all-purpose flour

¼ cup half-and-half

1 large egg, lightly beaten
Instructions 
Crust Instructions
Combine sour cream and egg in bowl. Process flour and salt in food processor until combined, about 3 seconds. Add butter and pulse until only pea-size pieces remain, about 10 pulses. Add half of sour cream mixture and pulse until combined, 5 pulses. Add remaining sour cream mixture and pulse until dough begins to form, about 10 pulses.

Transfer mixture to a lightly floured counter and knead briefly until dough comes together. Divide dough in half and form each half into 4-inch disk. Wrap each disk in plastic wrap and refrigerate for at least 1 hour or up to 2 days.

Line rimmed baking sheet with parchment paper. Remove 1 dough disk from refrigerator an d let sit for 10 minutes. Working on a lightly floured counter, roll into 12-inch round and transfer to 9-inch pie plate, leaving ½-inch overhang all around. Repeat with second dough disk and transfer to prepared baking sheet. Cover both dough rounds with plastic wrap and refrigerate for 30 minutes.
Pie Instructions
Pat chicken dry with paper towels and season with salt and pepper. Heat oil in large Dutch oven over medium-high heat until just smoking. Cook chicken until browned, about 10 minutes; transfer to plate. Pour fat (you should have 2 tablespoons; supplement with butter if necessary) into bowl; reserve. When chicken is cool enough to handle, remove and discard skin. Add broth, chicken, and bay leaf to now-empty pot and bring to boil. Reduce heat to low and simmer, covered, until breasts register 160 degrees and thigh register 175 degrees, 14 to 18 minutes. Transfer chicken to bowl. When chicken is cool enough to handle, shred into bite-size pieces, discarding bones. Pour broth through fine-mesh strainer into second bowl and reserve (you should have about 2¾ cups); discard bay leaf

Adjust oven rack to lowest position and heat oven to 450 degrees. Heat butter and reserved fat in now-empty pot over medium heat until shimmering. Add flour and cook, whisking constantly, until golden, 1-2 minutes. Slowly whisk in 2 cups reserved broth and half-and-half and bring to boil. Reduce heat to medium-low and simmer gravy until thickened and reduced to 1¾ cups, 6-8 minutes. Season with salt and pepper to taste. Combine 1 cup gravy with shredded chicken; reserve remaining gravy for serving.

Transfer chicken mixture to dough-lined pie plate and spread into an even layer. Top with second dough round, leaving at least ½-inch overhang all around. Fold dough under so that edge of fold is flush with rim of pie plate. Flute edges using thumb and forefinger or press with tines of fork to seal. Cut four 1-inch slits on top. Brush pie with egg and bake until top is light golden brown, 18-20 minutes. Reduce oven temperature to 375 degrees and continue to bake until crust is deep golden brown, 10-15 minutes. Let pie cool on wire rack for at least 45 minutes.

When ready to serve, bring remaining ¾ cup of reserved gravy and remaining ¾ cup reserved broth to boil in medium saucepan. Simmer over medium-low heat until slightly thickened, 5-7 minutes. Season with salt and pepper to taste. Serve pie with gravy.
Try out these other tasty recipes: