So, what's your favorite cookie? Does the one up there make you drool or is it too plain Jane for you?
The one that tops the charts for me is a soft, chewy oatmeal raisin cookie, especially when the raisins are the golden variety.  
My mom, who rocked at making cookies for us on a regular basis when I was a kid, had several recipes that were gluttony-inspiring, especially these home made, sugar-coated puff pastry-like sticks that she slaved over at Christmas time.
But my childhood is not where my favorite cookie comes from. I guess I could say the best oatmeal raisin cookie was a wedding gift because it's my husband's Aunt Darlene's recipe. The first time I had them was when we visited their dairy farm in Pennsylvania.
We were all sitting at the table and she opened a container overflowing with cookies.  My friends, I never lost track of where that piece of Tupperware was during our stay with them. I had them for breakfast, for my mid-morning treat after feeding the cows, as my after-lunch snack, for dessert when supper was done, and as a final exclamation point to the day before bed.
Some cookies just elicit gluttony. So before you proceed any further, know that you've been warned.
The Process
A cookie batter that doesn't require the hand mixer. Sign me up for keeps. It's the most unique way I've seen of making cookies, but hey, it worked, so you're not hearing me complain.
As per usual, the dry goods were mixed in a bowl and set aside.
As per different, the sugar and cream cheese was added to a big bowl, then melted butter was poured over it.  See? Odd. 
I whisked up the mixture, added some oil, and whisked a bit more. An egg, bit of milk and dash of vanilla brought more whisking before I added the dry stuff and traded my whisk for a rubber spatula.
At this point the whisking became mixing until a 'soft, homogeneous dough forms.' (That's a fancy way of saying that everything's well mixed together into one big blob.) The blob is reduced by two tablespoon-sized chunks at a time, each of which is rolled into a ball, rolled into sugar, placed on a cookie sheet and flattened into a disk. 
Exactly 11 minutes of baking later, perfect cookies emerge to be cooled on a rack.
The Verdict
I didn't expect anything but rave reviews and I wasn't disappointed. I've been guarding the cookie jar closely to make sure that little (and big) hands don't dip in it too much. We all love the cookies. As the magazine promises, they're delicate and crisp on the edges, but as soon as you get towards the middle, they as soft and chewy. My perfect kind of cookie.
When our friends dropped by, they were 'forced' to sample the batch. The two kids loved them, but their mom's comment was the one that plastered the ear-to-ear smile on my face. 'They're definitely better than Starbucks,' Wendi said as she herded children to the mini-van. How awesome is that? 
What I'd Do Different Next Time
I think I'd splash the cookies with buttermilk instead of just plain milk to up the tang of the cookie and cut the sweetness just a bit more.
The Recipe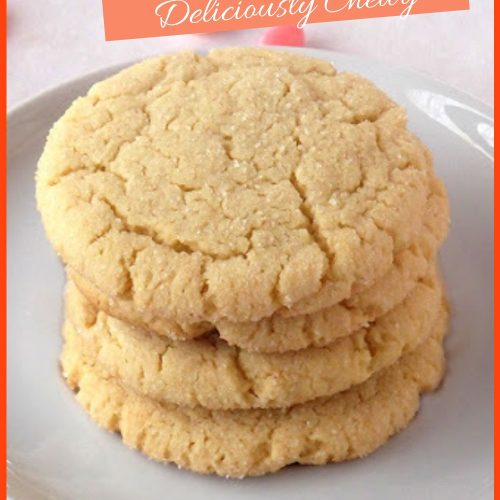 Chewy Sugar Cookies
Crispy on the outside but deliciously chewy in the middle, these Chewy Sugar Cookies are every cookie lover's dream. From Cook's Illustrated Magazine, All-Time Best Recipes, 2014
Ingredients  
2¼ cups (11¼ ounces) all-purpose flour

1 teaspoon baking powder

½ teaspoon baking soda

½ teaspoon salt

1½ cups (10½ ounces) sugar plus ½ cup for rolling

2 ounces cream cheese, cut into 8 pieces

6 tablespoons unsalted butter, melted

⅓ cup vegetable oil

1 large egg

1 tablespoon whole milk

2 teaspoons vanilla extract
Instructions 
Adjust oven rack to middle position and heat oven to 350 degrees. Line two baking sheets with parchment.

In a medium bowl, whisk together the flour, baking powder, baking soda, and salt. Set aside.

In a large bowl, add 1½ cups sugar and the cream cheese together. Pour the melted butter over both and whisk to combine. There may be a few small bits of cream cheese, but they'll dissolve over time.

Whisk in oil, then add the egg, milk and vanilla and continue whisking until smooth.

Add the flour mixture and combine with a rubber spatula until a soft, well-mixed batter comes together.

Working one at a time, roll 2 tablespoons of dough into balls, then roll each in the sugar and finally, put each ball on the prepared baking sheet.

Using the bottom of a measuring cup, flatten the balls into a 2-inch diameter. Sprinkle the tops of each cookie with more sugar.

Bake the cookies 1 sheet at a time, until the edges just start showing signs of browning, 11-13 minutes.

Rotate the sheets halfway through baking time.

Let the cookies cool on the baking sheet for 5 minutes then transfer them to a wire rack to cool completely.
So, c'mon. It's your turn. Don't read and wander away. What's your favorite cookie? If you know of a link to it here on the web, throw it in the comments so I can see. We're always up for trying new treats around here. Seriously, I'd love to know.
Try out these other delicious recipes: