So here we are almost a full week into December and only twenty days away from Christmas. Wreaths are appearing on doors, lights are twinkling in windows and cookie cutters are being pulled out from the back of the cupboard.
Ah, the cookies. So, so many cookies. Drop, rolled, cut; you name it, they're out there already.
I confess that I'm a bit lazy when it comes to cookies. I'm not overly skilled in the decorating arena so piping icing on cut-out sugar bells and angels is not my forté. I do best when a recipe calls for minimal preparation and no finish work.
That being said, I love things that are unique; a little different than the norm. In fact, the whole reason I included Better Homes and Gardens this month is for this one recipe. I fell in love with the photo on page 132 and knew what my cookie exchange contribution would be next week.
The Process
While I love gingerbread, sugar and all those other cut-out cookies, one thing I am not fond of is having to wait for an hour or so between when I mix the dough and when I can roll, cut and bake the cookies.
Enter the twigs. Prep time, bake time. No in between time.
Making the dough is a simple matter of combining the wet ingredients with the dry. After a quick knead, the dough is rolled out, cut, baked, re-cut and baked again. It's a bit like biscotti, only skinny.
The recipe called for me to roll the dough between two sheets of parchment paper. While the bottom sheet is very helpful in moving the dough around after it's cut, I found the top sheet to be more of a hassle and ended up removing it and just rolling the dough without it.
Similarly, once the sugar is sprinkled on, the directions asked that I press it into the dough with the parchment over it. It was easier to make sure that I wasn't pressing too hard without the paper.
In my book the bottom sheet of parchment is absolutely necessary; the top sheet, more of a bother than anything.
The Verdict
Wow. All three of us say 'wow.' These little guys are seriously addicting. I haven't told Dudette that there's a quarter teaspoon of cayenne pepper in her cookies, and even though she commented that they were spicy, she doesn't seem to care. She's had them for dessert and asked that they be included in her lunch this morning.
The twigs are a perfect balance of sweet and spicy, just like gingerbread should be, but the heat that hits the back of your throat a moment after your swallow is just fantastic. With coffee; phenomenal.
What I'd Do Different Next Time
I was a little light on the sugar sprinkling this time, but I think for the cookie exchange I'll be more generous and add a batch with green sugar as well as the white.
Recipe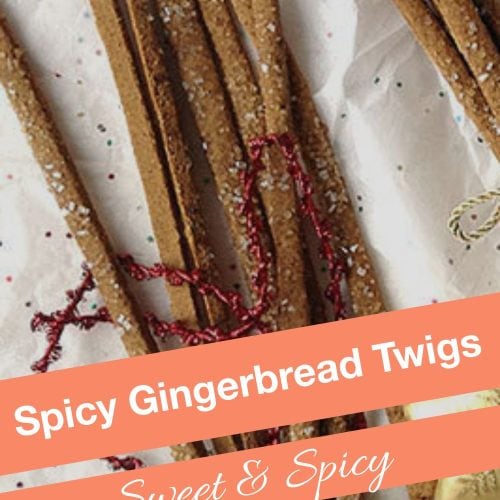 Spicy Gingerbread Twigs
These unique shape and different flavor make these Spicy Gingerbread Twigs a fantastic gift this holiday season. Friends and family will love them.
From Better Homes and Gardens Magazine, December 2012
Ingredients  
2 cups unbleached all-purpose flour

⅓ cup packed dark brown sugar

1 tablespoon ground cinnamon

2 teaspoons ground ginger

½ teaspoon salt

½ teaspoon ground cloves

½ teaspoon ground allspice

¼ teaspoon cayenne pepper (optional)

⅓ cup unsalted butter, melted and cooled

⅓ cup mild or medium molasses (not blackstrap)

¼ cup brewed coffee, cooled

⅓ cup coarse clear or green sugar, or turbinado sugar

White or clear edible decorating glitter (optional)
Instructions 
Position a rack in middle of oven; preheat to 350 degrees F. Set aside two large baking sheets and four 15-inch-long pieces of parchment.

In a large bowl stir together the flour, brown sugar, cinnamon, ginger, salt, cloves, allspice, and cayenne pepper, if using, until well blended. Thoroughly mash out sugar lumps with the back of the spoon.

In a small bowl whisk together butter, molasses, and coffee until very well blended. Immediately, add butter mixture to flour mixture, stirring vigorously, until evenly incorporated.

Turn dough onto floured surface. Knead with your hands for 30 seconds to make it smoother and more malleable. If dough is too dry or crumbly to roll out, work in a few drops of water until it holds together; if too wet, thoroughly knead in 1 to 2 tablespoons more flour.

Divide dough in half. Roll each portion between two pieces of parchment into a 6×12-inch rectangle. If necessary, cut and patch to make the sides roughly even. (Don't worry about making it perfect.) Peel off top pieces of parchment. Evenly sprinkle each rectangle with about 3 tablespoons coarse sugar and about 1 tablespoon edible glitter, if desired. Lay parchment over dough; gently pressing sugar into dough. Remove top pieces of parchment.

Using a pizza cutter or a large knife, cut each rectangle into ¼- to ⅓x6-inch strips. It's OK to leave edges uneven. Slide rectangle and parchment onto baking sheets.

Working with one rectangle at a time, bake for 13 to 16 minutes or until just firm when pressed in the center and edges are browned. Immediately slide rectangle and parchment onto a cutting board. Quickly (before rectangle cools and becomes brittle) retrace the cuts between strips and cut off uneven edges. (If necessary, return rectangle to the oven; warm until soft enough to work with.) Discard the uneven, overbaked end sections.

Reduce oven to 200 degrees F. When rectangle is cool enough to handle, use your hands to gently separate strips. Place on a parchment-lined baking sheet. If desired, sprinkle with additional edible glitter. Bake for 10 minutes. Slide strips and parchment onto a wire rack; cool completely.
For more tasty recipes, check these out: