So here's the rule. If we're at a shindig and we head over to the dessert table and there are tons of layer cakes, pies, tarts, candies and pastries, yet just one single, solitary slice of any flavor cheesecake left, you leave the cheesecake alone. It's mine.
In the same line, should we attend our local Greek Festival together and when you place your order for moussaka you're informed that there's just one piece left, change your order. I hear the souvlaki is amazing. The moussaka, it's mine.
And that barbecue we've been invited to? Stick with the barbecue chicken, or that marinated flank steak. You can even have those spicy shrimp skewers. They look awesome. Just keep your paws off the ribs. They're mine.
The Process
My friends, go out and buy the June issue of Good Housekeeping because I'm gonna be using it a lot this month. Even though I'm not a big fan of Guy Fieri's television personality, I think highly of what the man's done with his life and love his cooking.  And he is featured in the magazine this month. Score.
There's not much to explain about the prep for these. Mix together the rub ingredients, rub them on the ribs after brushing on a thin layer of yellow mustard, wrap the ribs in foil and refrigerate them overnight.
The sauce is just as easy. Soak the dried chile in hot water, then add it to the other sauce ingredients. Let it all simmer for a bit, then send it for a whirl in a blender.
The ribs are cooked low and slow, still wrapped and on a baking sheet, for hours, then opened up, slathered in sauce and cooked over high heat for the last few minutes so caramelization can happen.
The Verdict
I predict that rub and sauce will become your go-to recipe for ribs. I'm only saying that because they're at the top of the list for me now. Holy cow, they're good. The rub give just the right amount of heat and sweet. It has excellent flavor. And that sauce, oh my, what a sauce. I swooned. We all swooned.
If there's anything negative about this recipe, we didn't find it. It's amazing.
What I'd Do Different Next Time
Nothing.
The Recipe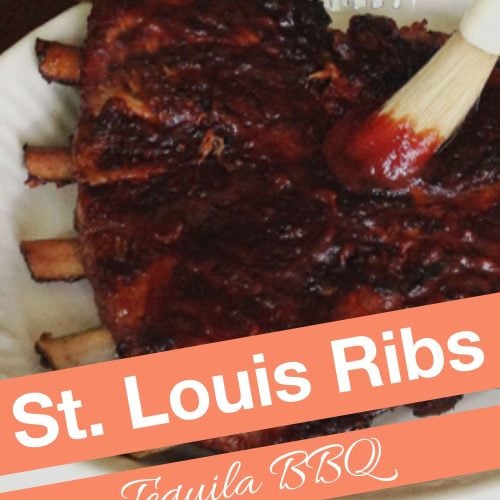 St. Louis Ribs with Tequila BBQ Sauce
Feel free to drool. The rub for Guy's St. Louis Ribs are unbelievable and Tequila BBQ Sauce is beyond phenomenal. From Good Housekeeping Magazine, June 2014
Ingredients  
Dry Rub Ingredients
¼ cup(s) paprika

¼ cup(s) light brown sugar

3 tablespoon(s) ancho chile powder

3 tablespoon(s) granulated garlic

2 tablespoon(s) ground cumin

2 tablespoon(s) onion powder

2 tablespoon(s) kosher salt

1 tablespoon(s) freshly ground black pepper
Ribs Ingredients
2 (3 pounds each) slabs St. Louis rib rack

⅓ cup(s) yellow mustard

Tequila BBQ Sauce
Tequila BBQ Sauce Ingredients
1 California or New Mexico dried chile

1 can(s) (6-ounce) tomato paste

1 cup(s) light brown sugar

½ cup(s) white tequila

¼ cup(s) fresh lime juice

2 clove(s) garlic, minced

1 tablespoon(s) dark molasses

Kosher salt

Freshly ground black pepper
Instructions 
Combine Dry Rub ingredients.

Rinse ribs; pat dry with paper towels. Remove thin membranes from bone sides; trim off excess fat. Brush meat with thin layer of mustard; coat heavily with Dry Rub. Refrigerate overnight.

Set out 2 large sheets heavy-duty foil. Place 1 rack on each sheet, meat side down; fold foil over to form sealed pouch. Place pouches on roasting pans; grill over indirect heat on low 1½ to 2 hours or until almost tender. Open foil; peel back so ribs are exposed. Carefully turn ribs over; cook 1 hour 30 minutes with foil left open. When done, ribs will be tender and meat will have shrunk back from bones.

For last 10 minutes, remove ribs from foil and place directly on hot side of grill. Brush with Tequila BBQ Sauce and allow heat to caramelize sauce and crisp exterior. Flip, brush other side and cook for a final 5 minutes. Serve with additional Tequila BBQ Sauce.
Tequila BBQ Sauce
Place dried chile in bowl with ¼ cup hot water. In medium saucepan, combine tomato paste, brown sugar, tequila, lime juice, garlic and molasses; stir well and bring to gentle simmer over low heat.

Add chile and soaking water; season with salt and pepper and simmer until flavors meld, 2 to 3 minutes Process with blender until smooth; set aside.
Cheesecake, moussaka and ribs; my three favorite foods in the world. Was I told to pick one for that whole desert island scenario, I don't know that I could. Could you?
Here are more great tasting recipes to try out: