You've seen the trend toward savory waffles, right? Well, Pea Pancakes might just start a new trend!
If not having discovered them from a magazine or being out at a restaurant, surely you've seen Guy Fieri sample Thanksgiving dinner on a stuffing waffle, at 'Funk-n-Waffles.'
I'm not big on that craze. While I do believe there are many shades of gray, pancakes and waffles don't belong there. They are planted solidly in the white, pour-syrup-on-them-only camp.
But I like scallion pancakes. I love scallion pancakes. I don't know why; I was pretty shocked the first time I had them and enjoyed them.
Yes, unlike the un-named man in the red hat that Sam kept trying to foist green eggs and ham upon, I'm willing to give new things a try. I even tried my in-laws strange post-Thanksgiving tradition of eating leftover turkey and gravy over pancakes. Yeah, that one wasn't for me.
In fact, I think that experience was what renewed my determination that pancakes and waffles are served sweet, not savory, totally putting any memory of scallion pancakes out of my mind.
Until this past Friday when I picked up a copy of Bon Appetit at the airport so I would have something to read while the planed whisked us north to Chicago. Page 65 of the magazine begins a full, very delicious section on peas.
Serving up dishes for everything from soup to pudding to fish, I decided to go with the pancakes because of the addition of scallions. The bite of onion against the sweetness of peas? Yeah, that sounded good.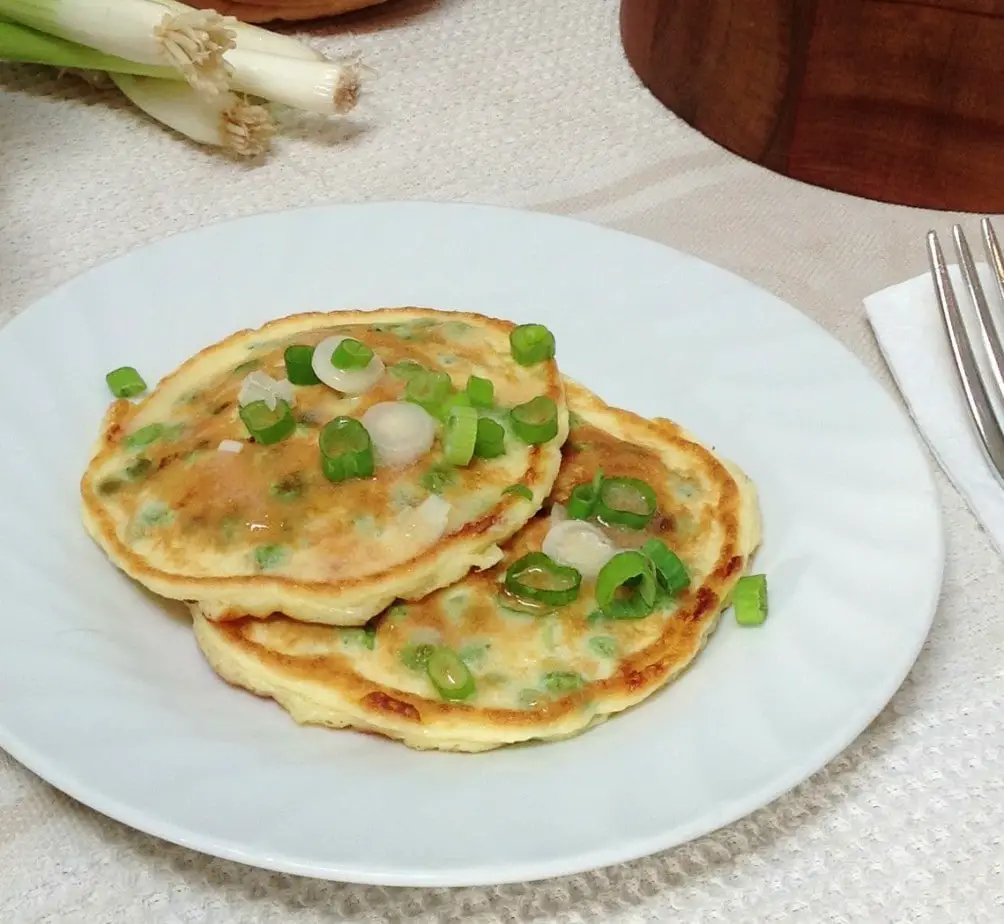 The Process
I am staying with my brother and his family, which is good because they live a low carb and low fat lifestyle. That means when I cook something, I need to make sure that they're needs are taken into consideration.
Using low-fat or fat-free cottage cheese fit the low fat bill and the fact that there's just a quarter cup of flour, which equals about a tablespoon per person, also gives low carb a nod.
Because the blender does most of the work, the only real prep for this dish is thinly slicing scallions, which can be done in a matter of minutes, in about the same time it takes the blender to do it's magic on the cottage cheese, eggs, flour, oil and salt.
The pancakes, which are small since only a quarter cup is used for each, cook in about five minutes, three on one side, two on the other.
The Verdict
Heavenly. These are delicious. I was right about the fact that the scallions and peas would work well together. The peas give a little pop of sweetness as you bite into them and the scallions infuse the whole pancake with flavor. I love the use of the cottage cheese in here because it makes the pancakes very tender.
The recipes calls for drizzling butter on the pancakes, then topping with more scallions. I tried a pancake with butter and without. It is definitely richer with butter, but I enjoyed it just as much without and so will leave it off when my brother comes home and is forced to give these a try.
I think the recipe's a huge winner.
What I'd Do Different Next Time
Nothing.
The Recipe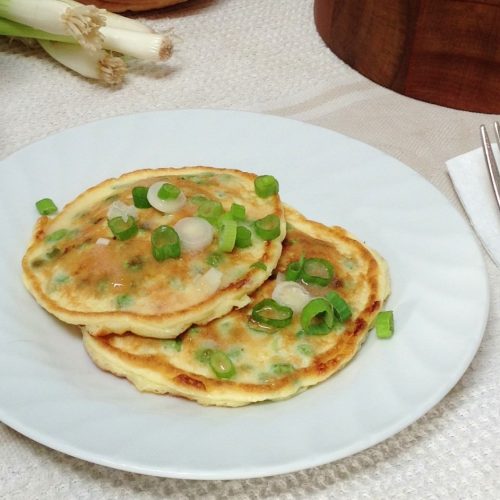 Pea Pancakes
From Bon Appetit Magazine
Ingredients  
1 cup shelled fresh peas (from about 1 pound pods) or frozen peas, thawed

1 teaspoon kosher salt plus more

3 large eggs

1 cup low-fat cottage cheese

¼ cup all-purpose flour

2 tablespoons vegetable oil plus more for skillet

4 scallions, thinly sliced, plus more for serving

¼ cup (1/2 stick) salted butter, melted
Instructions 
If using fresh peas, cook in a small saucepan of boiling salted water until tender, about 3 minutes (if using frozen peas, do not cook). Drain.

Purée eggs, cottage cheese, flour, 2 tablespoons oil, and 1 teaspoon salt in a blender until smooth. Transfer batter to a medium bowl and stir in peas and 4 scallions. (Batter should be thick but pourable; stir in water by tablespoonfuls if too thick).

Heat a lightly oiled large nonstick skillet over medium heat. Working in batches, add batter to skillet by ¼-cupfuls, spreading out to 3-inch-4-inch rounds with a spoon. Cook pancakes until bubbles form on top, about 3 minutes. Flip and cook until pancakes are browned on bottom and the centers are just cooked through, about 2 minutes longer.

Serve pancakes drizzled with butter and topped with scallions.
Other great recipes to try: