Three people in a house, three different ways to make oatmeal, and each believes their way is the only way.
Dudette's method is the easiest. Open a packet of Quaker Instant Oatmeal (maple and brown sugar is her favorite), pour it in a bowl, add milk, microwave for one minute, eat.
As with most of us, Hubby makes his oatmeal the same way his mom made it for him when he was growing up. He heats water in a pan, adds the oats, cooks them until the water is absorbed, pours them into a bowl, adds brown sugar and a lot of milk.
I make oatmeal the same way my mom did too, the correct way. I heat milk in a pan, add the oats, a pinch of salt, a tablespoon of sugar and a quarter cup or so of golden raisins. I pour it into a bowl, add little brown sugar and enjoy the perfect bowl of oatmeal.
This isn't that bowl. This is the Apple Cider Oatmeal with Pecans.
The Process
I thought that using apple cider in place of the normal milk or water would be a genius idea, which was why I was anxious to give it a go for breakfast this morning.
The process takes less than ten minutes from when the cider starts boiling to topping the oatmeal with perfectly toasted pecans.
The Verdict
I'm sorry to say that this did not go over well with the family. Dudette spit out the one spoonful she took. Hubby tried to eat it, but could only eat half his bowl before he threw the rest away. I only had a couple of bites before the tang of the apple cider made me push the bowl away as well.
When served exactly as the recipe is written, the oatmeal is too tangy and lacks any kind of sweetness. Two tablespoons isn't enough to smooth the sharpness out at all.
So, we tried to doctor our bowls up. Hubby added more milk (a lot more milk) and brown sugar. It helped a little, but not enough. The sharpness of the tangy apple cider still shone through too much.
What I'd Do Different Next Time
I'd make the oatmeal my normal way, and while it's simmering, I'd reduce a quarter cup of apple cider down to a couple of tablespoons in another pan, which I would then add to the oatmeal for flavoring.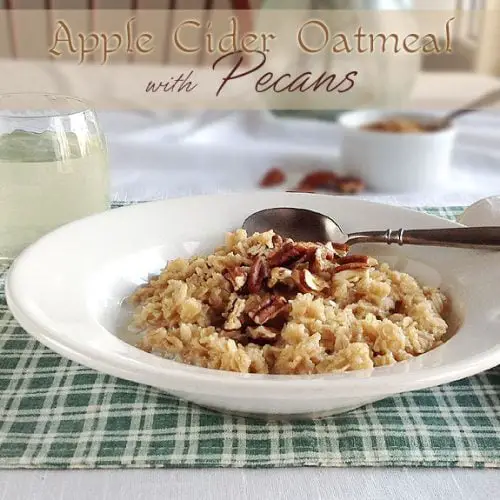 Apple Cider Oatmeal with Pecans
From All You Magazine, February 2014
Ingredients  
½ cup apple cider

Pinch of salt

½ cup old-fashioned oats

2 tablespoons milk

2 tablespoons chopped pecans
Instructions 
Bring cider, ¼ cup water and salt to a boil in a small, heavy saucepan over medium-high heat. Stir in oats. Reduce heat to medium and cook for 5 minutes, stirring occasionally.

Place pecans in a small, dry skillet over medium heat and cook, stirring, until lightly toasted and fragrant, 1 to 2 minutes. Transfer to a small bowl. Remove pan with oatmeal from heat; stir in milk. Spoon oatmeal into a bowl, top with pecans and serve.
Check out these other tasty recipes: