Rumor has it that one way to kill a frog is to put it in a pot of water and slowly increase the heat. It will never realize that it's being boiled to death. Lovely thought, eh?
I've recently realized that in a different way, I've been the frog in the water and have been turning up the heat on my own. And it's all about the salt.
At my doctor's request (insistence), I've been trying to lessen the amount of salt in my diet. But it's so, so hard because I've had a love affair with the stuff since I was a wee lass. Removing salt from my food is as brutal as cutting the taste buds from my tongue. 
I didn't realize some of the areas in which I had been successful in purging unneeded salt from my kitchen until I went for a can of corn to make this casserole and realized I didn't have any. In fact, I don't have any canned vegetables in my pantry.  
Somewhere along the line, I've purged all those high sodium food bombs and transitioned to frozen corn, beans and peas. 
Yea me.
The Process
The magazine says that this recipe has fifteen minutes of prep. Unless someone is really slow at using a can opener, there's no way it takes that long to throw this casserole together. 
All I had to do was brown the meat and open cans while it was cooking. But yes, I did use frozen corn instead of canned.
The concoction simmered on the stove for a few minutes, and then I layered it in a skillet along with flour tortillas and cheese. That was it for prep.
Thirty minutes in the oven and dinner was ready.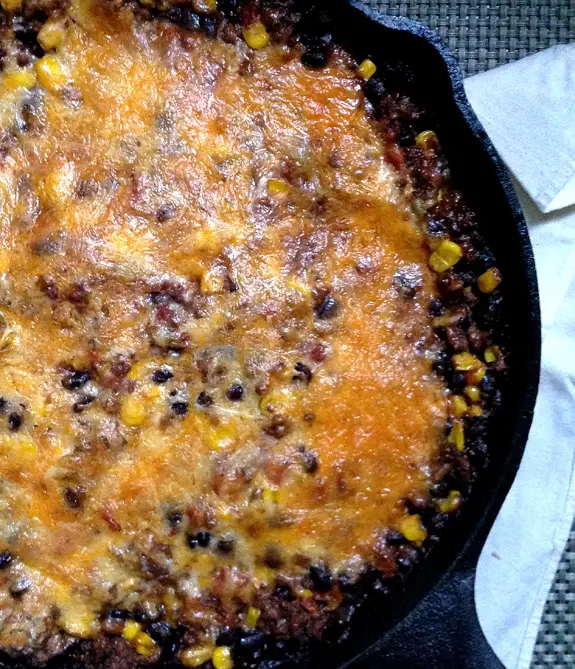 The Verdict
When Sophie saw me dumping the can of beans in the skillet, she was kind enough to go into a lengthy description of what she thought of black beans and how much she was going to dislike what we were having for dinner. I'll spare you the details.
Suffice it to say, along with shoveling forkful after forkful of chili bake in her mouth, my child had to eat her words too. She loved this and finished off her serving before we were halfway done with ours.
Doug settled for giving me a thumbs-up so he wouldn't have to stop eating and was excited that there were enough leftovers for him to have more then next day for lunch.
It's that good.
What I'd Do Different Next Time
Absolutely nothing.
The Recipe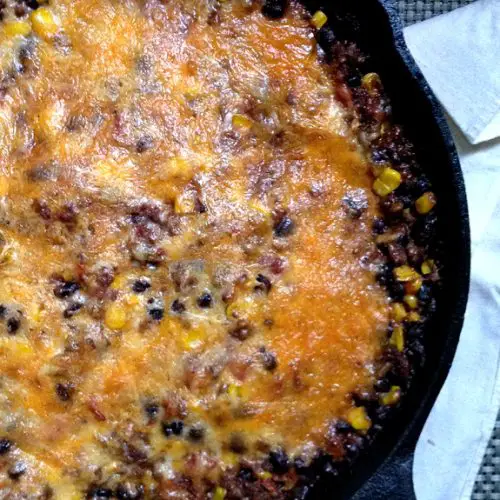 Southwestern Chili Tortilla Bake
A meal that's thrown together in a skillet, yet produces a dinner that's gobbled up like this Southwestern Chili Tortilla Bake is a winner.
Ingredients  
1

pound

lean ground beef

1

package

McCormick® Tex Mex Chili Seasoning Mix

1

can

(14½ ounces) diced tomatoes, undrained

1

can

(15 to 16 ounces) kidney or black beans, undrained

1

can

(8¾ ounces) whole kernel corn, drained

1

can

(4½ ounces) chopped green chiles

6

flour tortillas (8-inch)

2

cups

shredded Cheddar cheese
Instructions 
Brown meat in large skillet on medium-high heat. Drain fat.

Stir in Seasoning Mix, tomatoes, beans, corn and green chiles.

Reduce heat to low; cover and simmer 10 minutes, stirring occasionally.

Cover bottom of greased 11×7-inch baking dish with 3 tortillas, overlapping as needed.

Layer with ½ of the chili mixture and 1 cup of the cheese. Repeat tortilla, chili and cheese layers.

Bake 30 minutes or until heated through.
It didn't even hit me until now that the recipe didn't call for any added seasoning and I didn't miss the salt addition. I'm guessing that the dish's creators figured that the sodium in the seasoning mix, tomatoes and beans would suffice, and it did.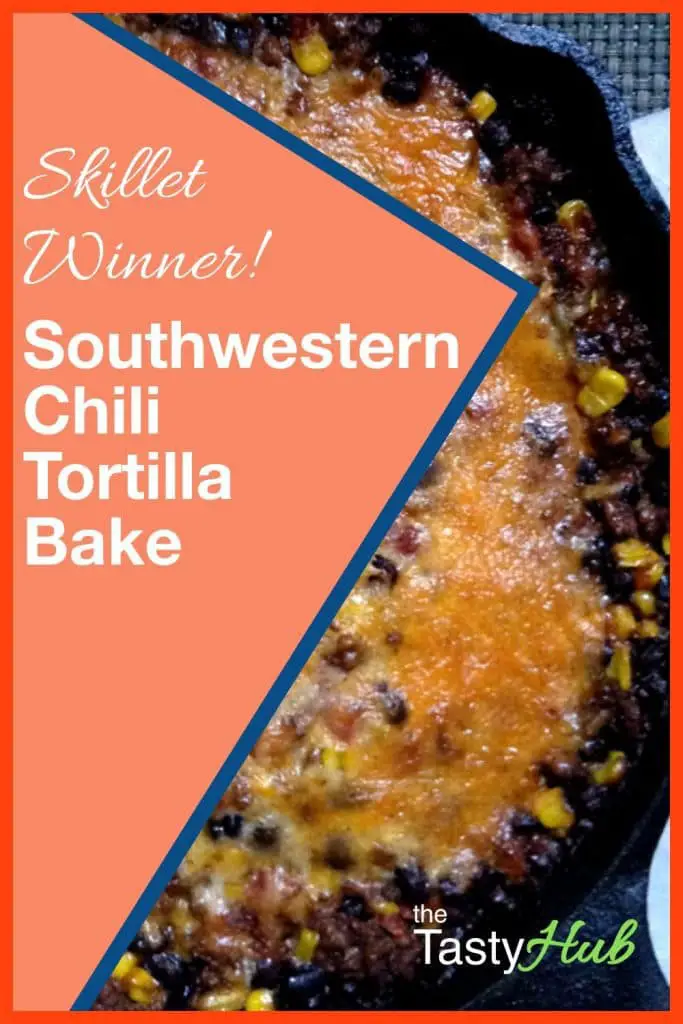 Here are other delicious recipes: