Not too long ago, I ended up next to a man who was obviously a war veteran (his baseball cap said he was). I leaned over and thanked him for his service, as I always do when I see vets, and that opened the door to an interesting conversation.
The gentleman had served in Vietnam. He had the responsibility of managing one of the camps, keeping the Vietnamese soldiers out of battle while our guys were out there fighting.
One of the things he mentioned while we talked was that his camp was considered one of the best there. I asked why and he gave me a quirky little smile and a quick glance. 'It was easy,' he said. 'If they didn't work, they didn't eat.'
 So, as I munch on my Avocado and Egg Toast and ponder the mess that is my daughter's bedroom, I'm pondering this tactic. It just might work.
The Process
Bread toasted, eggs cooked, bacon sizzled, avocado sliced. It's that easy.
The Verdict
It was just me, sitting at the table, watching bluebirds cavort and my daffodils bloom while I dipped bits of toast in the egg's yolk. Sounds like a perfect scenario, right? Yeah, it was. Very tasty. Even though the dish is easy to make, it tastes rich and like a special treat. Sometimes we need that.
What I'd Do Different Next Time
Nothing.
The Recipe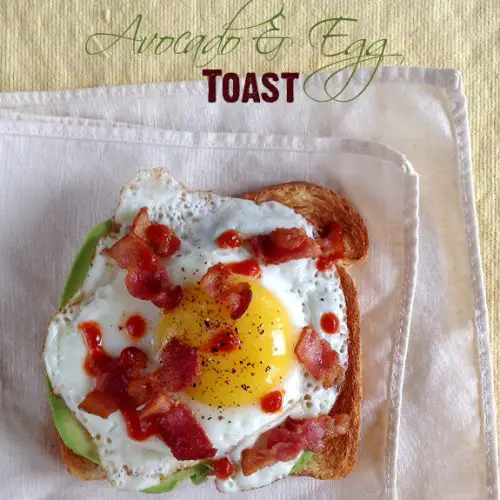 Avocado and Egg Toast
Looking for a filling, quick and delicious breakfast to grab as you get ready for the day? This Avocado and Egg Toast is perfect. From Taste of the South's Annual Breakfast Issue 2015
Ingredients  
1 avocado, sliced

2 slices of whole-wheat toast

2 fried eggs

2 slices of bacon, cooked and crumbled

Sriracha to taste

Salt and pepper
Instructions 
Divide the sliced avocado between the two pieces of toast.

Top the toasts with a fried egg. Sprinkle each with salt and pepper and the crumbled bacon.

Dot with Sriracha, if desired.
So far we've been able to 'encourage' Sophie to clean her room by taking away Minecraft until it's done. Oddly, it's a similar kind of thing as what the vet had to do, just a lot less harsh (though don't ask Sophie is she thought we were being less harsh when she can't play her game).
Here are other tasty recipes you might enjoy: