Shortly before Halloween, Dudette and I headed over to the Piedmont-Triad Farmers' Market. I love that place, but it's far enough away that we have to actually plan to go there, packing lunches, bringing suitcases, remembering in-car entertainment.
Okay, it's not that bad, but it really isn't close. On this particular day, since Hubby was out of town, I knew the absence of his impatience with food window shopping would give both Dudette and me a chance to browse the stalls and have some fun.
We did. In addition to a bunch of fall fruits and vegetables, we picked up an absolutely ginormous pumpkin to carve, my young lady's choice. At the same stall, I found two cute sugar pumpkins and a couple of perfect butternut squash.
Within a day of that shopping trip, the cookbook and three recipes from it that would be used in this month's Pass The Cookbook Club were revealed. The book was Mario Batali's Molto Gusto, which guaranteed that I would be participating.
For those who are curious, Pass The Cookbook Club is a group that my friend Kita, from Pass the Sushi, created in order to give her and others like her (aka, me) a chance to use the mountains of cookbooks lying around the house.  She, or another member (it'll be me in January) pick three dishes from a cookbook of their choice for the group to make.
Even though I could have made every single one of the choices from Molto Gusto, I was excited to dive into the pumpkin dish because I had just bought the pumpkin from the market.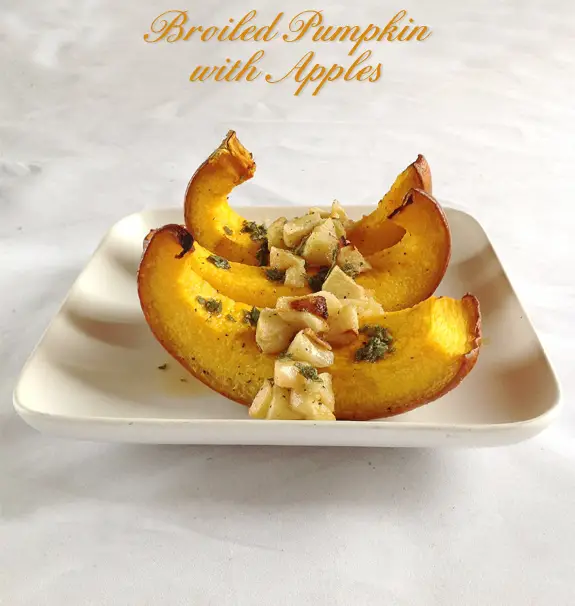 The Process
This recipe calls for butternut squash. I had that, but in a rare moment on this here piece of blogging real estate, I decided to listen to my own drummer and walk a different path. From the moment I read the title of the dish, I envisioned something different than chopped up squash and apples, something prettier and more whimsical.  I went with that.
In order to make sure that my pumpkin would cook completely, I cut it into 2″ wedges and scraped off the seeds and slimy stuff. I brushed on olive oil and sprinkled the slices with salt and pepper. Then I laid the wedges on their slides on a prepared baking sheet.
I baked them for ten minutes, stood them up and baked them another ten minutes. I turned them so the final side was up and they went back in for another ten minutes. Finally, I stood the pumpkin up again, added the chopped, olive oil-salt-and-pepper covered apples to the sheet and broiled it all for a final 10 minutes.
The pumpkin came out soft and perfectly done and the apples were slightly browned and cooked through. I was happy.
The sauce was made according to directions, then I brushed some on the pumpkin wedges and tossed the apples in the rest.
The Verdict
Hubby didn't like this. At all. That's about all I can say with regard to him. Dudette wouldn't even try it. That's two down. Me? I wanted to like this. It's Mario, after all. I tried my best. Really I did. But. It's a very, very odd flavor. The fish sauce and vinegar overwhelmed everything, especially since all I could smell as I brought a bite to my mouth was fish sauce (and it's not a pleasant odor).
Maybe it's just me, but when I eat this kind of squash and definitely apples, I expect (and hope for) a bit more sweet. There was plenty of sour, but none of the hoped-for sweetness. I didn't feel as strongly towards the negative as Hubby did, but I was not a fan.
What I'd Do Different Next Time
I don't know that I'd bother making this again, but if I did, I'd add some brown sugar to the sauce.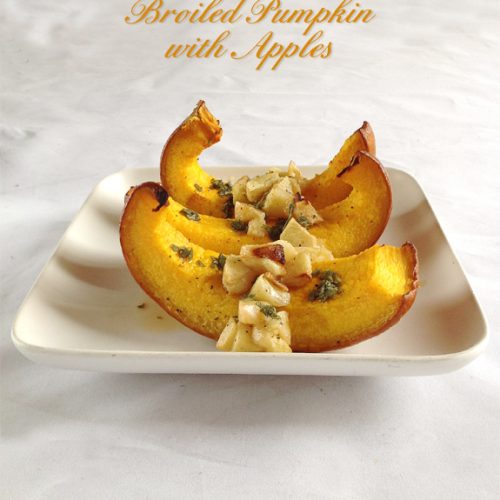 Broiled Pumpkin with Apples
From Mario Batali's Molto Gust
Ingredients  
1 cup apple cider

2 lbs butternut squash, peeled, cut lengthwise in half, seeded, and cut into ½" pieces

2 medium granny smith apples, peeled, quartered, cored, and cut into ½" pieces

3 tablespoons olive oil of the very very virgin kind

Maldon or other flaky sea salt, and coarsely ground black pepper

2 tablespoons Asian Fish Sauce

2 tablespoons sherry vinegar

2 tablespoons finely chopped fresh sage
Instructions 
Preheat the broiler. Toss the squash with 2 tbs of the oil in a large bowl and season with salt and pepper. Spread the squash onto a baking sheet in a single layer and broil, stirring occasionally, until slightly charred in spots and starting to soften, about 10 lbs.

Toss the apples with the remaining 1 tbs oil and season with salt and pepper. Toss onto the baking sheet with the squash and cook, stirring as needed, until the squash and apples are tender. Return to the bowl.

Meanwhile, bring the cider to a boil in a small saucepan and boil until it is syrupy and reduced to 2 tbs. Remove from heat.

Combine the reduced cider, fish sauce, vinegar, and sage in a small bowl and whisk. Pour over squash and apples, tossing to coat. Serve, or let stand at room temp for 1 hour to bring out the flavors. (The mix can be stored for 3 days in the fridge. Bring to room temp before serving.)
For more great recipes, check these out: