You'll be buying a turkey just so you'll have leftovers with which to make this White Bean Turkey Chili after one taste. It's that good.
So, Thanksgiving day has come and gone. The dinner was devoured; pies were demolished and lots of football was watched behind heavy eyelids. Family stuck around for another day or so but eventually it was time to go home.
You begged them to take leftovers. You hid foil wrapped packets of stuffing and turkey in the car, hoping they wouldn't notice until they were too far to turn around. And yet, you still have half a bird left.
What to do; what to do.
I made a turkey earlier this month. Three of us went at a 13-pound bird. Even though we loved it and ate our fair share, I had a lot of leftovers and no one upon whom to foist them after dinner was done.
So, I will be getting creative. Fine Cooking and Gourmet have a bunch of fantastic recipes that use turkey. I'll be making them. But first, I had to make one of my all-time favorite cold-weather meals with part of the bird; my white bean turkey chili.
I won't even bother with the "What I'd Do Different Next Time," because there's no need. There have already been a dozen 'next-times' with this dish.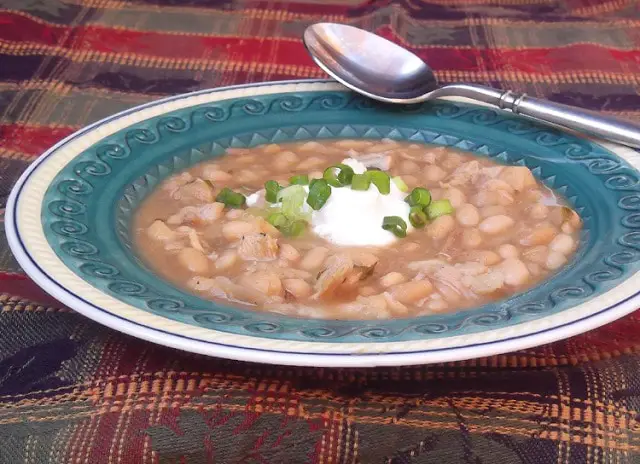 The Process
Supposedly, using dry beans will help with the whole musical fruit thing. If you have hopes that it works and go that route, soak them in cold water overnight or simmer them with plenty of water for at least 2 hours. Then drain the water and go on with the recipe.
If you use canned beans, open the can, drain the liquid out and rinse the beans. Easier, yes. More gassy? I don't know.
Saute the jalapeño peppers, onion, and garlic in a big Dutch oven for a bit, then add the canned green chilies. Add in the salt, pepper, cumin, coriander and chili powder. Stir it up and let it saute a bit more, until you really smell the spices when you peek your nose over the pot. Don't inhale too deeply though. The chili pepper is a good sinus clearer.
Stir in the turkey stock (or broth), being sure to scrape up any of the spices that may have stuck to the bottom of the pot. Add the beans. Let the whole thing simmer for 20-30 minutes. Dump in the turkey and cilantro and mix it all up, then continue to simmer the chili until the turkey is heated through.
At this point I like to turn the pot off and put the chili away for a few hours so the flavors can develop. When it's time to serve it, I just pull the pot out and heat it all up again. Serve the chili with sour cream and sliced green onions. Salsa works too.
The Verdict
I made this pot for friends who came in from out of town. From the oldest (which would be me), to the youngest (a three year-old), we loved this and it was devoured. It always is. The canned chilies don't provide a lot of heat, but they do add flavor, which is why I include the fresh jalapenos. If you prefer less heat, leave out one or two. That being said, if a three year-old was able to chow down, I think you'll be fine.
The Recipe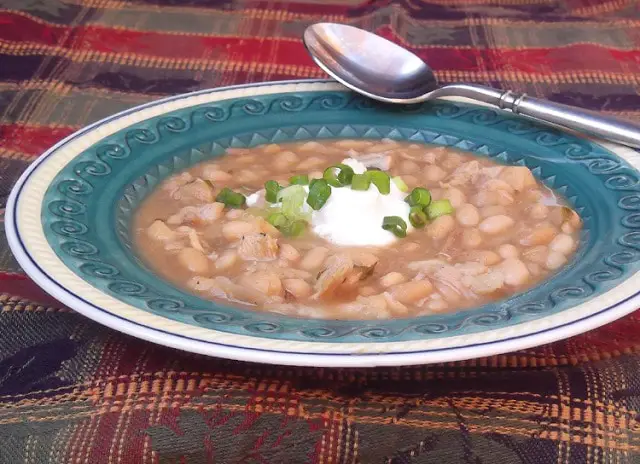 White Bean Turkey Chili
You'll be buying a turkey just so you'll have leftovers with which to make this White Bean Turkey Chili after one taste. It's that good.
Ingredients  
2 14.5-ounce cans Great Northern beans, drained and rinsed

1 tablespoon vegetable oil

3 small jalapenos, minced

1 large onion, chopped

4 garlic cloves, minced

1 small can green chilies

Salt and pepper to taste

2 tablespoons ground cumin

2 teaspoon ground coriander

1 teaspoon chili powder

4 cups turkey broth

4 cups turkey meat (white and dark), shredded

1/4 cup cilantro leaves, chopped

Sour cream, sliced green onions, salsa, for garnish
Instructions 
Heat the oil in a large Dutch oven over medium-high heat. Add the jalapeños, onion and garlic. Saute until soft, approximately 5 minutes.

Add the canned chilies and saute until heated through. Season the aromatics with salt and pepper, then measure in the cumin, coriander and chili powder.

Continue to saute for just a minute, until the spices release their aroma. Pour in the turkey stock. Bring the chili to a simmer and cook for 20-25 minutes. Taste the chili and add any seasonings if needed.

Add the shredded turkey meat and cilantro. Simmer until the turkey is heated through. Serve topped with sour cream, green onions and salsa.
Here are other tasty recipes to try out: